Three-guitar led Brooklyn progressive sludge rockers, HULL, today kick off a near two-week tour with post-doom troupe Batillus. The chaos begins tonight at Kung Fu Necktie in Philadelphia, includes a run through SXSW in Austin where they'll crush the masses at the Full Metal Texas and The End Records' showcases, and draw to a close at a special Manhattan performance on March 26 at The Studio at Webster Hall. Confirmed dates below: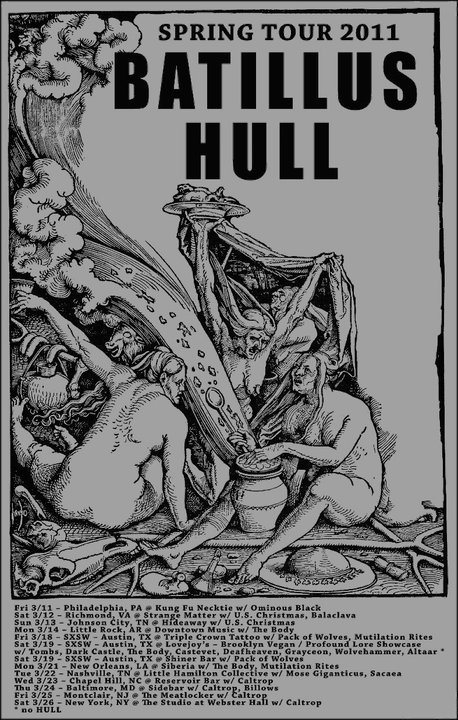 HULL 2011 U.S. Tour w/ Batillus:
3/11/2011 Kung Fu Necktie – Philadelphia, PA w/ Ominous Black
3/12/2011 Strange Matter – Richmond, VA w/ U.S. Christmas, Balaclava
3/13/2011 Hideaway – Johnson City, TN w/ U.S. Christmas
3/14/2011 Downtown Music – Little Rock, AR w/ The Body
3/17/2011 Emo's [Full Metal Texas SXSW Showcase] – Austin, TX w/ Rwake, Trap Them, All Pigs Die and more…
3/17/2011 Ale House [ The End Records' SXSW Showcase] – Austin, TX w/ Goes Cube, Novembers Doom and more..
3/18/2011 Triple Crown Tattoo – Austin, TX w/ Pack Of Wolves, Mutilation Rites
3/19/2011 Shiner Bar – Austin, TX w/ Pack Of Wolves
3/21/2011 Siberia – New Orleans, LA w/ The Body, Mutilation Rites
3/22/2011 Little Hamilton Collective – Nashville, TN w/ Mose Giganticus, Sacaea
3/23/2011 Reservoir Bar – Chapel Hill, NC w/ Caltrop
3/24/2011 Sidebar – Baltimore, MD w/ Caltrop, Billows
3/25/2011 The Meatlocker – Montclair, NJ w/ Caltrop
3/26/2011 The Studio at Webster Hall – New York, NY w/ Caltrop
HULL kicked off what will prove to be a busy year with a devouring performance opening for doom legends Pentagram. As previously announced, the band will release their epic Viking Funeral EP, initially self-released in 2005, on vinyl via Science Of Silence records later this spring. The limited edition wax version will come in 180 gram blood red/black swirl vinyl with the song on one side, a laser etched image on the other and a parchment insert with the detailed Viking Funeral saga as well as a sticker and digital download info all wrapped in a Viking Funeral poster and wax-stamped with the band's logo. To get your hands on some Viking Funeral vinyl (as well as a sampling of the new tunes), don't miss HULL on this upcoming run of dates.
The band is putting the finishing touches on the follow-up to their critically-acclaimed Sole Lord debut, issued via The End Records in 2009. Their sophomore full-length will be co-produced by Brett Romnes (who played drums on the Viking Funeral EP) and mixed by Billy Anderson (Sleep, High On Fire, Neurosis, Eyehategod, Melvins et al). The record is slated for release this summer with another bout of live dates to follow. Stay tuned for further info…
"Sole Lord is fucking epic. If you like doom and/or stoner metal and/or post-metal, you need to add Hull to your list of bands to keep an ear open for. And someone needs to book these guys a UK tour. Now." — The Dreaded Press
"Sole Lord is an exercise in grandiosity that never feels drawn out, and one of the most promising debuts of the year so far." — Metal Injection
"Atmospheric, engrossing, and refreshingly original, Sole Lord combines pyschedelia, prog, post-metal and doom to suitably trance-inducing effect." — One Metal
"… a seriously adventurous record that demands a seriously adventurous listener…" — The Sleeping Shaman
"Hull is a dirty brand of machinery; that deep inhalation of dope smoke conjuring up a thousand visions of a world greater than ours. Fiery sloth metal, yes…but progressive star driven as well. " — Inside Heavy
http://www.myspace.com/hull
http://www.hullorhighwater.com
http://www.facebook.com/hull666
http://www.sonicbids.com/hull
http://scienceofsilence.tumblr.com