Following the recent release of their latest mammoth full-length, Angels Of Darkness, Demons Of Light 1, we're proud to announce EARTH's first confirmed American tour installment in support of the album.
Set to take place this June, EARTH will tour through the Midwest and Northeast regions of America showcasing material from the new album and their new touring lineup to a dozen cities, with support from Washington state-mate, soloist Ô Paon for the entire trek.
This newly announced string of North American dates will follow EARTH's massive European tour with Sabbath Assembly which engulfs the entire months of April and May for the band.
And before any of the full tour activities even get underway, EARTH have also been confirmed alongside the Melvins to headline Aural Fest, a massive music celebration which takes place during the country's Festival de Mexico!
Later this Summer, EARTH are also confirmed to appear at I'll Be Your Mirror, a festival curated by Portishead & ATP America, taking place in Asbury Park, New Jersey, alongside countless other acts.
EARTH – Confirmed 2011 Live Appearances:
Aural Fest @ Festival de Mexico:
3/19/2011 Lunario Paseo de la Reforma – Mexico City w/ the Melvins
European Tour w/ Sabbath Assembly:
4/01/2011 Brudenell Social Club – Leeds, England
4/02/2011 Islington Mill – Manchester, England
4/03/2011 Hare & Hounds – Birmingham, England
4/04/2011 The Cluny – Newcastle, England
4/05/2011 Stereo – Glasgow, Scotland
4/07/2011 Auntie Annies Porterhouse – Belfast, Ireland
4/08/2011 Button Factory/Crawdaddy – Dublin, Ireland
4/09/2011 Cyprus Avenue – Cork, Ireland
4/11/2011 Millennium Music Hall 2 – Cardiff, England
4/12/2011 Scala – London, England
4/13/2011 La Maroquinerie – Paris, France
4/14/2011 Sugar Factory – Amsterdam, Holland
4/15/2011 Roadburn Festival – Tilburg, Holland
4/17/2011 Inkonst – Malmo, Sweden
4/18/2011 Nefertiti – Gothenburg, Sweden
4/19/2011 Bla/John Dee – Oslo, Norway
4/20/2011 Strand – Stockholm, Sweden
4/21/2011 Tavastia – Helsinki, Finland
4/22/2011 Friction Festival – Berlin, Germany
4/23/2011 Dude Fest – Karlsruhe, Germany
4/24/2011 Impetus Festival – Lausanne, Switzerland
4/26/2011 Spazio 211 – Torino, Italy
4/27/2011 Init Club – Rome, Italy
4/28/2011 Locomotiv – Bologna, Italy
4/29/2011 Unwound – Padova, Italy
4/30/2011 MC Velenje – Velenje, Slovenia
5/01/2011 Arena – Vienna, Austria
5/02/2011 Feierwerk – Munich, Germany
5/03/2011 Beatpol – Dresden, Germany
5/04/2011 Gebaeude9 – Koln, Germany
5/05/2011 Stadsschouwburg – Brugge, Holland
Midwest/East Coast American Tour:
6/08/2011 Mayne Stage – Chicago, IL w/ Ô Paon
6/09/2011 Mad Planet – Milwaukee, WI w/ Ô Paon
6/10/2011 Magic Stick – Detroit, MI w/ Ô Paon
6/11/2011 The Strut – Kalamazoo, MI w/ Ô Paon
6/12/2011 Grog Shop – Cleveland, OH w/ Ô Paon
6/13/2011 Johnny Brendas – Philadelphia, PA w/ Ô Paon
6/14/2011 Wadsworth Atheneum – Hartford, CT w/ Ô Paon
6/15/2011 Middle East Downstairs – Boston, MA w/ Ô Paon
6/16/2011 Le Poisson Rouge – New York City, NY w/ Ô Paon
6/17/2011 Ottobar – Baltimore, MD w/ Ô Paon
6/18/2011 *TBA – Pittsburgh, PA w/ Ô Paon
6/19/2011 Southgate House – Newport, KY w/ Ô Paon
ATP Fest, curated by Portishead
10/02/2011 I'll Be Your Mirror, curated by Portishead & ATP – Asbury Park, NJ
Released on February 22nd via Southern Lord Recordings, Angels Of Darkness, Demons Of Light 1 represents yet another new chapter in the EARTH lineage, as the band continues to expand their trademark slow-morphing drone a bit beyond the realms they've explored on their last handful of releases and recent years of touring, and continuing to reproduce continually inspiring music as they have with every recording to date.
"…unlike most heavy-music acts it changed over time as human beings actually do. Its music became lighter and clearer and wiser; it started having more to do with Indian music and La Monte Young and Miles Davis's 'In a Silent Way.'" – The New York Times
"As Earth developed its heavy instrumental vision in the past six years, subtle deviation has been crucial to the band's renewal. Angels of Darkness, Demons of Light 1 is the latest installment in that trajectory, adding a cello, desert blues and British folk-rock motifs to Earth's slow-moving Americana." – NPR

"While Angels of Darkness… is Earth's cleanest record, it is perhaps their most focused, as well as one of their darkest." – Chronicles Of Chaos

"…finds the band as unwilling as ever to settle creatively, toying with titular contradiction, fostering a previously-unheard richness of tone and taking their rightful place at the head of their genre." – The Obelisk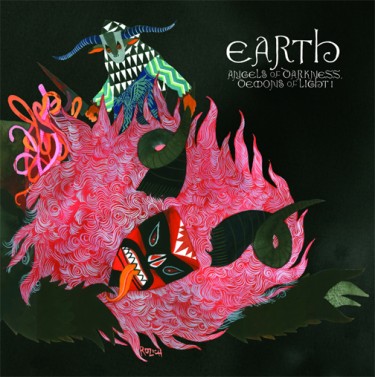 http://www.thronesanddominions.com
http://www.myspace.com/earthofficial
http://www.southernlord.com
http://blog.southernlord.com
http://www.myspace.com/southernlordrecordings
http://twitter.com/twatterlord