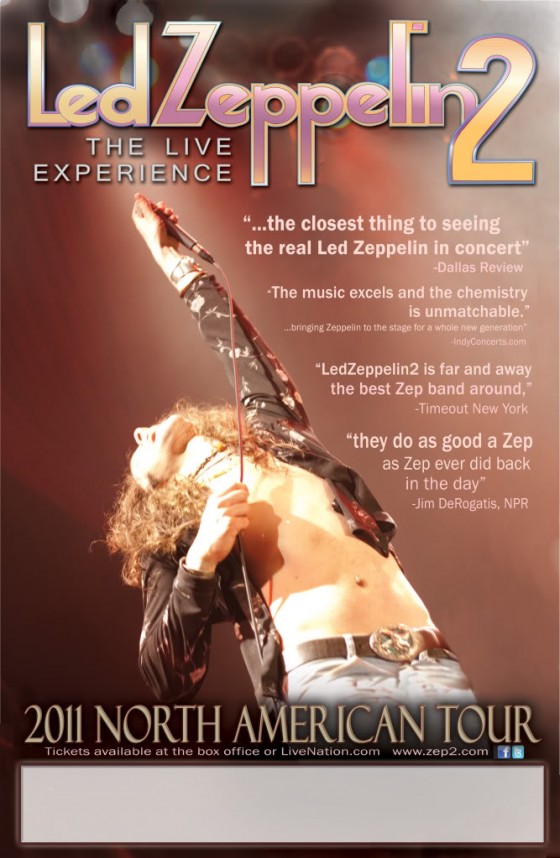 LED ZEPPELIN 2 are pleased to announce another round of tour dates this Fall! Set to kick off in Boston on September 15th and run through several major cities throughout October and November (see dates below), the band will again captivate audiences with their flawless Led Zeppelin reenactment.
Rather than a "greatest hits" show, Bruce Lamont — most widely recognized for his saxophone and vocal work fronting Chicago-based Yakuza — and his cohorts allow fans to experience Zeppelin as Zeppelin would have played in front of an audience. LZ2 sold-out venues across the U.S. in 2010 and the early part of 2011 and continue to draw rave reviews for a "spot-on" Zeppelin show, playing deep cuts and classic tracks from the entire catalog, and occasionally entire Led Zeppelin performances from specific shows and sets from the band's storied history.
Commented Lamont of the upcoming stretch of LED ZEPPELIN 2 dates: "Looking forward to returning to the some of the places we hit back in January and February and also finally making our way back to Denver and Aspen as promised. See you all on the road!"
LED ZEPPELIN 2 Fall 2011 Tour Dates:
09/15/2011 Paradise Rock Club – Boston, MA Tickets
09/16/2011 Theatre at Westbury – Westbury, NY Tickets
09/17/2011 The Gramercy Theatre – New York, NY Tickets
10/14/2011 The Gothic Theatre – Englewood, CO Tickets
10/15/2011 Bell Up – Aspen, CO Tickets
11/03/2011 Yost Theater – Santa Ana, CA Tickets
11/04/2011 Belly Up – Solana Beach, CA Tickets
11/05/2011 The Key Club – West Hollywood, CA Tickets
11/10/2011 The Foundry – Phoenix, AZ
11/11/2011 Harlow's – Sacramento, CA
11/12/2011 Slim's San Francisco, CA Tickets
For review tickets and interview requests, available via phone or in-person at the shows, contact EarsplitPR.
"…the best Zep band going anywhere." — Time Out New York
"There are a lot of Zep tributes out there, but this one's our favorite, not least because its members fully immerse themselves in the musicianship and style of the four classic-rock heavyweights. That Yakuza howler Bruce Lamont does a mean Robert Plant is icing on the cake." — Time Out Chicago
"…these imitators get the Led out in a way your battered copy of Physical Graffiti never will, right down to the unearthly tones of guitarist Paul Kamp's bowed Les Paul solos. Sure, purists are still holding out for the real deal's tour, but even if that happens, it's doubtful that Robert Plant can wail the opening lines of 'Black Dog' as well as his LED ZEPPELIN 2 counterpart, Bruce Lamont," — The Onion
"The band is on its way out of the minor leagues, and is now playing bigger venues for a generation of fans too young to have ever experienced the genuine article." — The New Yorker
"…these guys sound fucking exactly like Led Zeppelin!" — Metallica guitarist Kirk Hammett
"…the closest thing to seeing the real Led Zeppelin." — Dallas Observer
"…such authentic raw flair, the entire crowd bought it, no questions lingering… It was nasty… hard to believe how balls-out fantastic they are." — Atlanta's Backstage Beat
"Bruce Lamont and Paul Kamp (of Yakuza and Busker Soundcheck fame, respectively) and the killer rhythm section of Ian Lee and Chris Klein bill themselves as LED ZEPPELIN 2, and they do as good a Zep as Zep ever did back in the day." — The Chicago Sun Times