MORBUS CHRON
Sleepers In The Rift
September 27, 2011
From the swamplands of Sweden comes MORBUS CHRON and with their latest offering of audio filth, Sleepers In The Rift. A throwback to crude, early '90s death metal, the hellions from MORBUS CHRON rekindle the vital atmosphere of this genre. prepare to be gut-fucked. Sleepers In The Rift was produced by Nicke Andersson (ex-Entombed) and features artwork by Spanish fantasy/horror artist Raul Gonzales (Deceased, Abraxas, etc.). Sleepers In The Rift will prove to be one of the finest hours in blistering, old school death metal; the mortuary is now open and no corpse shall be spared!

http://www.myspace.com/morbuschronband
http://www.facebook.com/morbuschron
IRON LAMB
The Original Sin
September 27, 2011
Swedish rock 'n' roll punks IRON LAMB, the band featuring within their gritty ranks metal veterans Johan Wallin (General Surgery, Scurvy, Bombstrike, ex-Repugnant), Grga Lindström (ex-Repugnant), Thomas Daun (Dismember, ex-Repugnant, ex-Insision) and Daniel Ekeroth (Tyrant, ex-Insision, ex-Dellamorte, author of Swedish Death Metal) — are readying to unleash their debut full-length entitled The Original Sin.
The record features 10 tracks, including a cover of "Poison" by Motorhead, and artwork/layout by Lindström and Watain's Erik Danielsson of Trident Arts.
http://www.myspace.com/ironlambofficial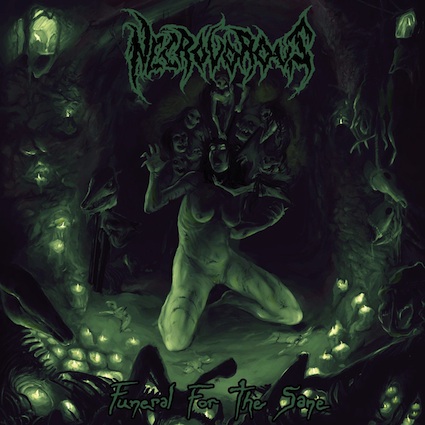 NECROVOROUS
Funeral For The Sane
Out Now!
Malignant Greek death metallers, NECROVOROUS, unleash a viral slab of foulness with their sickening debut, Funeral For The Sane. Disgustingly brilliant, the record captures the undeniable vibe of the early '90s death metal style with doom-laden overtones. Recorded, mixed and mastered at Feedback Studios by Harry Zourelides with cover artwork by Danille Gauvin of Cranium Illustrations.
http://www.myspace.com/necrovorous
NECROVOROUS on Facebook