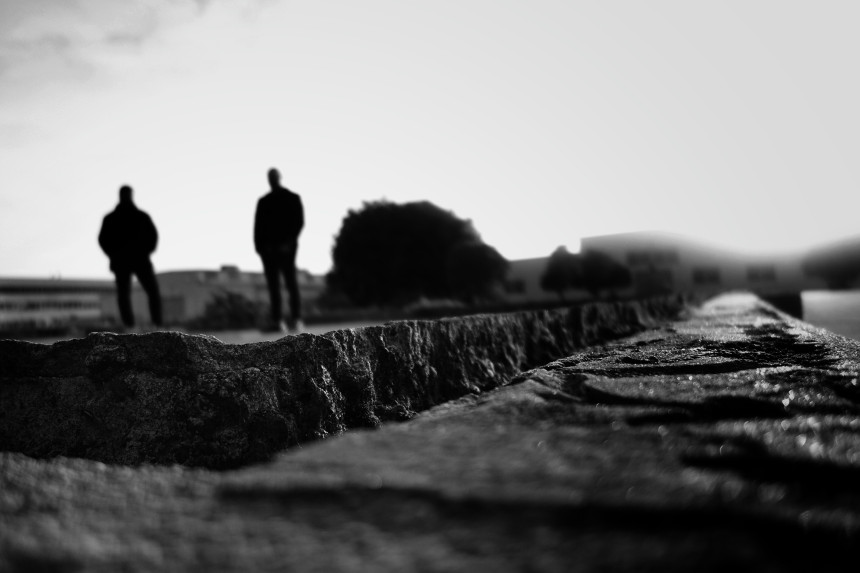 [photo by Tara Spence]
"Pale Hands," the opening track from LAMENT CITYSCAPE's debut LP, The Torn, has been issued through an exclusive Cvlt Nation premiere as the album nears release in early September.
The expansive sound of the Oakland-based LAMENT CITYSCAPE duo — where crushing post-metal, over-amplified doom and caustic industrial elements coalesce into a vibrant, breathing, biomechanical beast — is here delivered through "Pale Hands," which captures the organic and synthetic nature of their approach in an artistically captured visual depiction. Offers the band of their new video: "The 'Pale Hands' video was shot by the talented Joey Gomez around the Portland, Oregon area. We dig how it came out. He really captured the vibe of the song."
Swing by the Cvlt Nation portal to delve into LAMENT CITYSCAPE's lush debut video RIGHT HERE.
Massive in sound and cinematic effect, the LAMENT CITYSCAPE duo eschews easy classification with a broad palette of dark, noisy industrial flavor that coats the raw core of their loud and heavy sound. Slightly out of focus and grainy like a phantom in the peripheral vision, the group's debut album, The Torn, is a piece of music that resonates with themes of duality, confusion, and contradiction as it crawls across fifty-two minutes of bleak soundscapes and thunderous percussion. The feel and atmosphere that LAMENT CITYSCAPE captures on the album is reminiscent of the brooding and nebulous angst of early Godflesh, Ministry, and Swans. Each half of the group, Mike McClatchey and Sean McCullough, brings quite a different set of influences to the writing process and this clash of perspectives is evident in the music, resulting in an honest collaboration of immersive material that is urgent and compelling.
The Torn arrives on vinyl and digital on September 4th through Battleground Records, and preorders for the wax are now available. The LP is limited to 300 copies, pressed on 180 gram black vinyl, including digital download and a four page color insert. All preorders are instantly entered to win a copy of the record's test pressings. Place orders for the LP HERE.
The Torn Track Listing:
Pale Hands
Turn Inward
The First Son
The Final Son
This Has Always Been
Sewn Into Our Palm
The Dance
Never Ended
http://www.facebook.com/LamentCityscape
http://www.lamentcityscape.bandcamp.com
http://www.facebook.com/battlegroundrecords
http://www.battlegroundrnr.com
http://www.twitter.com/battlegroundrnr