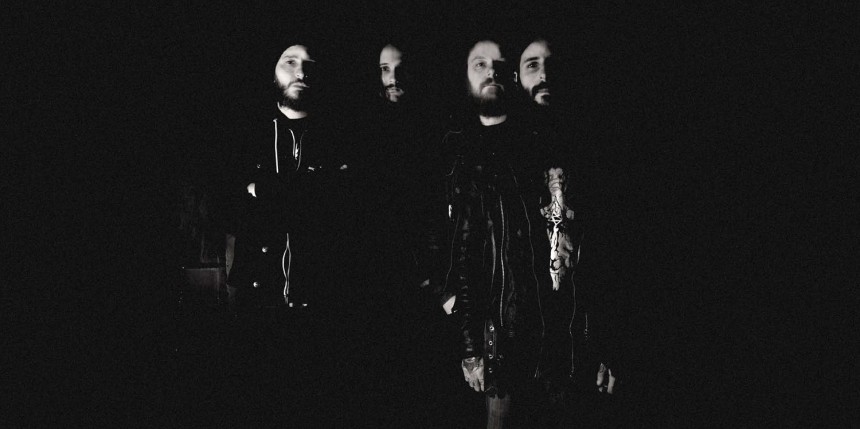 Newly founded Argento Records has confirmed the label's first title, with the impending release Circle Of Molesters, the second LP from Trieste, Italy's corrosive sludge quartet, GRIME.
Their sound is rooted into rotten burial grounds and their songs are the sound of a decaying swamp filled with trash. Their slow and heavy groove is filthy and vicious, guitar riffs are sharp and covered with rust, drums and bass hit with the unstoppable power of a mud avalanche. And their only goal is bringing destruction to a town near you. Following the release of their independent debut EP in 2011 and their dominating 2013-released debut LP, Deteriorate (Forcefield Records/Mordgrimm), GRIME oozes forth with their most brutalizing display of gutter-born, diseased sludge metal yet with Circle Of Molesters. Like a volcano rupturing megatons of rotting flesh, for nearly forty minutes the band's gnarly scourge will suck you into the darkest depths of suffocating death, yet all the while taking their petulant tonal attack to new heights, integrating more body-mangling dynamics than ever. Bringing this auditory destruction to life, the band enlisted the recording and mixing work of sound engineer Lorenzo Stecconi (Ufomammut, Amen Ra, Zu) and final mastering duties to Brad Boatright (Sleep, Corrosion Of Conformity, Nails) at Audiosiege, both factors helping shape every bit of the band's tonal wrath to thundering clarity.
Based out of Amsterdam, The Netherlands, Argento Records was founded by Michael Bertoldini (The Secret) and Clio Leeuwenburgh (Headspin Records). The label will unleash GRIME's Circle Of Molesters upon the masses on September 1st, through digital delivery and 12″, pressed on 180-gram vinyl — 200 on black, 150 on red, and 150 on clear/smoke — in a full-color gatefold with lyric insert, The album's artwork and layout by Jason Barnett featuring photography by Paolo Podzinkova.
A trailer for Circle Of Molesters has been posted to preview the album; scope it out RIGHT HERE.
Stand by for audio samples from Circle Of Molesters, preorders for the album and more to be issued in the coming days.
Having toured Europe with Cough and -16-, and having raided notable festivals including Heavy Days in Doomtown, Roadburn and Desertfest London, GRIME has also played two festivals in Russia with Suma. Watch for new tour dates from the band to be announced in the near future.
Circle Of Molesters Track Listing:
Intro (Obscuration)
Get Immortal
Verge Of Wrath
Decay In Hades
Sulphorous Veins
Accelerating Transition
Salvation Come From Below
Orgiastic Rite
GRIME is:
Marco – Vocals/guitar
Paolo – Bass
Ans – Guitar
Chris – Drums
http://www.facebook.com/Grime666Grime
http://www.twitter.com/grimeofshit
http://www.grime666.bandcamp.com
http://www.instagram.com/grimeofshit
http://www.argentorecords.com
http://www.facebook.com/argentorecords
http://www.twitter.com/argentorecords
http://www.argentorecords.bandcamp.com
http://www.instagram.com/argentorecords