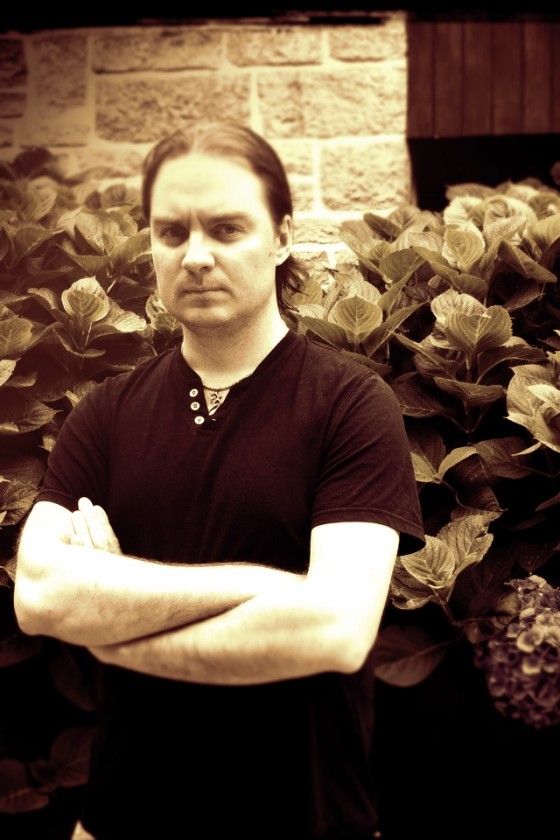 Atomic Ark, the newest solo album from French composer VIVIEN LALU — and first for progressive metal powerhouse, Sensory Records — is out now universally. Having raked in rave reviews from international media outlets in recent weeks, The exceptionally expansive but direct and filler-free delivery of this talented songwriter is at its finest on Atomic Ark; a cinematic masterpiece boasting an array of expansive elements with a dark edge. The opus was fully conceived and composed by LALU, the musician having enlisted an all-star lineup of vocalist Martin LeMar (Mekong Delta), bassist Mike LePond (SymphonyX), guitarist Simone Mularoni (DGM) and drummer Virgil Donati (PlanetX), in addition to countless guest contributions, to complete the album.
To help celebrate the release of LALU's newest works onto the public, today massive online music stop PopMatters is hosting a worldwide exclusive stream of the entire Atomic Ark album, stating, "Fans of expansive and triumphant arrangements, you know what to expect–meticulous progressive craftsmanship, all finished with a virtuoso panache."
Immerse yourself in Atomic Ark via PopMatters AT THIS LOCATION.
In addition to the release of his new masterwork, this week VIVIEN LALU also announces that half of his royalties for Atomic Ark will be donated directly to Paris/NYC-based animal rescue organization ALERTE SOS! In a statement released via his Facebook page early today the French composer notes: "Just got back from my visit to ALERTE SOS; It was a real pleasure to meet the president and her team. These people are so amazing… I am speechless at their dedication to the animal cause. You should know that in France, animals are sentenced if they don't find a family; the clock is always ticking. So I am very happy to announce that half of my Atomic Ark royalties will go to ALERTE SOS and by buying this album you will help to save many animals from certain death. We can't save them all – but every little gesture helps! Some of these puppies are hurt and sick and need treatment but the veterinary fees are huge! Thanks for your support and I hope you enjoy being a part of something greater than just listening to music."
Order Atomic Ark now direct from Sensory HERE.
"The catchy bits will be stuck in your head for days on end, the heavy parts will never not make you bang your head, the beautiful parts will always be touching, the ethereal and dream-like parts will always evoke images in your head, and the musicianship will never not impress." – Metal Injection
"The album is driven by Lalu's sense of fine-tuned technicality and majestic flair." – PopMatters
"The concise track lengths serve to emphasize the satiating guitar focused delivery… Lalu's hook littered and varied song writing is sure to catch the attention of progressive metal fans with this individualized method of album construction." – Metal Storm
"…blistering guitar solos, soaring vocals and complex song arrangements… The musicianship is top-notch and there is a nice diversity to the songwriting…a progressive powerhouse." – About.com
http://www.vivienlalu.com
https://www.facebook.com/vivienlalu
http://www.lasersedgegroup.com
https://www.facebook.com/TheLasersEdge