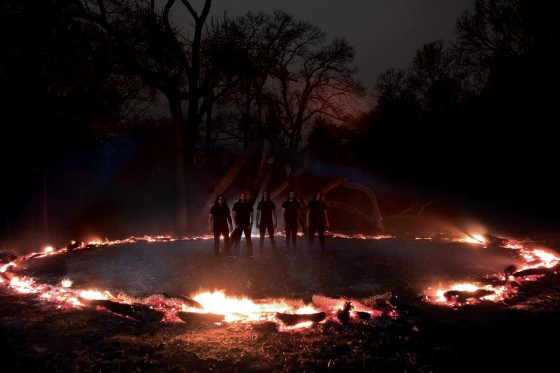 As Texas-based CLERIC — the vile death metal faction featuring members of Kill the Client, Baring Teeth, and Tyrannosorceress and more — prepares for the release of their debut album Gratum Inferno, today the band proudly fans the LP's raging flames with a blazing new video for the track "Through The Starless Abyss"… literally, blazing.
Directed by Shane Connelly of Photon Flood [link], "Through The Starless Abyss" was filmed in the dead of night in a very rural undisclosed location in Emory, Texas. The multi-camera execution captures the members of CLERIC fully encircled by a raging bonfire while they hammer out the song, bringing the concept of the Gratum Inferno title literally roaring to life. And what could be more metal than praising Satan surrounded by fire and death in the middle of the night? Exactly.
Swing by Invisible Oranges and throw a log into the firestorm with "Through The Starless Abyss" RIGHT HERE.
Recorded by Garry Brents (Kill The Client, Phobia, Noisear) and mastered by Brad Boatright at Audiosiege (From Ashes Rise, Nails, Sleep), Gratum Inferno boasts nearly a half-hour of CLERIC's Stockholm-bred but Americanized death through seven hymns of debauchery, with haunting horror-soundtrack elements permeating from deep within its hellish core. Mastered at 45rpm for superior sound quality, the LP is pressed on 200-gram, translucent yellow wax with blood red and milky clear splatter and features heavyweight spot-varnish printed jackets, gold foil-stamped inner-sleeve graphics and bears insane cover art was masterminded by Jason Barnett (Noothgrush, etc.). Dallas-based Tofu Carnage will officially release Gratum Inferno on September 26th; preorders can be placed HERE.
Stream Gratum Inferno in its entirety at Cvlt Nation RIGHT HERE.
CLERIC Live:
11/22-23/2013 No Thanks Fest XI – Emory, TX w/ Thou, Wartorn, Scaphe, Recreant, Dead To A Dying World [info]
https://www.facebook.com/666cleric666
http://clericdeath.bandcamp.com
http://www.tofucarnage.com
https://www.facebook.com/TofuCarnage
http://twitter.com/tofucarnage