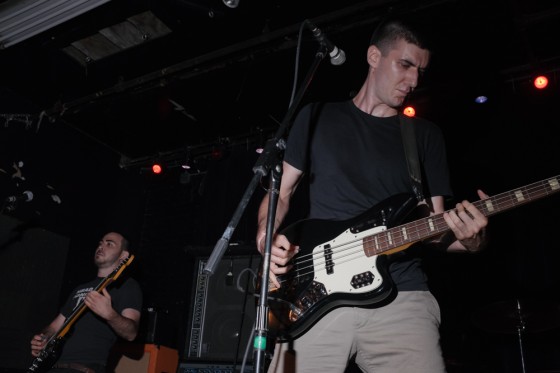 This November, NYC-based duo PSALM ZERO will release their debut 7″ single entitled Force My Hand.
PSALM ZERO is comprised of guitarist Andrew Hock, of acclaimed black metal band Castevet, and bassist Charlie Looker, of recently-disbanded art-rock cult heroes Extra Life. The two musicians construct a wall of drum machines, programming and synth gear and electronics in studio and onstage and both contribute equally to the vocal delivery to carry out their musical vision.
The grave aesthetics of Queens/Long Island-based PSALM ZERO's songs unify a variety of diverse influences; the industrial coldness of Godflesh and Big Black, the dissonant guitar atmospheres and tortured screams of experimental black metal, and the dark, melodic song-craft of Dead Can Dance and the Cure seemingly flow as one. Hock's guttural, barked vocals and Looker's clean singing play equally important leading roles. To fans of both musicians' previous works, PSALM ZERO will sound like the perfect synthesis of these two already idiosyncratic bands. The Force My Hand single's B-side features a cover of "Willpower", the brutal 1994 classic by noise-rock/metal titans Today is the Day. PSALM ZERO completely re-envisions and performs the song as an experimental neo-folk dirge, with delicate acoustic guitars, orchestral percussion, synth drones, and Medieval vocal harmonies.
The Force My Hand 7″ will see release on Looker's own Last Things Records on November 19th; music, preorders and more will be available shortly. PSALM ZERO will celebrate this release in Brooklyn on November 22 at 285 Kent with Kayo Dot and Vaura, among several other confirmed performances throughout New York City. Further live engagements will be announced in the coming weeks.
PSALM ZERO Live Schedule:
9/14/2013 Bowery Electric – New York, NY w/ Kayo Dot, Ahleuchatistas
10/30/2013 The Acheron – Brooklyn, NY w/ Lussuria, Vain Warr
11/22/2013 285 Kent – Brookly, NY – 7″ record release show w/ Kayo Dot, Vaura
Force My Hand 7″ Track Listing:
A. Force My Hand
B. Willpower
http://www.facebook/psalmzeronyc
https://twitter.com/PsalmZeroNYC
http://lastthingsrecords.bandcamp.com
http://soundcloud.com/lastthingsrecords