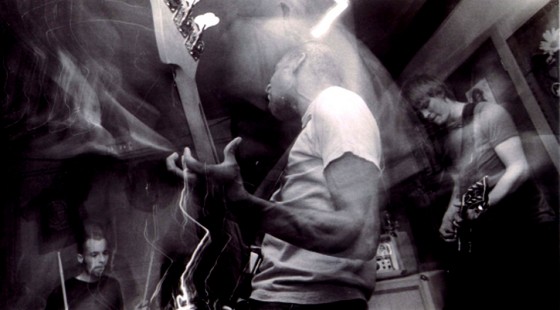 The final details are being aligned for Break The Clasp, the otherworldly debut album from Montreal-based psychedelic post-rock artisans, LAE, to finally see its release this Autumn, as the eclectic outfit undergoes an absolute rebirth.
Performing as LAE-TSEU, their initial moniker, the outfit initially impacted the Quebec art and post-hardcore/emo/indie circuits in the apocalypse-ready Y2K era of the mid 1990s, having set out to distance themselves from the established conventions of rock music as well as the trappings of the various alternative subgenres. However, after carving an excellent name for themselves regionally, and as they prepared to record their debut album, the band dissolved, with several members' lifestyles beginning to rot away at the rest of the band, professionally and personally.
In mid-2013, having restructured the lineup and dropping half of their previous band name, LAE emerged from the unfortunate ashes of what transpired two decades ago, completely re-envisioning the songs with new life knowledge and a ravenous hunger to make them better than ever. To capture this soundtrack, bassist, Ronald Jean-Gilles, drummer Serge Nakauchi Pelletier, and guitarists Stephane Desgroseilliers and Marc Lucas Ablasou contracted Steve Austin (Today Is The Day), flying him and an arsenal of gear from his Austin Enterprises from Maine to record in Ablasou's wood shop/warehouse. Here, the five musicians utilized acoustic and electric guitars, trumpet, saws, multiple electric organs and pianos and more to capture their long-awaited full-length, Break The Clasp in full analog on vintage gear. However, as Austin became immersed in the recordings, eventually his producer duties shifted to more instinctive musician sense, and in the end, Austin ended up performing lead vocals to the entire album in addition to other musical contributions.
After being mastered at Austin Enterprises back in Maine, and being fitted with imaginative cover art crafted by the band's longtime cohort Sonny Kay (The VSS, Gold Standard Laboratories label), LAE's Break The Clasp will finally see its birth this Autumn. Encompassing nearly fifty-three minutes of unclassifiable, unearthly, heartbreaking psychedelic audio artistry, while fans of Three Mile Pilot, Swans, Sonic Youth, Unwound, Slint, Shellac and more will be instantly hooked by these tales of love, devotion and loss, Break The Clasp is an incredible experience, the record unfathomably original and unlike anything accessible on this planet.
Issues LAE in a collective statement on their album finally coming to fruition: "This project really started with old friends Marc and Ron who began playing together at age 16. Marc's genius and Ron's skills gave birth to a unique and complex musical universe. This accumulation of song ideas and sounds just needed to come out and somehow be archived once and for all. That was the ultimate goal. To do so, two other good friends, Stéphane and Serge, whose minds were crooked enough to understand Marc's unconventional melodies joined the group. We then had a band, one reminiscent of the one we were all part of at some point in the '90s. Adding Steve Austin to the mix was quite the experiment. Luckily for us, the timing couldn't have been better as Steve got involved with this project in ways we never would've expected. Not only has he become the lead singer, but more importantly a very good friend. This album was recorded over a week during the summer of 2013; heck, the drums were recorded over the course of a day and half! With all its imperfections and whatnot, we are very pleased and humbled to team up with the good people at The Compound and Battleground Records for the release of Break The Clasp, our first album."
View the cover art, YouTube trailer and more on Break The Clasp now at THIS LOCATION.
Break The Clasp will be issued through a collaborative release between DIY labels The Compound and Battleground Records. The digital download and 6-panel digipak will be available on November 25th, 2014, and a massive 180-gram double LP in February 2015 as the band begins touring throughout North America. Preorders, singles from the album and more will be made available in the coming days.
Break The Clasp Track Listing:
1. Sexy Sadie
2. Break the Clasp
3. To Give You The Stars Above
4. Broken Knee
5. Reunion
6. New Moon
7. Sister
8. Spare Me Logic
9. Let Me Die In The Memory of Her Arms
10. Geisha
11. 17 Queen
12. Cold Dark Drive
13. Space Travel
http://laetseu.com
https://www.facebook.com/pages/LAE-Band/614579391922975
http://www.thecompoundrecs.com
https://thecompound.bandcamp.com
http://www.facebook.com/thecompoundrecs
http://www.earsplitdistro.com
https://www.facebook.com/battlegroundrecords