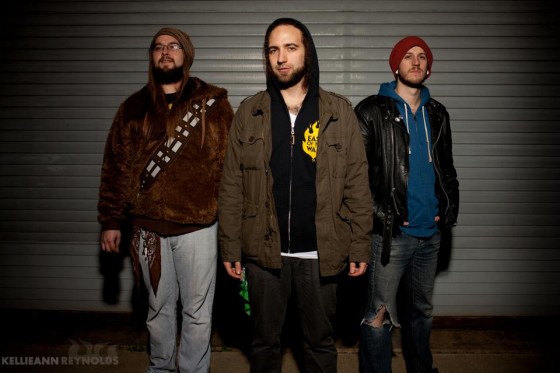 Ohio's mesmerizing progressive/alternative power trio, MAID MYRIAD, today officially releases their debut studio full-length, With Haste On Its Breath, and in addition to the CD version via Nefarious Industries, the trio has made the digital version available through a "name your price" purchase via Nefarious Industries as a token of public celebration of its availability.
Recorded in both Akron, Ohio, and Keyport, New Jersey, produced and engineered by guitarist Jeff Klemm at Free Truman Productions, and mixed and mastered by Kevin Antreassian at Backroom Studios in Rockaway, New Jersey (The Dillinger Escape Plan, Adrenaline Mob, Foxy Shazam, etc.), With Haste On Its Breath brings out a solid hour of dazzling musicianship and powerful, dynamic vocals from the MAID MYRIAD clan. The album is s bringing on praise from respected webzines such as MetalSucks, who issued, "…it's massive, melodic, introspective, and tortured, like a wonderful dream that quickly metamorphasizes into the kind of nightmare that continues to rattle and haunt you even after you awaken, stuck to your psyche like gum to the bottom of a shoe," in an early track premiere from the album, as did American Aftermath, who offers, "The band combines an array of influences, including progressive rock and 90's post-hardcore/emo, into a dynamic and emotional display of alternative rock mastery… Jeff Klemm's near angelic vocals are sure to be stuck in your head all day. In fact, we guarantee that." Locally, the album is taking over, with mass acclaim from a plethora of newspapers and alt-weeklies across Ohio, including The Cleveland Scene who made MAID MYRIAD their Band Of The Week, publishing, "The band goes for the esoteric and atmospheric on its new album, With Haste on Its Breath. Klemm wails on the album opener 'Encircled.' Elsewhere, the songs stay true to 'kaleidoscope rock,' the term the band has used to describe its neo-progressive rock. Heavily textured songs such as 'Camera Eye' and 'Dance by the Moonlight' have elements of Mars Volta. But the group slows things down for the simmering 'Be Careful What You Wish For' and 'Waiting for December,' showing it can capably change gears."
MAID MYRIAD guitarist/vocalist Jeff Klemm (ex-Via Lotus), drummer Greg Meisenberg (A Fucking Elephant) and bassist Mario Tonathy now proudly offer With Haste On Its Breath to the masses in a six-panel digipak CD and multiple low-priced merch options via the home of a bunch of big, dumb noise, Nefarious Industries, the independent label founded by members of MAID MYRIAD, A Fucking Elephant, El Drugstore and more. Additionally, the digital download by itself is now "name your price" direct through the label.
Check out With Haste On Its Breath and all the options RIGHT HERE.
Following their recent record release show for With Haste On Its Breath, MAID MYRIAD will sporadically take to the streets with regional performances with friends abroad in the coming weeks and onward. Stand by for more live dates to be announced.
https://www.facebook.com/maidmyriad
http://maidmyriad.bandcamp.com
https://twitter.com/MaidMyriad
http://www.facebook.com/NefariousIndustries
http://www.nefariousindustries.com
https://twitter.com/NefariousInd