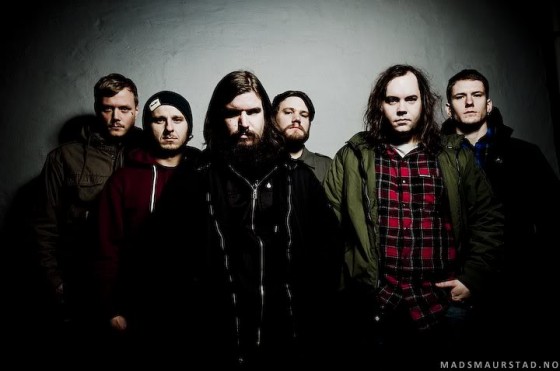 Norway's KVELERTAK will release a limited-edition, deluxe CD/DVD re-issue of their genre-defying self-titled debut via Prosthetic Records on September 27th in North America. The package includes four live audio tracks, two demos, three music videos, five live videos, documentaries, extended artwork, a poster and more.
Produced by Kurt Ballou and mixed by Alan Douches with artwork by John Baizley and guest appearances by Hoest (Taake), Andreas Tylden (JR Ewing and Altaar), Ivar Nikolaisen (Silver), and Ryan McKenney (Trap Them), Kvelertak was certified Gold in Norway and one of 2010's most acclaimed underground releases. The new deluxe version is limited to 5,000 copies worldwide. Pre-orders for North America is available HERE.
In addition, KVELERTAK recently confirmed a string of U.S. dates around the annual CMJ Festival in New York City, this October!
KVELERTAK – U.S. Tour 2011
10/19/2011 The Early – Atlanta, GA
10/20/2011 Tremont Music Hall – Charlotte, NC
10/21/2011 Europa – Brooklyn, NY
10/22/2011 Rocks Off Cruise – New York, NY
10/23/2011 Johnny Brenda's – Philadelphia, PA
10/25/2011 Peabody's – Cleveland, OH
10/26/2011 The Empty Bottle – Chicago, IL
10/27/2011 The Pyramid Schene – Grand Rapids, MI
10/28/2011 Belvedere's – Pittsburgh, PA
"KVELERTAK lives up to expectations, and is one of those CDs you can put on repeat and enjoy all day long." — About.com
"Rock 'n' roll, metal, and punk all collide to form an absolutely raucous first album that's loud, confrontational, largely indecipherable, and most of all, huge, huge fun." — Popmatters
"Kvelertak the album abounds with such richness, openness, joy and hedonism. It somehow captures an entire history in its 49 minutes. It is timeless and multitudinous, but so urgent and immediate that it could not have existed in any other instant except this one." — Long Island Press
"…the erudite and unstoppable three-axe riff barrage and leather razor strop vocals of Erlend Hjelvik make this a release that will fire up the polemics machine." — Hellbound
"the best Norwegian band since A-Ha," — Kerrang! Magazine
.."an absolute monster of a record…" — Blistering
"…this record is the vinyl that's spun at the height of hedonism, these songs blast of blasphemy made flesh where the chemical-spiked Jager (don't try that at home) flows as freely as water while the record spins at maximum volume for maximum impact." — Brave Words & Bloody Knuckles
http://www.facebook.com/kvelerface
http://www.myspace.com/kvelertak
http://indierec.net