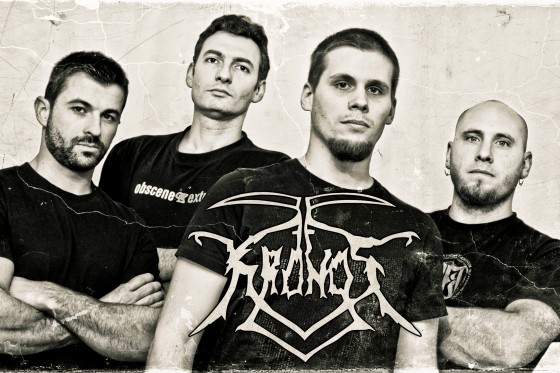 With the release of Arisen New Era, the forthcoming new full-length from French death metal unit and recent Unique Leader signees, KRONOS, now exactly one month away, Decibel Magazine offers up opening bruiser, "Infernal Abyss Sovereignty," for communal devourment.
Featuring a continuous textual reference to the gods of ancient civilizations, KRONOS bludgeons ears with a heightened level of dynamics accomplished by only by a select number of bands. Recorded, mixed and mastered by David Potvin at Dome Studios (Lyzanxia, Arcania, Under The Abyss etc.) in (appropriately) Angers, France, the nine-track Arisen New Era is a smoldering display of technical death metal barbarity adorned in the distinctive cover art of Pierre Alain (Withering Soul, Silentlie, Cyrax etc.).
Elaborates the band, "Arisen New Era as a whole is about the fratricidal strife between Hades and Poseidon whose rivalry will lead them to an alliance against Zeus. 'Infernal Abyss Sovereignty' starts the album and introduce the story… Feeling aggrieved by the sharing of the world with his two brothers, Poseidon feels it's time to awake some fratricidal quarrels." Decibel calls it, "Brutal, yet astonishingly catchy."
Don't mess with Poseidon. Check out "Infernal Abyss
Sovereignty" RIGHT HERE.
And if you missed it, delight in the audio carnage of first teaser track, "Klymenos Underwrath," courtesy of No Clean Singing at THIS LOCATION.
A name derived from the Greek god of time, Kronos (or Cronus), father of Zeus, KRONOS was forged over fifteen years ago in a small town in the Northeastern province of Alsace-Lorraine and quickly established a name for themselves based solely on their musical unity of harmony and violence. Lauded in the past for their, "diversified guitar work… intricate drum patterns… wicked guitar solos and a good number of catchy yet non-compromising hooks," by Metal Crypt, and their knack for packing, "a metric ton of creativity into each song… you will barely hear the same riff twice," by Sputnik Music, on their fourth full-length KRONOS continues to uphold their signature brand of meticulously arranged and conceptually stirring brutality.
Arisen New Era will be released via Unique Leader Records on July 24th, 2015. Preorders are available at THIS LOCATION. For digital orders, go HERE.
"…carnage incarnate – an overpowering onslaught of rapid-fire drum and bass propulsion matched with flurries of jolting riffs and boiling guitar solos and accompanied by a fusillade of bestial growls. And yes, it includes an exotic Eastern melody that gives the song character and that will stay with you." – No Clean Singing on first single, "Klymenos Underwrath"
"…the stunning artwork adorning the cover of Arisen New Era speaks to the epic scale KRONOS is trying to achieve, and if 'Klymenos Underwrath' is any indication, I'd say that they're onto something special. Think the bludgeoning groove of Benighted dipped in the Ancient Roman melodies of
Son Of Aurelius. It strikes the perfect balance between God of War-style sonic violence and epic melodies, and serves as the perfect backdrop for the Greek Mythology themes which permeate KRONOS' music." – Metal Injection on first single, "Klymenos Underwrath"
http://www.facebook.com/KRONOS
http://www.uniqueleader.com
http://www.facebook.com/UniqueLeaderRecords
http://www.twitter.com/UniqueLeaderRec
http://www.youtube.com/uniqueleaderrecords