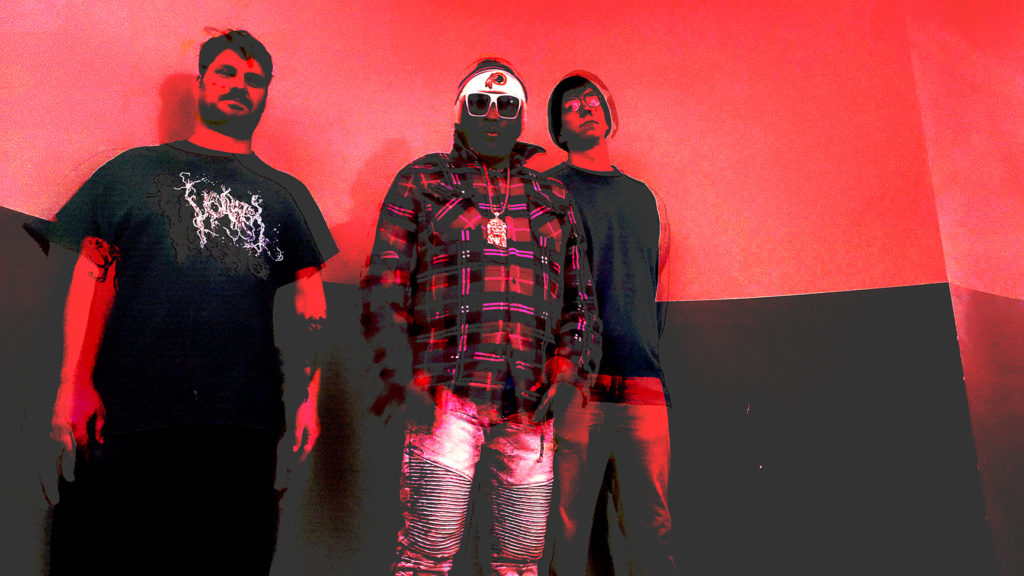 photo by David Brenner
"…aggressive, trippy, and the perfect way to take your mind off things this weekend." – New Noise Magazine
Legendary Bronx, New York City-based rapper KOOL KEITH and Nashville powerviolence duo THETAN present their collaborative Space Goretex LP, featuring guest appearances from members of Gwar, Three 6 Mafia, Dwarves, Lost Dog Street Band, and more. As the album nears release through Anti-Corporate Music next week, a new visualizer video for the track "Let's Take A Trip" has been premiered through New Noise Magazine.
Space Goretex was recorded by Dan Emery and Fred Ones, with all post-production and mastering handled by Emery at Black Matter Mastering (Buzzov*en, Lost Dog Street Band, Krieg). The album's cover art was handled by Ethan Lee McCarthy (Primitive Man, Many Blessings) and its videos/visual assets created by David Brenner (Gridfailure).
THETAN offers, ""This is the type of track that unbeknownst to most people, we record in nearly every recording session. We just kind of goofed around with a bass line and added a bunch of improv noise around it. Then we whittle it down to the sounds that work with the vibe. It keeps the recording sessions interesting. They'll be hours of screaming and rage, then a short period of laidback improvisational tomfoolery."
New Noise Magazine writes, "KOOL KEITH x THETAN's 'Let's Take A Trip' single is aggressive, trippy, and the perfect way to take your mind off things this weekend."
See the KOOL KEITH x THETAN "Let's Take A Trip" video at New Noise Magazine RIGHT HERE.
Anti-Corporate Music will release Space Goretex on CD, LP, cassette, and all digital platforms on April 10th. Find preorders for all formats including merch options HERE.
Watch for an official video for the "Hallucinations" single and more to be posted in the weeks ahead.
Following their liaison last year for the "Complicated Trip" Record Store Day single, KOOL KEITH and THETAN present Space Goretex. Highlighting the artist's singular lyrical attack, Space Goretex is the first album combining all of KOOL KEITH's primary personas – Dr. Octagon, Dr. Dooom, and Black Elvis. The instrumentation is primarily comprised of bass, drums, theremin, and synth, performed by THETAN's Chad L'Plattenier and Dan Emery. The album also includes some special guest appearances, including Gangsta Boo (Three 6 Mafia) who performs as Officer Lola. Casey Orr (Gwar, X-Cops) appears as his X-Cops character Sheriff Tubb Tucker, marking the first time he has recorded anything as this character since 1996. Blag Dahlia from the Dwarves provides a monologue alongside Ashley Mae of Lost Dog Street Band and DJ Black Cat Sylvester, inventor of the Synth-Table. Blowfly's right-hand man Uncle Tom Bowker also makes an appearance.
Since the mid-1980s, KOOL KEITH has been an icon in the hip-hop world, as one of the founders of the Ultramagnetic MC's. Following that act's departure, he began a long career with several personas, releasing an extensive arsenal of albums, singles, and much more since the mid-1990s, including collaborations with Ice-T, Tim Dog, Dan The Automator, and many others. His tracks have appeared in movies and television programs including Charlie's Angels, Grandma's Boy, Blade: Trinity, Scary Movie 2, Office Space, The Wire, Chuck, and more.
THETAN has been grinding out their pummeling powerviolence/hardcore since 2011, most of the time as the stripped-down two-piece lineup of drummer Chad L'Plattenier and bassist/vocalist Dan Emery the band currently bears. The band has issued two LPs, several singles and EPs, splits with the likes of Bleed The Pigs, Downpour, Bible Thumper, and others along the way.
https://www.facebook.com/officialkoolkeith
https://twitter.com/ultraman7000
http://facebook.com/welcometowhinecountry
https://thetan.bandcamp.com
http://anticorporatemusic.com
http://facebook.com/anticorpmusic
http://www.blackmattermastering.com