[photo by Alyssa Hermann]
Australian thrash grind malefactors, KING PARROT, are currently wreaking havoc through the US on tour with bong-wielders, Weedeater. The band will pillage over two-dozen municipalities upon the tour's completion with the march coming to a close on April 18th in Wilmington, North Carolina. From there, KING PARROT will play two headlining shows including a special Housecore Records Signing Party at the Blue Nile in New Orleans April 20th before heading back to their home turf for a two-week Australian march with additional live invasions to be announced in the weeks to come. The live abrasions come in advance of the band's soon-to-be-unleashed Dead Set full-length.
Comments team KING PARROT: "We're half way through this wild circus tour with our brothers from Weedeater! It's been one hell of a ride so far and KING PARROT now has fourteen shows in a row through Central America, the East Coast and finishing up down in New Orleans at the Blue Nile on Monday April 20th for our Housecore Records signing party. We're all excited about the release of our new record Dead Set on May 19th and we've been loving showcasing some of this new material on the tour. It's going down a treat. Come out to a show if we're in your neck of the woods."
Dead Set will detonate May 19th in North America via Housecore Records. Produced by Philip H. Anselmo and Michael Thompson with Steve Berrigan at the infamous Nodferatu's Lair (Down, Eyehategod, Superjoint Ritual et al) in Louisiana, Dead Set touts ten grind-laden, punk-propelled odes of fuck-all sonic debauchery. A true leap forward from their debut, Dead Set exhibits a distinct maturity from a band who've committed to the rigors of international touring, slaying audiences through Asia, North America, Europe and Australia on a regular basis.
The first official sampler of Dead Set, came in the form of the hilarious "Like A Rat," video. Shot at the Anselmo compound and featuring a cameo appearance by the legendary frontman, the video has already reaped over 40K views and continues to win the approval of metallers globally. Issued the band of the clip, "We're really grateful that we got the opportunity to record in a studio that's not all fancy bells and whistles, just a real down to earth place where we felt comfortable. Our aim was to get a unique and organic sounding product that sounds exactly like the band. I think we achieved that working with Phil, Mike and Steve." If you missed it, watch "Like A Rat" below.
KING PARROT w/ Weedeater [remaining dates]:
4/07/2015 Riot Room – Kansas City, MO [more]
4/08/2015 Wooly's – Des Moines, IA [more]
4/09/2015 Rock Island Brewing – Rock Island, IL [more]
4/10/2015 Pyramid Scheme – Grand Rapids, MI [more]
4/11/2015 Subterranean – Chicago, IL [more]
4/12/2015 Grog Shop – Cleveland, OH [more]
4/13/2015 Saint Vitus – Brooklyn, NY [more]
4/14/2015 Nectars – Burlington, VT [more]
4/15/2015 T.T. The Bear's Place – Boston, MA [more]
4/16/2015 Kung Fu Necktie – Philadelphia, PA [more]
4/17/2015 Ziggy's By The Sea – Wilmington, NC [more]
4/18/2015 Local 506 – Chapel Hill, NC
4/19/2015 The Earl – Atlanta. GA * KING PARROT headlines
4/20/2015 Blue Nile – New Orleans, LA Housecore Records Signing Party * KING PARROT headlines
Australian Tour Dates:
5/14/2015 The Loft – Warrnambool, VIC
5/15/2015 Fowlers Live – Adelaide, SA
5/16/2015 The Corner – Melbourne, VIC
5/17/2015 Wrangler Studios – Footscray, VIC
5/21/2015 Magpies – Canberra, ACT
5/22/2015 Corrimal Hotel – Wollongong, NSW
5/23/2015 Newtown Social Club – Sydney, NSW
5/24/2015 Small Ballroom – Newcastle, NSW
5/28/2015 Tatts Hotel – Lismore, NSW
5/29/2015 Coolangatta Hotel – Gold Coast, QLD
5/30/2015 Crowbar – Brisbane, QLD *all ages show
5/30/2015 Crowbar – Brisbane, QLD * 18+
6/05/2015 Prince Of Wales – Bunbury, WA
6/07/2015 YMCA HQ – Perth, WA w/ special guests High Tension, Colossvs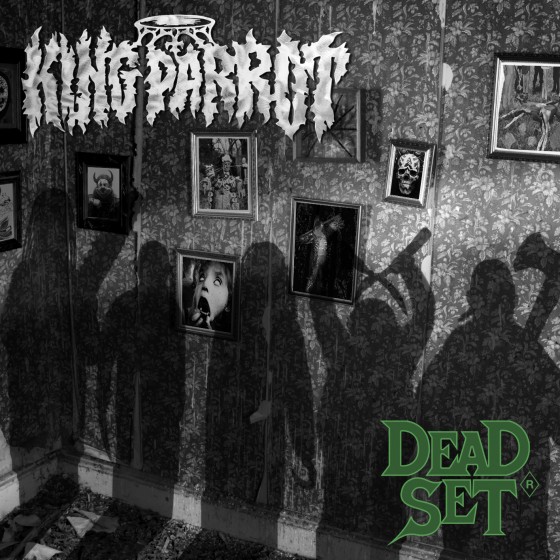 KING PARROT's Dead Set will drop on May 19th, 2015. Digital preorders are now available via iTunes at THIS LOCATION. Physical preorder bundles are available at: http://www.thehousecorestore.com
http://www.facebook.com/kingparrotband
KING PARROT on YouTube
http://www.thehousecorerecords.com