As Beer City Records And Skateboards prepares to blast the collective public in the face with speed punk quartet DEATHWISH's debut LP, Out For Blood, Decibel Magazine unloads the first single from the unhinged album through an exclusive premiere.
Out For Blood splays the DEATHWISH style of melding metallic elements into the old-school punk chassis of their off-the-tracks locomotive, the train's engine running on kilo kegs of nitroglycerine and its course set by Motörhead and GBH. Based in northern Wisconsin, with members hailing from Wartorn, Dresden, The Parish and more, the band is a motorcharged quartet that annihilates everything in its path, where elements of punk, hardcore and straight-up rock collide in a mangled inferno. Out For Blood was recorded with Adam Tucker at Signaturetone Recording, and mastered by Jack Control (Severed Head of State, World Burns to Death) at Enormous Door Mastering, and features art by Marald, Randall Witte and Doomsday Graphics. Decibel Magazine is now crushing heads in with the new album's second song, "Deathwish," the brutalizing namesake track carrying forth the most characteristic traits of DEATHWISH and the band's straightforward attack.
Unload DEATHWISH's courtesy of Decibel Magazine RIGHT HERE.
Marking the first in a three album deal with Milwaukee-based Beer City Skateboards And Records, DEATHWISH will release the LP version of Out For Blood as an official Record Store Day title on Saturday, April 18th, limited to 1000 copies on translucent red vinyl. The digital version will also be live the same day as the vinyl, as will a limited edition cassette version on OSD Press and Berzerker Records. Beer City will release the CD version of Out For Blood with full distribution on May 12th. Preorders for the CD are live right HERE.
Additional dates have been added to the impending US tour which will see DEATHWISH supporting Out For Blood on the road alongside seminal Texas hardcore punk lords, and labelmates, MDC. For nearly three weeks the two acts will caravan across the country, beginning May 1st with a trio of shows alongside the legendary Channel 3, and including all three bands' confirmed sets at No Tomorrow Fest in Appleton, Wisconsin with Solstice, Hemdale, Die Choking and many more. The tour comes to a close on May 20th, with the final details coming together now. In addition to the tour with MDC, DEATHWISH has been locked for Cruststock Vol. 3 in late June, as one of more than forty bands to raid Anaheim, California for the three-day event, including, Deviated Instinct, Antisect, Capitalist Casualties, Wartorn, Theories, The Restarts, The System, War/Plague, Thulsa Doom and countless more. Additional DEATHWISH US tours with Raw Power and The System will be announced in the coming weeks as well.
DEATHWISH Tour Dates:
5/01/2015 Red Line Tap – Chicago, IL w/ MDC, Channel 3
5/02/2015 No Tomorrow Fest – Appleton, WI w/ MDC, Channel 3, Solstice, Hemdale, more [info]
5/02/2015 Triple Rock – Minneapolis, MN w/ MDC, Channel 3
5/04/2015 The Hide Out – Omaha, NE w/ MDC
5/05/2015 7th Circle – Denver, CO w/ MDC
5/06/2015 Music Garage – Salt Lake City, UT w/ MDC
5/07/2015 The Shredder – Boise, ID w/ MDC
5/08/2015 Old Nick's – Eugene, OR w/ MDC
5/09/2015 Tonic Lounge – Portland, OR w/ MDC
5/11/2015 TBA – Medford, OR w/ MDC
5/12/2015 755 After Dark – Santa, Rosa, CA w/ MDC
5/13/2015 924 Gilman – Berkeley, CA w/ MDC
5/14/2015 Los Globos – Los Angeles, CA w/ MDC
5/15/2015 Til 2 – San Diego, CA w/ MDC
5/16/2015 The Music Hall – Anaheim, CA w/ MDC
5/17/2015 Pub Rock – Tempe, AZ w/ MDC
5/18/2015 Gary's Place – Tucson, AZ w/ MDC
5/20/2015 The Rock Shop – San Jose, CA w/ MDC
6/27/2015 The Music Hall – Anaheim, CA [info] @ Cruststock 3 w/ Deviated Instinct, Antisect, Capitalist Casualties, Theories, Wartorn, more [info]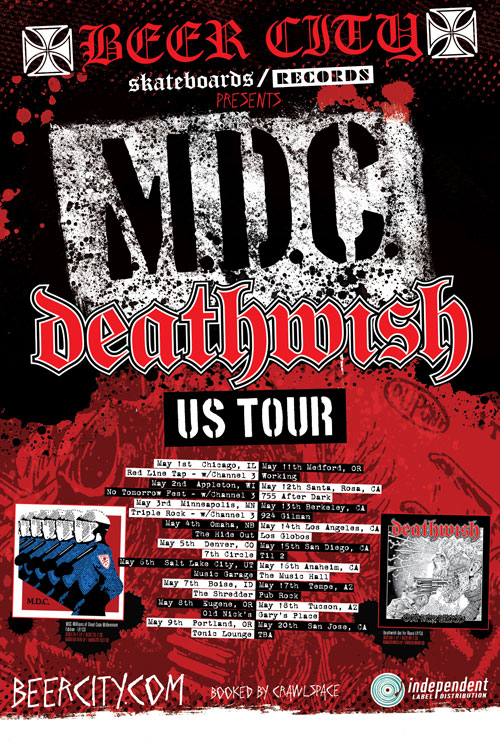 https://www.facebook.com/deathwish666motorcharged?ref=hl
http://www.beercity.com
https://twitter.com/beercitysk8rec
https://www.facebook.com/pages/Beer-City-Skateboards-and-Records/226125394138196