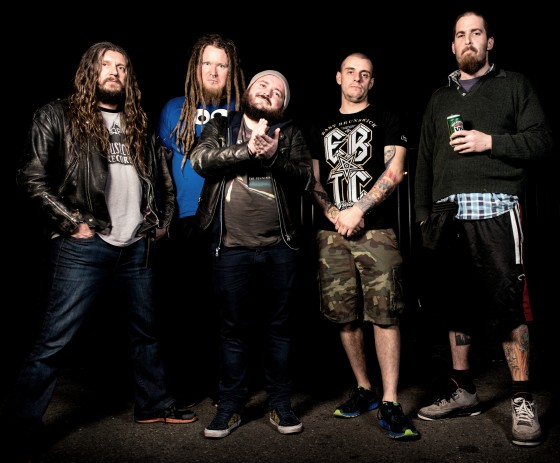 Australian thrash grind miscreants, KING PARROT, will return to the stage this March on another North American rash of live devastations. Slated to embark on March 21st in Austin, Texas, KING PARROT will march through two-dozen cities supporting bong metal perpetrators, Weedeater, with the passage coming to a close on April 18th in Wilmington, North Carolina. The Metal Injection-sponsored tour follows the band's ten-date run through Europe (also supporting team Weedeater).
Declares the band, "We're honored to be heading out with the legendary Weedeater. We've heard only awesome reports about this great band live, and we can't wait to have our own chapter in the folklore of Dixie Dave and company. All the people working behind the scenes on this tour have been excited about pairing our bands for some time, so I'm sure this will be one for the ages! Expect all the crazy shit you would at a high octane punk or metal show, and then times it by ten, as I'm positive both bands will bring their proverbial A game. I've heard from people around the country, 'If there's anyone crazier than KING PARROT, it's Weedeater. 'We'll be out to prove them wrong! We'll also be playing a swag of songs from our new album to be released mid-year, so come get a sample of what we have in store."
KING PARROT w/ Weedeater:
3/06/2015 Kavka – Antwerpen, BE
3/07/2015 Sound Control – Manchester, UK
3/08/2015 Underworld – London, UK
3/09/2015 Aeronef – Lille, FR
3/10/2015 Glazart – Paris, FR
3/11/2015 Ptr,Usine – Geneva, CH
3/12/2015 Freak Out – Bologna, IW
3/13/2015 Juha West – Stuttgart, DE
3/14/2015 Vortex Surfer – Siegen, DE
3/15/2015 Burgerweeshuis – Deventer, NL
3/21/2015 The Lost Well – Austin, TX [more]
3/24/2015 Launchpad – Albuquerque, NM [more]
3/25/2015 Pub Rock Live – Scottsdale, AZ [more]
3/26/2015 Casbah – San Diego, CA [more]
3/27/2015 The Complex – Los Angeles, CA [more]
3/28/2015 Catalyst – Santa Cruz, CA [more]
3/29/2015 DNA – San Francisco, CA [more]
3/30/2015 Starlite Lounge – Sacramento, CA [more]
3/31/2015 Dante's – Portland, OR [more]
4/01/2015 Studio Seven – Seattle, WA [more]
4/02/2015 The Pin – Spokane, WA [more]
4/03/2015 Neurolux – Boise, ID [more]
4/04/2015 In The Venue – Salt Lake City, UT [more]
4/05/2015 Bluebird Theater – Denver, CO [more]
4/07/2015 Riot Room – Kansas City, MO [more]
4/08/2015 Wooly's – Des Moines, IA [more]
4/09/2015 Rock Island Brewing – Rock Island, IL [more]
4/10/2015 Pyramid Scheme – Grand Rapids, MI [more]
4/11/2015 Subterranean – Chicago, IL [more]
4/12/2015 Grog Shop – Cleveland, OH [more]
4/13/2015 Saint Vitus – Brooklyn, NY [more]
4/14/2015 Nectars – Burlington, VT [more]
4/15/2015 T.T. The Bear's Place – Boston, MA [more]
4/16/2015 Kung Fu Necktie – Philadelphia, PA [more]
4/18/2015 Ziggy's By The Sea – Wilmington, NC [more]
KING PARROT released their Bite Your Head Off full-length via Candlelight Records in 2013 and have been road-bound ever since, waging their sonic brutality and live antics upon unsuspecting eyes and ears both stateside and abroad. Championed for its, "dark, black humor,' and accurately dubbed, "raucous, uncouth, rude, scatological and completely compelling," by This Is Not A Scene, Bite Your Head Off was produced by Jason Fuller (Blood Duster, Dern Rutlidge) and Adam Calaitzis (Damaged, Abramelin) and manages to capture the raw intensity of their furious live assault, defying genres with a cross section attack of thrash, grind, punk and hardcore.
"A nice little cross-up of musical ability and amusing visuals (the videos for 'Dead End' and 'Shit On The Liver' are quality viewing), KING PARROT should be able to find their place in a relatively stale and average grind scene. And frankly, thaty's what grind needs: A shot in the arm, a mix-up, and some well-intended goofiness… this should do it. 8.5/10″ – Dead Rhetoric
"I've never felt so personally threatened by a record before" – Hysteria Magazine
"…a must for any fans of Australian metal or extreme metal 4/5" – Sputnik Music
"…a calculated piece of extreme art, with strong musicianship and a production job skilfully left just on the right side of raw and dirty…" – Beat.com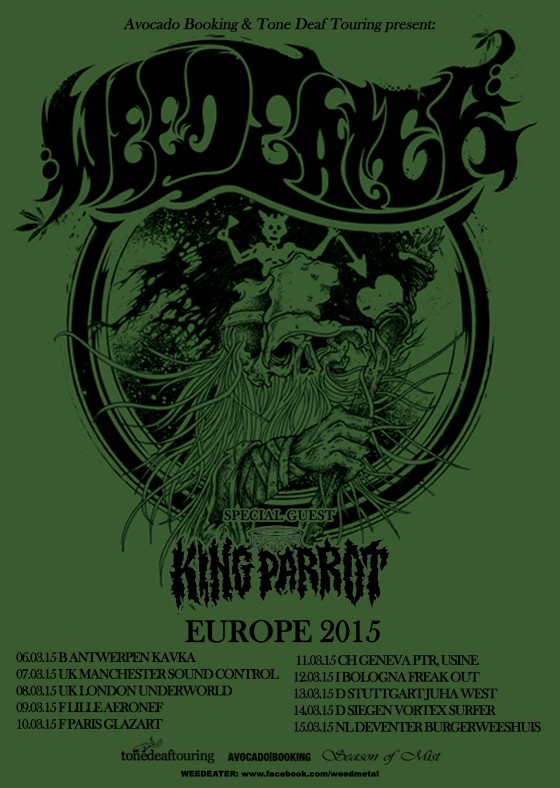 http://www.facebook.com/kingparrotband
KING PARROT on YouTube