Pennsylvania mostly-instrumentalists, KING DEAD, will bring their spacious, tripped out, post-metal/doom manifestations to the stage on a smattering of live performances this Summer. The band's latest excursions include an in-store appearance this weekend at Darkside Records in Poughkeepsie, New York with Geezer and Linear North.
Comments drummer Steve Truglio of the upcoming dates, "It's really getting fun now. Not only are we enjoying the hell out of playing the new Woe & Judgment stuff, but we just started test driving an even newer song in the set. We are playing cool places with great bands and things are really starting to click."
KING DEAD undraped their three-song full-length, Woe & Judgement, earlier this year. Having impressed with the spacious post-metal textures of their 2014 demo, the scope of Woe & Judgement has expanded considerably even from where it started. With three tracks constructed to fit on two sides, KING DEAD – Truglio with four-string bassist Kevin Vanderhoof, and six-string bassist Wil McGrath – pushes its way into an encompassing rumble that still seems to hold onto a human core even as it lumbers between airy doom and rawer, thoroughly-reverbed noise. "It's an immersive, thirty-seven-minute stretch," proclaims The Obelisk, "but lack of pretense prevails, and KING DEAD's debut long-player finds them aesthetically locked in and proffering a balance between the raw and the lush, with a patience underlying that only makes the songs seem more methodical."
Woe & Judgement is currently available on limited edition vinyl and can be streamed at THIS LOCATION.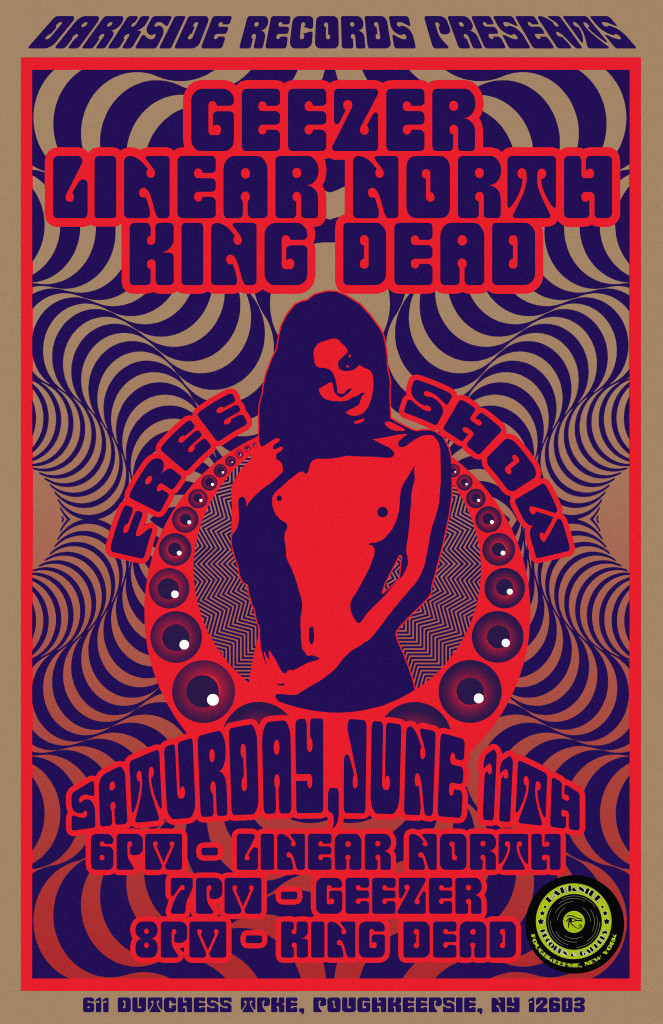 KING DEAD:
6/11/2016 Darkside Records – Poughkeepsie, NY w/ Geezer, Linear North
6/13/2016 Saint Vitus Bar – Brooklyn, NY w/ Chiefs, Beast Modulus, River Cult
8/06/2016 Smiling Moose – Pittsburgh, PA w/ Iron Man, Caustic Casanova, Horehound
8/19/2016 O'Briens Pub – Allston, MA w/ Snail
KING DEAD have been conspicuously haunting the Stroudsburg, Pennsylvania area. Bass players Wil McGrath and Kevin Vanderhoof, recruited New Jersey transplant Steve Truglio on drums in 2013, and have been traumatizing ears throughout Pennsylvania ever since. Their debut record Woe & Judgement was recorded by Dave Reiser in Stroudsburg at Rock Hard Studios. Call it sludge, doom, spaghetti western doom sludge… With virtually no vocals, it's all about dynamics and the building tempos. Creepy, dreary, sleepy and melodic riffs layered over deep bottom and pounding drums.
Said Uandumusic.com of the band's latest offering, "Woe & Judgement is an instrumental doom-metal album that has material to please everyone from those who are fans of the older-school drone-theory of traditional doom-metal, to those who are excited about where the genre's future is headed. With the dense production utilized, the album has an overall feel that would best be described as taking doom metal into the same atmospheric place that Mayhem did for black metal on Ordo Ad Chao. This production of the album, along with a guitar tone and style that delves into the first wave of the goth/death rock genres–especially early Bauhaus–helps them add to their self-described "spaghetti western doom sludge." With the tri-tone and minor chord-progressions, along with slower tempos and the sounds of oversaturated guitar, KING DEAD has definitely crafted a sound of their own."
http://www.facebook.com/king.dead.band
http://www.kingdead.bandcamp.com