photos by Ericka Poore
The second season of Anti-Corporate Records' beloved The Magnolia Sessions continues this month, with the release of a new recording from JADE BRODIE, out today. Alongside the album's release, its opening track "Split My Tooth" is now playing at The Sleeping Shaman.
The first season of The Magnolia Sessions delivered a new record the first week of every month from its launch in September 2020 through May of 2021. The series showcases bluegrass, dark country, and folk singer/songwriter acts, recorded in an intimate outdoor setting by a large magnolia tree at the Anti-Corporate Music/Black Matter Mastering headquarters in Nashville, Tennessee, by Anti-Corporate Music/Black Matter Mastering engineer Dan Emery. The first season yielded heartfelt releases from Matt Heckler, Jason Dea West, Johno Leeroy, Cristina Vane, Nick Hans, Casper Allen, Jeff Loops, Angela Autumn, and Austin Stambaugh. Following a break over the Summer, the new season of The Magnolia Sessions relaunched in September, having since delivered albums from The Lost Dog Street Band, The Hill Country Devil, Joe Wunderle, The Resonant Rogues, Cooper McBean, and Douglas Francisco. Many of the records in the series have debuted on the Billboard Bluegrass Charts and more.
JADE BRODIE is a railroading songstress from Northern Nevada. Drawing inspiration from the blue-collar hero and away-from-home lifestyle of the railroad. She writes her songs with a heavy train beat, strong will, and simple poetry. Originally from the near coastal towns of Sonoma County, California, she boomed around until she found a better life in Nevada. She traded in the railroading lifestyle for a more routed existence of ranching and is lucky enough to work horseback. She's. still exploring her sound through this new way of life and is grateful for it.
BRODIE writes, "I've never been on a plane with a guitar before, and I've never been to Nashville either. I drove to Reno early enough to stop at D Bar M to find a new pair of Boulet boots for work. I'm not in Reno too often and I knew this was a good chance. I had just got hurt setting ropes on a calf, so I was hobbling through the airport with a knee brace on, too shy to ask for a cart ride. Dan picked me up from the airport. It was dark time and raining. Coming from the dry high desert I was relieved to be in humid weather. When I practice alone, I tend to close my eyes, recording this album at night felt the same. Just enough light to know I'm under a magnolia tree in a new backyard, but dark enough to feel like I'm the only one there. I struggle playing alone, feeling comfortable enough to confidently play my songs, but the cicadas kept me company and helped fill the space I wasn't looking forward to hearing. A few of these songs are a couple years old, a few are brand new. I am grateful for the experience, and I hope you enjoy."
Emery reveals, "Jade's session was the last one we recorded for the 2021 season. We had already postponed it once due to illness, this time it had been raining and was misty all day. Jade had gotten into town the night before, and on the day of the session, my wife's brother came over and had a party in our backyard. Needless to say, the atmosphere was strange to be preparing for a live folk album, but nonetheless Jade worked through her tracks effortlessly. Her session was one of the most seamless ones of the year."
Stream JADE BRODIE's "Split My tooth" through The Sleeping Shaman now at THIS LOCATION.
The Magnolia Sessions titles are available directly through Anti-Corporate Music's webshop HERE.
Watch for additional installments of The Magnolia Sessions to post the first week of the month through late Spring.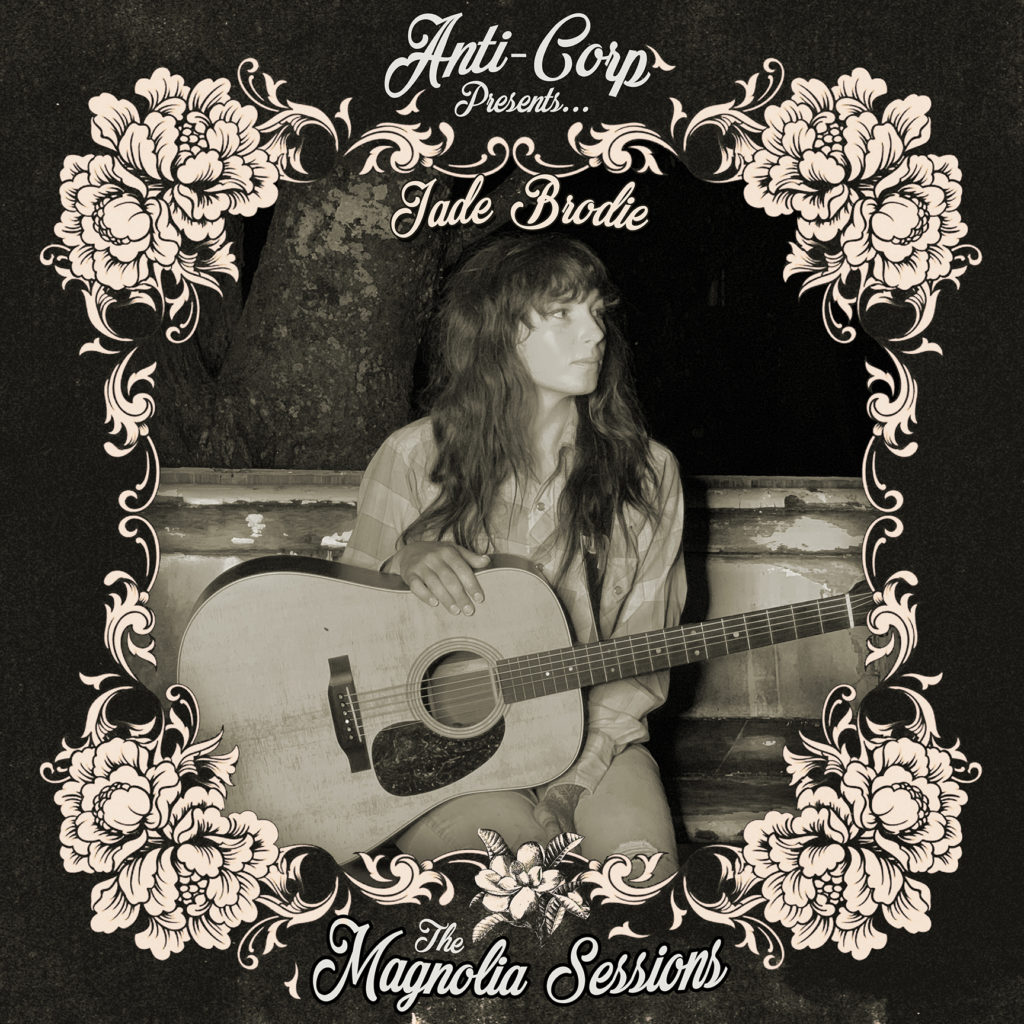 JADE BRODIE's The Magnolia Sessions Track Listing:
1. Split My Tooth
2. Sunny Outside
3. Open Roads
4. Mornin'
5. Traveling Man
6. Making History
7. Honkytonk Woman
8. Walking Out The Door
https://jadebrodie.com
https://www.instagram.com/jade_brobro
https://www.facebook.com/jadebrobro
https://jadebrodie.bandcamp.com
http://anticorporatemusic.com
http://facebook.com/anticorpmusic
http://www.blackmattermastering.com
https://www.facebook.com/blackmattermastering
https://www.instagram.com/black_matter_mastering