Northern Virginia-based trio, IRIS DIVINE, has joined The Laser's Edge family by signing with the label's progressive metal subdivision, Sensory Records, for the late Spring release of their impending debut album, Karma Sown.
With a brand of emotional, progressive hard rock/metal not quite like anything else out there, IRIS DIVINE is musically rooted in the raw energy and rhythmic interplay of Rush and King's X. Fans of dark, guitar-driven rock bands from Alice In Chains, Deftones to the contemporary metal riffing of Lamb of God and Pantera, will connect to the heavy core of the band's modern sound. Add to that progressive complexity and moody synths inspired by Dream Theater and Porcupine Tree, and a liberal dose of memorable hooks and melodies, to understand some elements of the band's sound. And yet, the band has a distinct identity, not quite sounding like any of the aforementioned bands, and with an emotional urgency that pulls subtly from alternative and other influences.
Hailing from just outside of the Washington, DC area, IRIS DIVINE has opened for such acts as Katatonia, Orphaned Land, Fates Warning, and Periphery, channeling its studio output into intense, passionate live performances that balance precision with in-the-moment catharsis. Often called a "musician's band," the band time and again earned the respect of its regional peers, and could well become new faces gaining prominence among the musician community on a wider scale.
Following their previously-released 2011 double EP, Convergence, and a demo in 2013, IRIS DIVINE's glorious debut full-length, Karma Sown, is a triumph of a debut album, immediate and memorable but revealing layers and depth upon repeated listens. The record was produced by IRIS DIVINE, engineered by Drew Mazurek and Farhad Hossain, mixed by Drew Mazurek, and mastered by Brian J. Anthony, and its cover art conceived by Kris Combs and executed by Visual Decay. With the potential to make a connection to a wide range of prog, rock and metal nationally and internationally, the band looks to 2015 and beyond to bring a new and powerful voice to fans around the world.
Karma Sown's third track, "A Suicide Aware," has been made available; listen now at THIS LOCATION.
Sensory Records will release Karma Sown worldwide on CD and digitally on March 31st, 2015. Stand by for additional album details, additional audio teasers and much more on IRIS DIVINE in the weeks ahead and throughout the year.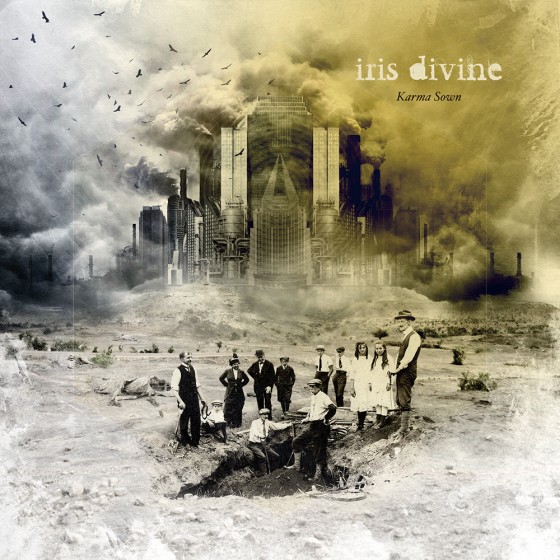 Karma Sown Track Listing:
1. The Everlasting Sea
2. Fire of the Unknown
3. A Suicide Aware
4. Mother's Prayer
5. Prisms
6. In Spirals
7. Apathy Rains
8. In the Wake of Martyrs
IRIS DIVINE:
Navid Rashid – vocals, guitar
Kris Combs – drums, keys/programming
Brian Dobbs – bass
http://www.irisdivine.bandcamp.com
http://www.facebook.com/irisdivine
http://www.lasersedgegroup.com/labels/sensory-records
http://www.facebook.com/TheLasersEdge
http://twitter.com/thelasersedge