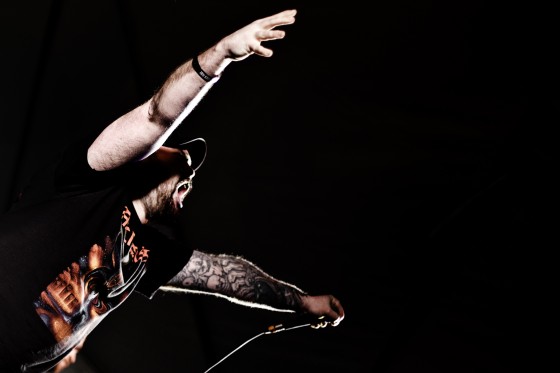 This week, the almighty INTEGRITY embarks on the second phase of their massive world tour in support of the sect's tenth LP, Suicide Black Snake, released in June via A389 Recordings/Magic Bullet Records.
Following the North American tour in late May building up to the album's release, INTEGRITY dominated Maryland Deathfest, stormed Chaos In Tejas and tore down a row of other cities across the continent, including the band's first-ever Canadian shows. Continuing the band's most intense tour schedule in years, this week the outfit gets ready to take their Suicide Black Snake endtime sermon to twenty-four European cities including performances at Vlamrock, Resurrection, Voice Of Art, Days Of Fury and Bunker Summer festivals. See the fully updated tour itinerary below.
An album that takes INTEGRITY's roster to new levels of audio experimentation, Suicide Black Snake has surprised and intrigued both longtime fans and newly harvested souls, the ten-song LP integrating elements of Japanese hardcore, noise and even blues into some of the most extravagant divebomb-solos and crushing breakdowns in the band's ongoing twenty-five year reign of iniquity.
For one week — from now through next Wednesday, July 31st — fans can download the entire Suicide Black Snake LP for FREE… GET IT HERE.
INTEGRITY Suicide Black Snake European Tour:
7/26/2013 JZ St. Peter – Duisburg, Germany
7/27/2013 Vlamrock Festival – AS, Belgium
7/28/2013 Le Pub – Port, UK
7/29/2013 Wharf Chambers – Leeds, UK
7/30/2013 Fiber – Dublin, Ireland
7/31/2013 Trillians – Newcastle, UK
8/01/2013 Underworld – London, UK
8/02/2013 Resurrection Festival – Viveiro, Spain
8/03/2013 New Noise – Karlsruhe, Germany
8/04/2013 Le Ferrailleur – Nantes, France
8/05/2013 Le Saint Des Seins – Toulouse, France
8/06/2013 TBA – Bordeaux, France
8/07/2013 Le Korigan – Luynes/Aix en Provence, France
8/08/2013 Magnolia Club – Milano, Italy
8/09/2013 Freakout Club – Bologna, Italy w/ Hierophant
8/10/2013 Mostovna – Nova Goricia, Slovenia
8/16/2013 Voice Of Art Festival – Hohenstein-Ernstthal, Germany
8/17/2013 Days Of Fury Fest – Fredericia, Denmark
8/18/2013 Innocent – Hengelo, Netherlands w/ Cornered
8/19/2013 Bei Chez Heinz – Hannover, Germany
8/20/2013 Cassiopeia – Berlin, Germany
8/21/2013 Headcrash – Hamburg, Germany
8/22/2013 Bunker Festival – Oslo, Norway
8/23/2013 L' Orient – Linkoping, Sweden
"…an act that helped pioneer metalcore by stripmining punk rock's firmament and flooding it with the influence of doom, thrash, and psychedelic rock. Their sound has been inestimably influential, helping to fork the path that bands such as Converge, Hatebreed, and a million others have since traveled." – Pitchfork
"…they're still raging. The band's 10th offering is hateful, hostile, and misanthropic, a hybrid of Slayer, early C.O.C. and Today Is The Day destined to leave listeners feeling pissed and depressed and yet strangely satisfied. 4/5" – Revolver
"…Integrity is one of the few Hardcore bands who actually utilize the guitars by integrating memorable riffs and face-ripping solos into their tough, no-nonsense sound… the subject matter is as dark and apocalyptic as any fan would hope. Integrity are still very much themselves here: dark, heavy, and angry: which is all they'll ever need to be. 8/10" – Metal Injection
"After 25 years many bands struggle to stay fresh, interesting, or even remotely relevant. Fortunately for fans of dark, metallic hardcore, Integrity has never fallen prey to such a fate." – Lambgoat
"From charged tempos with punk undertones to slower, almost sludgy metallic moments, this is the most varied Integrity disc in recent years, even touching on blues influences and with an appearance of a harmonica. Orr's musicianship is unparalleled, from down tune riffage to classic rock-ish solos to meticulous drum patterns which suit Hellion's inimitable delivery perfectly. 4/5" – New Noise Magazine
https://www.facebook.com/INTEGRITY.HT
http://www.holyterror.com
http://www.a389records.com
https://www.facebook.com/a389recordings
https://twitter.com/a389recordings
http://www.magicbulletrecords.com
http://www.facebook.com/magicbulletrecords
http://www.twitter.com/magicbulletrecs