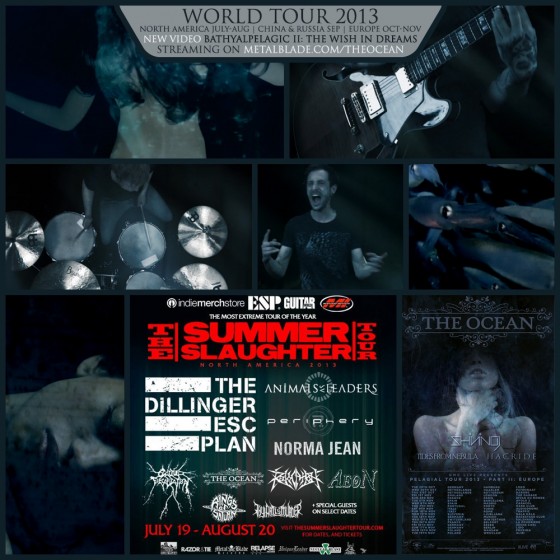 THE OCEAN has launched a brand new video for "Bathyalpelagic II: The Wish in Dreams" from their most recent album, Pelagial. The band's first official music video, not counting previous videos composed of live footage, was directed by Alexander Kraudelt and Lukas Hambach and produced by Frameshock, with additional visuals by Craig Murray. Founding guitarist Robin Staps comments: "This clip is blending performance footage with excerpts from Craig Murray's Pelagial movie, which was released along with the limited edition CD and vinyl boxset versions of the album. We've never really done a clip like that before, but it was great fun making this."
"Bathyalpelagic II: The Wish in Dreams" is streaming now on metalblade.com/theocean.
Pelagial, the latest album from THE OCEAN, has been received with open arms and ears across the globe. MetalSucks declared that THE OCEAN have "never written more intriguing music" in their 5/5 review. Spin recognized the band's diversity with "Mastodon-shaped footprints, lush strings… [before] the submarine crashes at Melvins tempos," Decibel noted a band who have, "become more luxurious, experimental and textural," Terrorizer heard an album, "ambitious and adventurous," whilst Kerrang were bowled over by "melodrama, intimacy, grandeur, grace and big fucking riffs." RockARolla, bastions of taste at the experimental end of heavy music, emphasized how revered THE OCEAN currently are: "With Isis gone, no one has yet taken their place as intelligent and sensitive masters of post-metal but, with this, there's no doubt that THE OCEAN are shoe-ins for the title."
The latter's emphasis is fitting considering THE OCEAN recently toured a number of sell-out shows with another master of post-metal, Cult of Luna. The Mastodon reference is relevant after they invited THE OCEAN out for their Summer tour dates, and the diversity on display is never more apparent when you consider tours in the past few years with Dillinger Escape Plan, Opeth and Anathema.
Diverse elements are honed and perfected on Pelagial, and this ethos is at the heart of the touring package for THE OCEAN's headlining European tour. Set to commence on October 29, 2013, support will come by way of Norway's Shining, Poland's Tides From Nebula and France's Hacride.
THE OCEAN are currently making their way through North America as part of the seventh annual Summer Slaughter Tour. Presented by Indie Merch Store, ESP and Guitar World, the progressive sound contortionists are currently leveling stages nightly alongside the likes of The Dillinger Escape Plan, Animals As Leaders, Periphery, Norma Jean, Cattle Decapitation, Revocation, Aeon and more. Following their Stateside takeover, THE OCEAN will play select shows throughout Taiwan, China and Russia. See all confirmed dates below.
THE OCEAN on The Summer Slaughter Tour [remaining dates]:
7/24/2013 Diamond Ballroom – Oklahoma City, OK
7/25/2013 The Scott Inn – Austin, TX
7/26/2013 House of Blues – Dallas, TX
7/27/2013 House of Blues – Houston, TX
7/29/2013 House of Blues – Lake Buena Vista, FL
7/30/2013 The Masquerade – Atlanta, GA
7/31/2013 Old City Courtyard – Knoxville, TN
8/01/2013 House of Blues – Myrtle Beach, SC
8/02/2013 The Filmore Silver Springs – Silver Springs, MD
8/03/2013 The Palladium – Worcester, MA
8/04/2013 The Trocadero – Philadelphia, PA
8/07/2013 Best Buy Theater – New York, NY
8/08/2013 Sound Academy – Toronto, ON
8/09/2013 Metropolis – Montreal, QC
8/10/2013 Upstate Concert Hall – Clifton Park, NY
8/11/2013 The Majestic Theatre – Detroit, MI
8/12/2013 House of Blues – Chicago, IL
8/13/2013 The Rave – Milwaukee, WI
8/14/2013 The Cabooze – Minneapolis, MN
8/15/2013 Club Antares – Omaha, NE ***
8/16/2013 Ogden Theatre – Denver, CO
8/17/2013 The Complex – Salt Lake City, UT
8/19/2013 Snowbox Sodo – Seattle, WA
8/20/2013 Roseland Ballroom – Portland, OR
8/21/2013 Biltmore Cabaret – Vancouver, BC ***
8/24/2013 Circo Volador – Mexico City, MX ***
9/01/2013 The Wall – Taipeh, TWN ***
9/04/2013 Hidden Agenda – Hong Kong, HKN ***
9/05/2013 B10 – Shenzhen, CHN ***
9/06/2013 SD – Guangzhou, CHN ***
9/07/2013 Vox – Wuhan, CHN ***
9/08/2013 46 House – Changsha, CHN ***
9/11/2013 Yuylntang – Shanghai, CHN ***
9/12/2013 Nuts – Chongqing, CHN ***
9/13/2013 Little Bar – Chengdu, CHN ***
9/14/2013 Mao – Beijing CHN ***
9/15/2013 13 Club – Tianjin, CHN ***
9/19/2013 Megapolis – Irkutsk, RUS ***
9/21/2013 Era – Krasnoyarsk, RUS ***
9/22/2013 Mayak – Tomsk, RUS ***
9/23/2013 Rock City – Novosibirsk, RUS ***
9/25/2013 Plan-K.Tone – Tyumen, RUS ***
9/26/2013 Nirvana – Yekaterinburg, RUS ***
9/28/2013 Plan B – Moscow, RUS ***
9/29/2013 Arktika – Saint-Petersburg, RUS ***
***THE OCEAN headlining shows
THE OCEAN Festival Performances:
10/03/2013 FZQ Freiseitzentrum West @ WestEnd Festival – Dortmund, Germany
10/06/2013 JC Sjiwa @ Progpower Europe – Baarlo, Netherlends
10/13/2013 Essigfabrik @ Euroblast Festival – Cologne, Germany
THE OCEAN w/ Shining, Tide From Nebula, Hacride:
10/29/2013 Logo – Hamburg, Germany
10/30/2013 Patronaat – Haarlem, Netherlands
10/31/2013 Baroeg – Rotterdam, Netherlands
11/01/2013 The Garage – London, United Kingdom
11/03/2013 Divan du Monde – Paris, France
11/05/2013 Apolo 2 – Barcelona, Spain
11/06/2013 Caracol – Madrid, Spain
11/07/2013 Hard Club – Porto, Portugal
11/09/2013 AudioDrome – Turin, Italy
11/10/2013 Traffic – Rome, Italy
11/11/2013 Gala Hala – Ljubljana, Slovenia
11/12/2013 Backstage Club – Munich, Germany
11/13/2013 Salzhaus – Winterthur, Switzerland
11/14/2013 La Poudriere – Belfort, France
11/15/2013 Zeche Carl – Essen, Germany
11/17/2013 Lido – Berlin, Germany
11/18/2013 Proxima – Warsaw, Poland
11/19/2013 Alibi – Wroclaw, Poland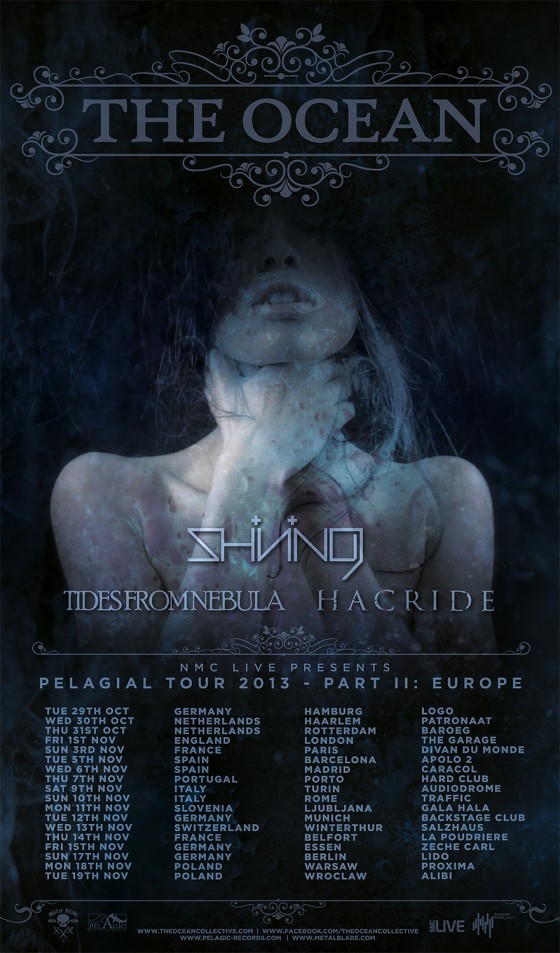 http://www.metalblade.com/theocean
http://www.youtube.com/theoceancollective
https://www.facebook.com/theoceancollective
http://theoceancollective.com/pelagial