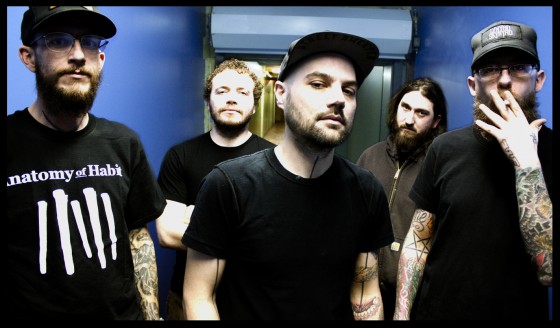 Just in time to derail all your New Year's resolutions, today, Invisible Oranges brings you "Directional" from Chicagoan blackened doom merchants, INDIAN. The tune comes courtesy of the unit's forthcoming From All Purity long player scheduled for release later this month via Relapse Records.
Recorded at Electrical Audio and Soma Studios in Chicago with engineer/co-producer Sanford Parker (Minsk, Nachtmystium, Yob, Samothrace), the six-track From All Purity is a taunting exercise in auditory hate and despair; a physically and psychologically jarring collision of tar-black doom, sprawling waves of noise and scathing outbursts of pain. Said Heavy Planet in an early review of the record, "This is a band wringing their dirty hands and tossing bricks, but they're hardly aimless. These six tracks hit the spite-nail straight on the head, driven directly into your senses. I didn't think anyone could improve upon [2011's] Guiltless. Somehow, these dudes have even less remorse than they did years three years ago." From All Purity is the true antithesis of easy listening.
Third hymn, "Directional," is currently streaming at Invisible Oranges who fittingly crowns the tune, "a militaristic, doom-impending march," furthering that "walls of thick noise-haze create a bleak, hopeless atmosphere overlaid with harsh distorted screams."
Get miserable with "Directional" at THIS LOCATION.
Happy 2014.
Additionally, you can still check out "Rhetoric Of No" HERE.
In related news, On January 19th, an official INDIAN listening party will be held at iconic heavy metal burger mecca, Kuma's Corner, in Chicago which will include the debut of an official INDIAN burger!
INDIAN
1/19/2014 Kuma's Corner – Chicago, IL * Listening Party + Burger Debut [info]
Forged in 2003, INDIAN's debut EP, God Slave, was a self-released mission statement, welcoming the band into the world like young, kicking, screaming giants. Their first three full-lengths – The Unquiet Sky, Slights And Abuse, and The Sycophant, respectively – were all issued through Portland, Oregon-based metal imprint Seventh Rule Recordings. Unapologetically harsh and chest-cavingly heavy, each of these releases found the band gaining momentum and attracting followers, as well as performing shows with scene heavyweights such as Wolves in the Throne Room, Locrian, and Agalloch. By 2010, INDIAN had joined the Relapse family and spawned Guiltless. Released in 2011 to outstanding reviews, the Chicagoist described the album as, "a musical journey into the mouth of teeth-rattling metal madness," while Metal Hammer simply called it, "pretty much an essential album." Fans were also impressed, gathering to soak up the band's feverish rays of doom on tour across the country. INDIAN performed shows with High on Fire, Batillus, and Yob, translating their recorded sounds into a murky, devilish live spectacle.
From All Purity will see its official release via Relapse Records on CD/LP/digital in North America on January 21st, 2014, Germany/Benelux/Finland on January 17th, and in the UK/World on January 20th. Preorder your copy of From All Purity via Relapse HERE. For iTunes preorders, point your browser HERE.
"…nothing has sounded more genuinely evil and distressing in a long time." – Revolver
http://www.facebook.com/IndianDoom
http://www.indiandoom.com
http://www.relapse.com