Long-running deathcore unit IMPENDING DOOM today drops their anticipated Hellbent EP! The surprise release, initially slated for January, is available via MNRK Heavy on CD, LP, cassette, and digitally.
Hellbent boasts the enduring trio who formed the creative core of IMPENDING DOOM in Riverside, California: vocalist Brook Reeves, guitarist Manny Contreras, and bassist David Sittig. Recorded with engineer Joseph Calleiro at Dungeon by the Sea in Los Angeles and mixed by longtime band collaborator Will Putney (Knocked Loose, The Ghost Inside, Thy Art Is Murder), the EP is a fierce five-song blast of readily identifiable IMPENDING DOOM brutality, with just enough of a modern flourish. As reliably as ever, the band endeavor to bring woe with crushing heaviness, sick death metal and grindcore riffage, impossibly guttural growls, and steadfast reverence for God. The EP also comes adorned with the arresting cover art of Jim Pavelec, an illustrator specializing in the occult, sci-fi, horror, and fantasy, including pieces for classic RPG Dungeons & Dragons.
Preview and purchase Hellbent today at THIS LOCATION. 
View the band's previously released video for "Satanic Panic" video at THIS LOCATION and watch for new videos to be unveiled in the coming weeks.
Additionally, IMPENDING DOOM will return to the touring circuit with shows confirmed in California and Texas. More dates will be  announced soon.
IMPENDING DOOM w/ Bury Your Dead, Ov Sulfur, Foreign Pain: 
12/11/2021 The Glasshouse – Pomona, CA
12/12/2021 Full Circle Brewery – Fresno, CA
w/ Oh, Sleeper, War Of Ages: 
1/19/2022 Jake's – Lubbock, TX
1/20/2022 Scout Bar – Houston, TX
1/21/2022 Southside Music Hall – Dallas, TX
1/22/2022 Come And Take It Live – Austin, TX
1/23/2022 Boozerz Rock Bar – Corpus Christi, TX
The Sin And Doom Of Godless Men, IMPENDING DOOM's blissfully devastating 2005 demo, was shocking in its urgent immediacy and its unashamed outspokenness. But that demo was merely a step toward the total devastation that was their debut album, Nailed. Dead. Risen. (2007), which shook the proverbial Earth with its uncompromising vision of what they had transfigured with elements of death metal, grind, and hardcore.
The series of increasingly diverse and intense releases that followed never compromised, always challenging, and pushing the limits of the genre, with the likes of The Serpent Servant (2009), There Will Be Violence (2010), Baptized In Filth (2012), Death Will Reign (2013), and the back-to-basics bludgeoning of The Sin And Doom, Vol. II (2018) appealing to the faithful and faithless alike. Combining crushing riffs and an unashamed point of view, each of their half dozen albums demonstrate the power of outspoken deathcore devastation. IMPENDING DOOM is clearly here to stay.
IMPENDING DOOM:
Brook Reeves – vocals
Manny Contreras – guitar
David Sittig – bass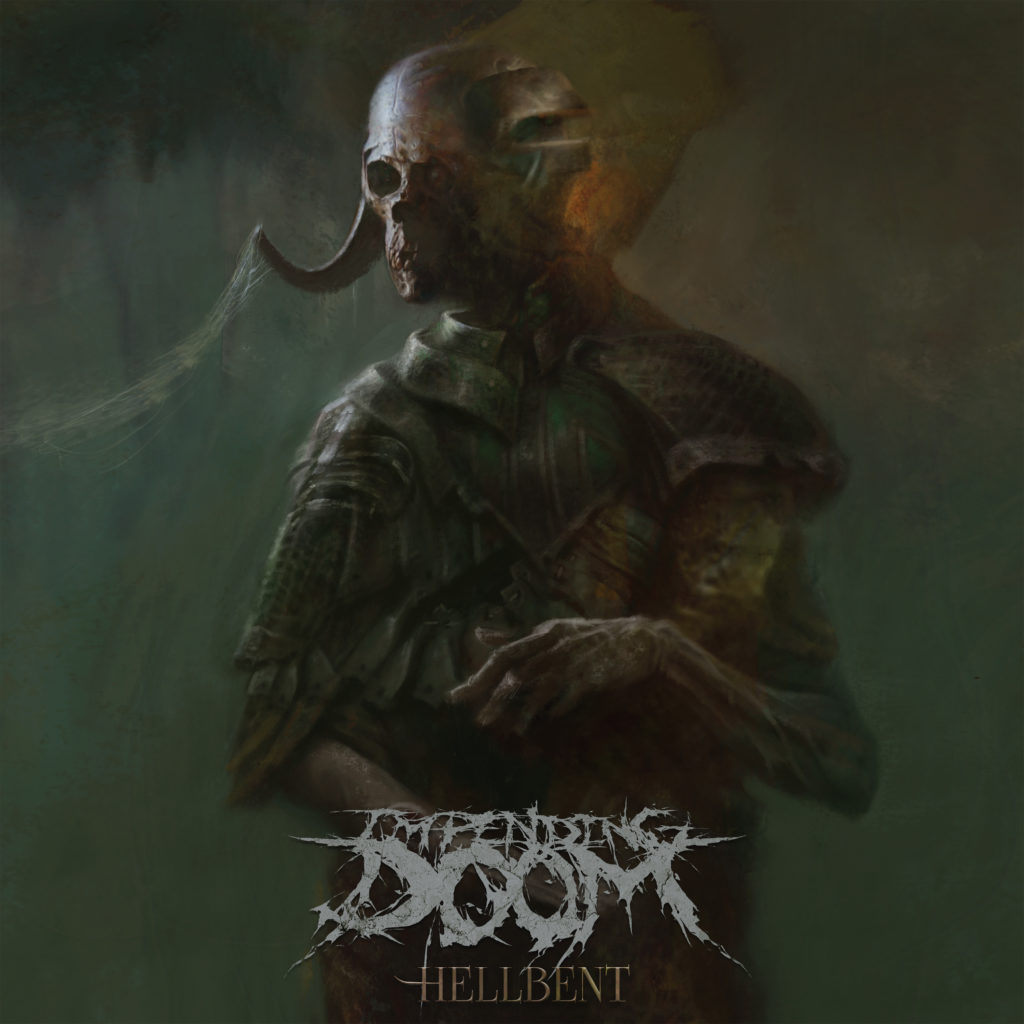 http://www.facebook.com/impendingdoom
http://twitter.com/Impending_Doom
http://www.instagram.com/impendingdoom/
http://www.mnrkheavy.com
http://www.facebook.com/MNRKHeavy
http://www.twitter.com/MNRKHeavy
http://www.instagram.com/MNRK_heavy