The blackened death grind misfits in IMMORTAL BIRD will take to the streets again this weekend for mammoth, month-long live takeover. The journey commences tomorrow in Colorado Springs, Colorado at the 71 Grind Fest. From there, the band will trample their way through twelve more cities with death grind merchants, Theories, including a stop at Crucialfest in Salt Lake City, Utah June 18th. On June 20th, IMMORTAL BIRD will pair up with space prog industrialists, InAeona, in Las Vegas, Nevada and level ten more venues, the trek coming to a close on July 1st in Rock Springs, Wyoming.
"This is our most extensive tour to date," says vocalist Rae Amitay, "and we are really excited to be playing for a whole bunch of new and old friends. The first leg with Theories should be a bunch of deathy, grindy, goodness. Then we'll join up with InAeona and get a little groovier and more atmospheric for a couple of weeks. Once this run is finished, we'll be taking time to write a follow-up to last year's Empress/Abscess and will take some of the new material on the road in October for a brief stint with Colorado's Vermin Womb."
IMMORTAL BIRD w/ Theories:
6/04/2016 71 Grind Fest – Colorado Springs, CO
6/06/2016 The Demo – St. Louis, MO
6/07/2016 5th Quarter Lounge – Indianapolis, IN
6/08/2016 Sanctuary – Detroit, MI
6/09/2016 Black Forge Coffee House – Pittsburgh, PA
6/10/2016 The Acheron – Brooklyn, NY
6/11/2016 Sidebar – Baltimore, MD
6/12/2016 Kung Fu Necktie – Philadelphia, PA
6/13/2016 Now That's Class – Cleveland, OH
6/14/2016 Livewire – Chicago, IL
6/15/2016 The Reverie – Minneapolis, MN
6/17/2016 7th Circle – Denver, CO
6/18/2016 Crucialfest – Salt Lake City, UT
w/ InAeona:
6/20/2016 OMD Theater – Las Vegas, NV
6/21/2016 Complex – Los Angeles, CA
6/22/2016 The Golden Bull – Oakland, CA
6/24/2016 Down Lo – Chico, CA
6/25/2016 Black Forest – Eugene, OR
6/26/2016 Funhouse – Seattle, WA
6/27/2016 Panic Room – Portland, OR
6/28/2016 The Pin – Spokane, WA
6/29/2016 The Shredder – Boise, ID
6/30/2016 The Sickhouse – Idaho Falls, ID
7/01/2016 The Other Side – Rock Springs, WY
IMMORTAL BIRD continues to tour in support of their critically-lauded Empress/Abscess full-length, released last year via a collaborative effort with Broken Limbs Recordings (vinyl/cassette) and the band's own Manatee Rampage Recordings (CD/digital). Tracked by Pete Grossmann (Weekend Nachos, Harms Way, Dead In The Dirt) at Bricktop Recording in Chicago, Illinois and mixed and mastered by Colin Marston (Gorguts, Krallice, Nader Sadek, Atheist, Origin etc.) at Menegroth, The Thousand Caves in Queens, New York, Empress/Abscess is a vexing sound excursion through the very bowels of human existence and continues to traumatize the ears of critics globally.
"…fiercely aggressive yet surprisingly accessible…" – Blurt Online
"…there is some serious venom in this music…" – Bearded Gentleman
"…a densely layered meditation on anger and abuse, and an equally challenging collage of extreme music sub-genres." – Invisible Oranges
"…thoroughly engrossing from start to finish, Empress/Abscess is an impressive display of genre-mashing that others simply dream of attaining…" – Dead Rhetoric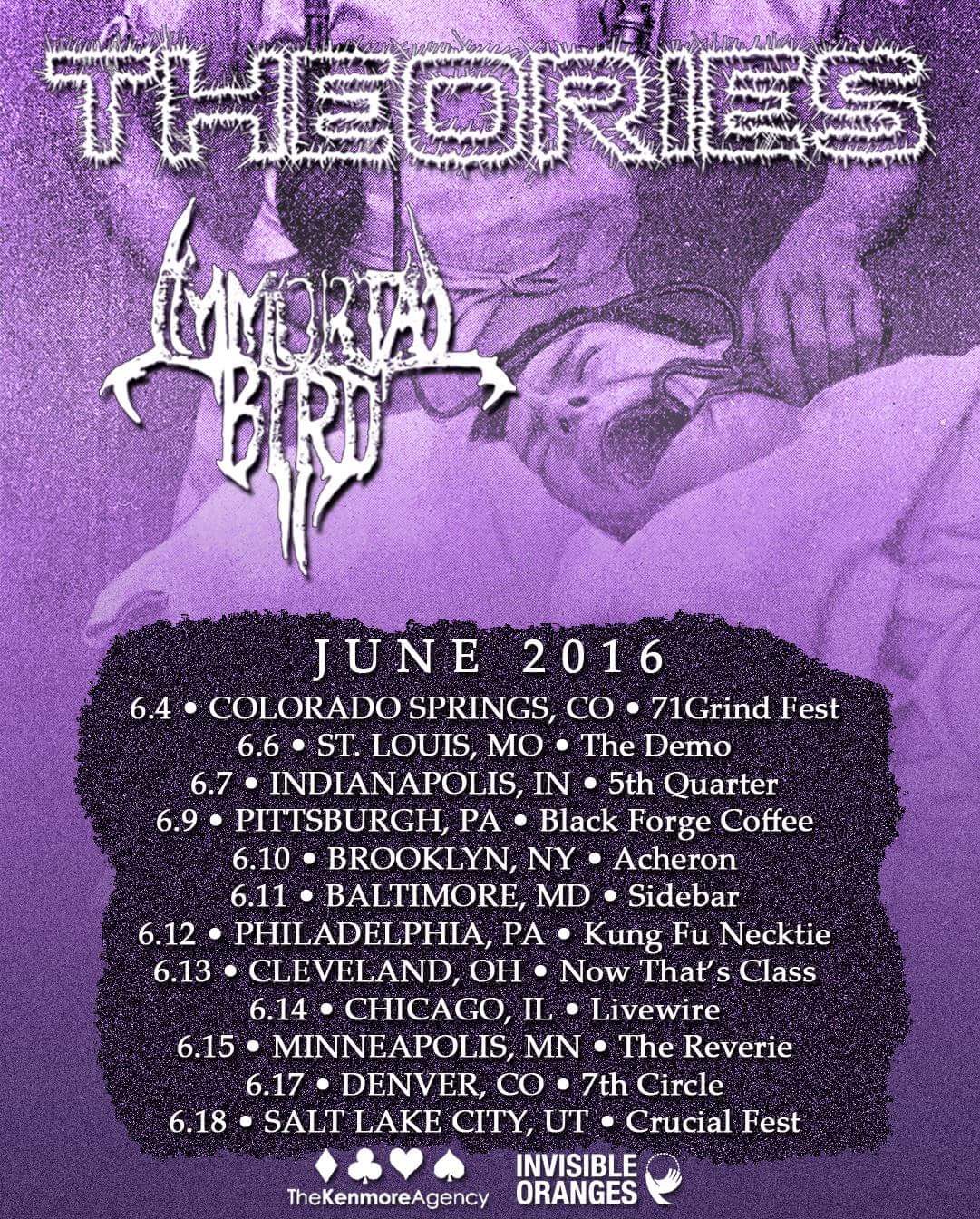 Empress/Abscess is available now on vinyl and cassette HERE and on CD and digitally HERE.
http://www.facebook.com/immortalbirdband
http://www.facebook.com/brokenlimbs