"Rae Amitay sounds furious, both at herself and at other people," begins Invisible Oranges in their investigation of IMMORTAL BIRD's latest offering. "Who, exactly? I don't know. There's a long list of potential targets, judging by her vocal performance on Empress/Abscess, the first full-length album by [the] Chicago polygenre-inclined grind outfit…"
Unleashed today as a collaborative effort with Broken Limbs Recordings taking charge of vinyl and cassettes, and the band self-releasing the CD/digital version under the moniker Manatee Rampage Recordings, IMMORTAL BIRD's Empress/Abscess is indeed a vexing sound excursion through the very bowels of human existence. Picking up where 2013's lauded Akrasia EP left off, the record delves deeper into an audio cesspool of desolation, wrath, and overall suffering and with its members having sharpened their skills both as individual musicians and as a functioning unit, the final outcome is nothing short of terrifying.
Following teasers from Decibel Magazine and NPR Music and in celebration of today's release, INVISIBLE ORANGES offers up Empress/Abscess in all its gut-rotting glory alongside a thorough breakdown of the material at hand. "Duality, sonically and lyrically, drives IMMORTAL BIRD's music," writes the popular blog. "It's what makes the music so interesting to listen to. Echoing the record's title, Amitay's characters switch between authoritative ('It seems that we've reached an impasse / A rock and a hard place / I'll choose the latter / I was born there,' she screams on opener 'Neoplastic') and self-damaging ('I've wasted years with invertebrates […] The idea of redemption is insulting / But you know that,' from 'A Watery Grave'). In kind, the music itself is similarly chiaroscuro. During a relatively short timeframe (five songs and just over a half hour of music) the band oscillates between extremes of melody and tempo, chaos and order…. IMMORTAL BIRD's Empress/Abscess is not a collection of music to only be consumed. It's a densely layered meditation on anger and abuse, and an equally challenging collage of extreme music sub-genres."
Experience the alluring pandemonium of Empress/Abscess, now playing at THIS LOCATION.
In related IMMORTAL BIRD missives, the band will return to the stage this August on a short run of live demolitions with includes appearances at Louisville Deathfest (Arsis, Disgorge, Malignancy) and Death To False Metal (Whiplash, Krieg, Valkyrie, Imperial Triumphant, Nightbitch, Secret Cutter etc.) with additional onstage debauchery to come at Shadow Woods Metal Fest (Midnight, Occulation, Iron Man etc.) and Southwest Terror Fest (Sleep, Brothers Of The Sonic Cloth, Dropdead, Bongripper etc.) in the Fall. See all confirmed IB dates below.
IMMORTAL BIRD:
8/07/2015 2040 – Chicago, IL
8/08/2015 Louisville Deathfest – Louisville, KY
8/10/2015 The Doom Room – Lafayette, IN
8/11/2015 Blind Bob's – Dayton, OH
8/12/2015 Now That's Class – Cleveland, OH
8/13/2015 Saint Vitus Bar – Brooklyn, NY
8/14/2015 Sidebar – Baltimore, MD
8/15/2015 Death To False Metal Festival – Hamden, CT
8/16/2015 The Shop – Pittsburgh, PA
9/25-27/2015 Shadow Woods Metal Fest – White Hall, MD
10/16/2015 Southwest Terror Fest – Tucson, AZ
Empress/Abscess was recorded by Pete Grossmann (Weekend Nachos, Harms Way, Dead In The Dirt) at Bricktop Recording in Chicago, Illinois, mixed and mastered by Colin Marston (Gorguts, Krallice, Nader Sadek, Atheist, Origin etc.) at Menegroth, The Thousand Caves in Queens, New York and finds former drummer/vocalist, Rae Amitay, swapping in her drum stool for a full-time position at the mic with longtime live drummer, Garry Naples (Novembers Doom) taking her place at the kit.
Empress/Abscess is available now on vinyl and cassette HERE and on CD or digitally HERE.
"IMMORTAL BIRD takes everything intoxicating about their debut – nasty, nasty vocals, an ethereal aesthetic deftly intertwined with machine-like, grinding precision, and pure musicality – and expounds on them tenfold while taking their sound on new and imaginative flights." – Metal Insider
"Thoroughly engrossing from start to finish, Empress/Abscess is an impressive display of genre-mashing that others simply dream of attaining…" – Dead Rhetoric
"IMMORTAL BIRD peddle a ferocious blend of black metal, thrash metal, death metal and crusty grindcore that can only really be summed up with the word… extreme." — Intravenous
"If you wanted something along the lines of Vattnet Viskar's new release but with the unorthodox and energy stylings of Ulcerate…then this is for you." — Headbang Or GTFO
"'Saprophyte' heaves with desperate terror; then, three minutes in, it suddenly throws a glorious, blast-beaten wrench in the works, with a black-metal riff out of Immortal. In the midst of it all, drummer-turned-vocalist Rae Amitay's oil-gargling serpent scream – reminiscent of Jeff Walker's vocals on Carcass' Heartwork – seethes, 'She is an abscess / Masquerading as an empress / A sparrow passing for an ibis.' It's absolutely electric in its execution, providing a strong insight into what IMMORTAL BIRD can become." – NPR Music on second single, "Saprophyte"
"These tracks have it all, from blasting to angularity to atmosphere to melody to high-energy. For all the extremity on display here they still manage to throw in some hooks and the entire thing is actually very memorable, quite quickly. This is the kind of music that causes you to take a sharp intake of breath and say to yourself, 'holy shit.'" – Wonderbox Metal
"…an incredibly assured and exciting debut release that will appeal to open minded metal fans across the board, not just the stalwart defenders of one niche. Maybe they should consider a title change – Impress/Success." – Hit The Floor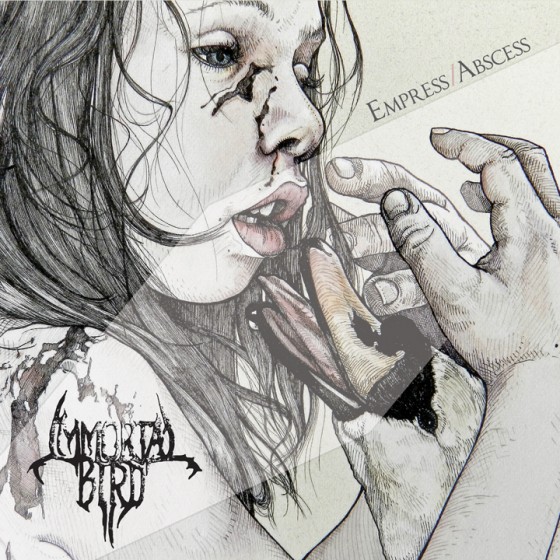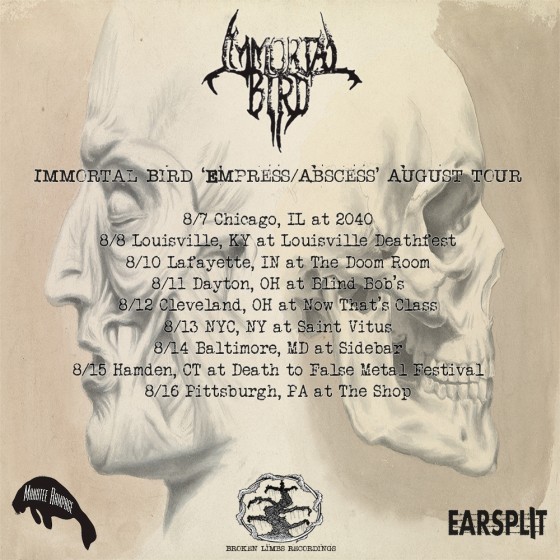 http://www.facebook.com/immortalbirdband
http://www.facebook.com/brokenlimbs