Legendary Canadian artist/producer IAN BLURTON and his FUTURE NOW project today release their new video for "The Power Of No." Now playing courtesy of Cvlt Nation, the track comes off the band's Second Skin studio offering, set for release on July 15th via Seeing Red Records/Pajama Party.
If you're a fan of any kind of '70s heavy rock – Southern boogie, NWOBHM, MC5/Stooges Detroit punk, Junk Shop glam or straight-up classic rock – chances are, IAN BLURTON'S FUTURE NOW has something for you. If you're the kind of person who might geek out on the vintage gear used to record that music, we'll double down on that wager.
A mainstay in the Canadian scene since the 1980s, IAN BLURTON may have come along after hard rock's heyday, but he has parlayed his love of the era's musical sensibilities into a career as both a musician (Change of Heart, C'mon, Public Animal) and a producer (Cursed, Tricky Woo, Weakerthans, Cauldron). For the follow-up to his acclaimed solo debut, 2019's Signals Through The Flames, he is pulling out all the stops, sourcing the best of the best for all elements. Formed to tour in support of Signals… FUTURE NOW features some of the top talents heard on that record: drummer Glenn Milchem (Blue Rodeo) and bassist Anna Ruddick (City And Colour). To complement the powerhouse rhythm section and recreate live the Wishbone Ash/Judas Priest–inspired harmonies that define Second Skin, Aaron Goldstein has been recruited for second guitar.
Notes BLURTON of the band's latest single, "'The Power Of No' is pretty self-explanatory. It's about using one of our greatest powers to dismiss the bad notions, energy vampires, and unwanted suggestions that come at us every day. It's about realizing the power the word 'no' holds and using it to reject things that don't feel right to you."
Adds Cvlt Nation, "They've got a gothic groove and alternative swing and riffs that don't quit! This song reminds me of when I was young and it makes me glad I've gained the life experience to justify my natural tendency to rebel against anyone in authority who wants to dictate my human rights to benefit their ideology or profits."
Read more and watch "The Power Of No" video from IAN BLURTON'S FUTURE NOW at THIS LOCATION.
View the band's previously released video for "Like A Ghost" at THIS LOCATION.
Second Skin will be released digitally and on Black vinyl via BLURTON's own Pajama Party label in Canada HERE and on A Side/B Side (Color Merge) and Color-in-Color Splatter vinyl via Seeing Red Records HERE.
Toronto fans can catch a Second Skin record release show August 13th with additional performance to be announced in the weeks to come.
IAN BLURTON'S FUTURE NOW:
8/13/2022 The Horseshoe Tavern – Toronto, ON * Record Release Show w/ Sam Coffey & The Iron Lungs, Sick Things
In tandem with the Signals Through The Flames tour, BLURTON was accepted as an artist in residence at Studio Bell, home of the National Music Centre, in Calgary. The residency presented an opportunity to pack up the band – hot from a string of live shows – and head west to track a follow up album with the country's most enviable collection of musical equipment.
Second Skin was recorded using the famed Rolling Stones Mobile (studio home to The Rolling Stones' Sticky Fingers and Exile On Main Street, Led Zeppelin's III and IV, and Deep Purple's Machine Head) as well as the aforementioned National Music Centre. With the institution's selection of rare guitars formerly owned by Randy Bachman, amps from Neil Young, and an array of vintage gear borrowed from Calgary friends, FUTURE NOW had the ingredients for a dream session. Throw in an early '80s Mellotron, and the band had all it needed to cook up a crushing collection of sludgy riff-driven rockers and prog epics, all with clean vocals, thunderous bass/double-kick, and the kind of guitar solos you wish you could play. Second Skin was mixed by Daryl Smith at Chemical West, mastered by Brad Boatright at Audiosiege, and features artwork by Jeremy Bruneel. The record will undoubtedly make for a fine Summer soundtrack.
"…psychedelic stoner rock and it stands out from the pack with an overhaul of bright melodies, both in his vocal hooks and in his endless riffs. It's not every day that stoner rock is this damn catchy." — BrooklynVegan
"BLURTON's technical guitar prowess truly shines. Featuring Blue Rodeo's Glenn Milchem on drums, Espanola's Aaron Goldstein on second guitar, and touring/session bassist Anna Ruddick, these three musicians working alongside BLURTON have successfully delivered the most consistent hard rock record to date in BLURTON's lengthy discography." – Chorus Verse Chorus
IAN BLURTON'S FUTURE NOW:
Ian Blurton – vocals/guitar/keyboards
Glenn Milchem – drums/vocals
Anna Ruddick – bass/vocals
Aaron Goldstein – guitar
Guests:
Sean Beresford – guitar on "Too High The Sky"
Robin Hatch – piano "Trails To The Gate"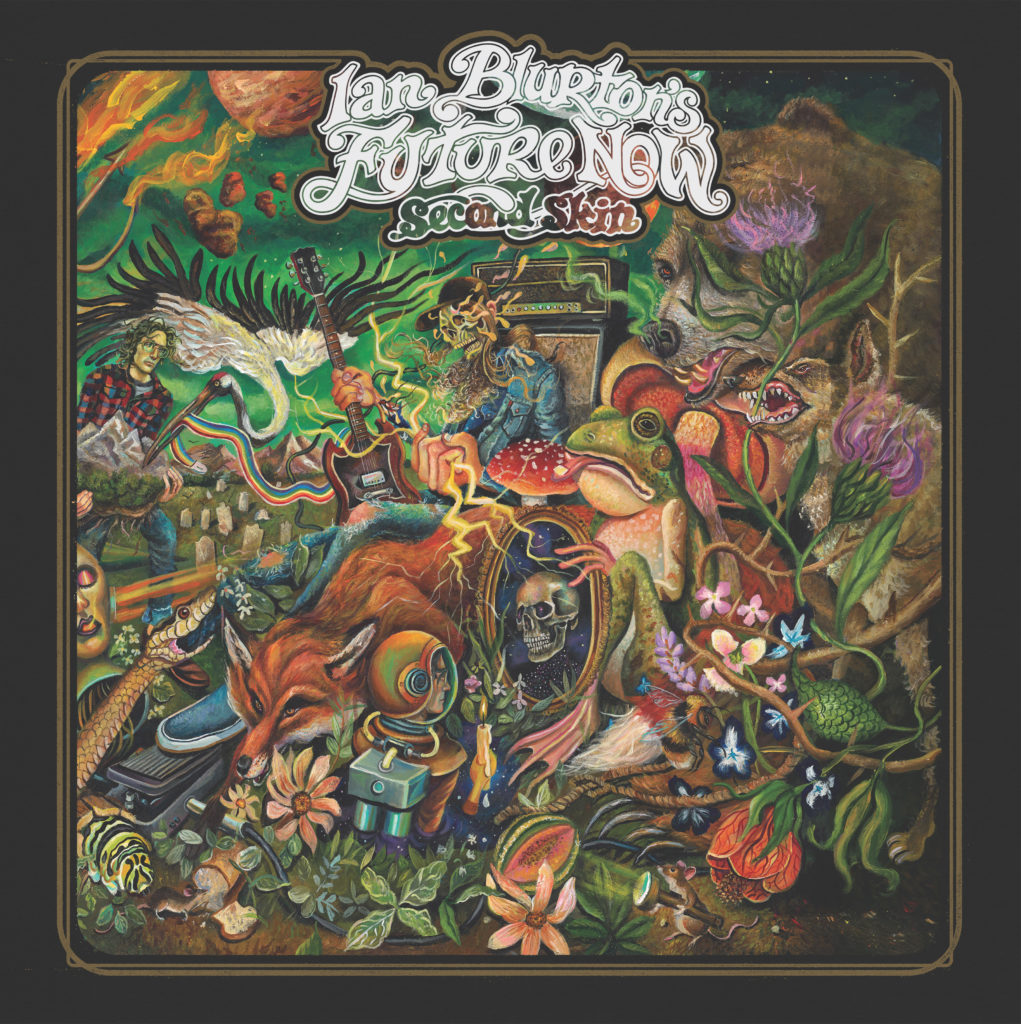 http://www.facebook.com/ianblurton.futurenow
http://twitter.com/ianblurton
http://www.instagram.com/ianblurton
http://www.seeingredrecords.com
http://www.seeingredrecords.bandcamp.com
http://www.instagram.com/seeing_red_records
http://www.facebook.com/seeingredrecords