photos by Dawn Howard
Oakland, California-based multi-instrumentalist LEILA ABDUL-RAUF will perform a solo set at Northwest Terror Fest this weekend, performing material from her fourth solo LP, Phantasiai. Released last year, the record is now finally available on vinyl.
LEILA ABDUL-RAUF has been a key member in dozens of musical entities since the 1990s, including Vastum, Ionophore, Cardinal Wyrm, Fyrhtu, and more in recent years. Over the past eight years she's showcased her talents as a multi-instrumentalist through four varied solo efforts, and in July of 2021 she released her most haunting, ominous unaccompanied album yet with Phantasiai. Weaving layered textures into drifting filmic compositions, the album conjures dreamlike, ambient hymns while channeling ethereal melancholy. Far more brooding than prior solo outings, with a deep sense of romanticism and dark classical inspiration, Phantasiai showcases another new direction of exploration of this vastly prolific musician.
Mastered by Cyclic Law and bearing stunning cover artwork by Matthew Jaffe and graphic design by Heresie Studio, Phantasiai was fully composed, recorded, and produced by LEILA ABDUL-RAUF, who writes, "After what's felt like an eternity, vinyl copies of Phantasiai have been released from pressing plant captivity and are now available and shipping worldwide from Cloister Recordings and Cyclic Law. Times are dark and always have been. May Phantasiai pull you into the suffocating comfort of its Abyss, only to thrust you back into the terrible and piercing pain of Light."
Stream LEILA ABDUL-RAUF's Phantasiai HERE and watch the videos for "Distortions in Phantasy I: Lure" HERE and "Distortions In Phantasy III: Suspension" HERE.
Phantasiai is out now on CD and digitally through Cyclic Law and on vinyl as a co-release between Cyclic Law and Cloister Recordings. Place orders at the Cyclic Law webshop HERE, and the Cloister Recordings shop HERE.
LEILA ABDUL-RAUF will join Ludicra, Repulsion, Suffocation, Cryptic Slaughter, Creeping Death, Mantar, Acephalix, Panopticon, and many others at Northwest Terror Fest in Seattle this weekend. A hometown record release show for Phantasiai has also been confirmed for July 20th in Oakland. Additional live performances are also being scheduled for the months ahead, including a Northeast US run being booked for the Fall. Watch for updates to post shortly.
LEILA ABDUL-RAUF Live:
7/02/2022 Neumos – Seattle, WA @ Northwest Terror Fest [info]
7/20/2022 Elbo Room Jack London – Oakland, CA * Phantasiai release show w/ TRAITRS, Vague Lanes [info]
"a haunted instrumental work that mostly navigates within the ambient sphere while carrying shades of '80s goth music such as Dead Can Dance or The Cocteau Twins at their most supernatural. It's gorgeous and chilling, an eerie and fragile visit from an apparition, complete with dark visuals of swirling smoke and other abstract imagery." – Treble
"While seemingly abstract and challenging to communicate through sounds and words, Phantasiai does just that… At one point, a glockenspiel cuts through an eerie ambient tapestry, releasing floating chants tethered to it and creating an exit from the personal hell. But then a trumpet blurbs a deceptively comforting phrase and chains you back to the bottom of the pit." – PopMatters
"You can almost hear a pin drop from the moment the first composition begins while Leila takes us into an area of a futuristic city that was once a gateway towards the future, has now become a warzone. And getting out, is the hard part… There is something Ligeti-sque that Leila does. She adds more fuel to the fire by giving it that little spark on what is happening in this dystopian landscape that we as a listener are going through. And Leila captures that nightmarish quality." – Echoes And Dust
"…the phantasmic sound found on this latest effort displays a different type of contemplation. Resonant horns and chiming bells pair with a wandering voice to craft a ghostly atmosphere, a spiritual plan upon which the listener crafts their own inner manifestations." – Invisible Oranges
"…has a prevailing feeling of melancholy, between the dreamlike ambience and ethereal magic the LP marinates in." – New Noise Magazine
"…rings and swirls in a display of unearthly wonder, celestial in its atmosphere but also haunting — and increasingly disturbing. It's as if we've been so mystified by the nebulae in front of us that we didn't realize the oxygen hose connecting us to our spacecraft just broke off, and there we are, drifting toward asphyxia." – No Clean Singing
"Phantasiai is the perfect representation of a space we could be inhabiting now as human beings. The music offers nothing to be tied down to, it does not lead you forward or take you back, it places you in the present. The album continues to expand as you listen, its haunting in the respect of; it's not what we know, it sounds like what we think we know." – The Sleeping Shaman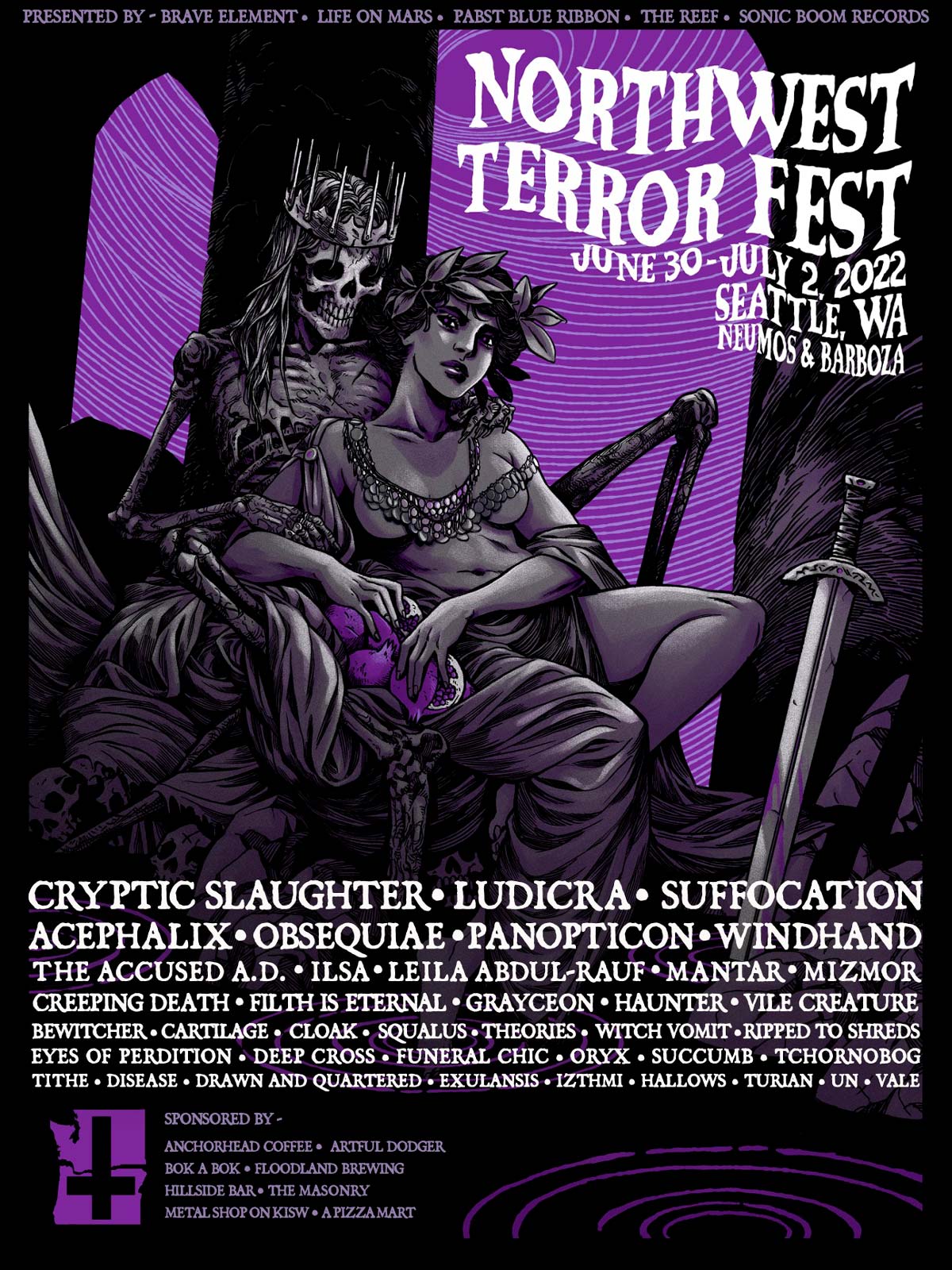 https://leilaabdulrauf.bandcamp.com
https://www.instagram.com/therealleilaabdulrauf
https://www.facebook.com/leilaabdulrauf
https://www.cycliclaw.com
https://cycliclaw.bandcamp.com
http://www.cloisterrecordingsus.bigcartel.com
https://www.facebook.com/cloisterrecordings.us