Texas death unit I AM has signed a worldwide deal with Entertainment One ("eOne") with plans to release a new LP later this year.
The group is currently in the midst of a European tour with Australia's Thy Art Is Murder through February 23rd with additional support provided by Carnifex, Fit For An Autopsy, and Rivers Of Nihil. I AM will return to The States and head right back out on the road with Spite, Varials, Orthodox, and Dealer from February 26th through March 22nd. See all confirmed dates below.
"When we were approached by eOne, we knew it'd be a perfect fit," says vocalist Andrew Hileman. "After talking with them and sharing ideas we're so excited to put out some badass records with them. We're thrilled to be in Europe right now with Thy Art Is Murder and we're glad to be representing eOne and Texas death."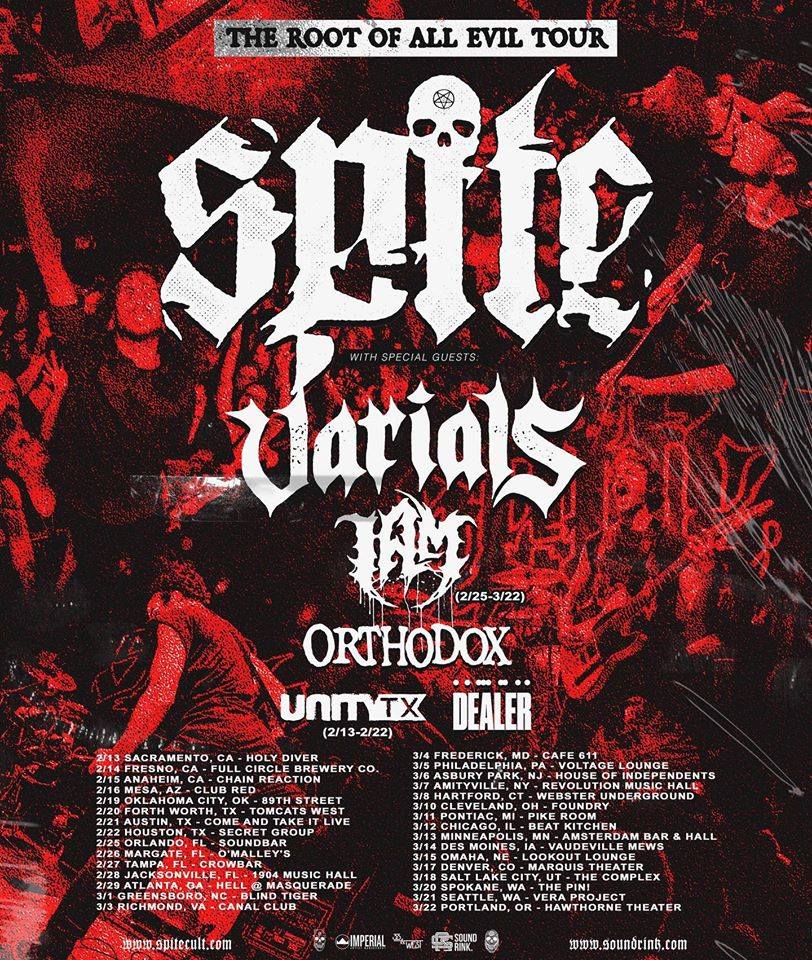 I AM w/ Thy Art Is Murder, Carnifex, Fit For An Autopsy, Rivers Of Nihil:
2/13/2020 MeetFactory – Prague, Czech Republic
2/14/2020 Klub Proxima – Warsaw, Poland
2/15/2020 Festsaal Kreuzberg – Berlin, Germany
2/16/2020 Amager Bio Amagerbro – Copenhagen, DK
2/17/2020 Trädgårn – Gothenburg, SE
2/18/2020 Slaktkyrksn – Stockholm, SE
2/20/2020 Gruenspan – Hamburg, DE
2/21/2020 Felsenkeller – Leipzig, DE
2/22/2020 Turbinenhalle – Oberhausen, DE
2/23/2020 Schlachthof – Wiesbaden, DE
w/ Spite, Varials, Orthodox, Dealer:
2/25/2020 Soundbar – Orlando, FL
2/26/2020 Propaganda – Lake Worth, FL
2/27/2020 Crowbar – Tampa, FL
2/28/2020 1904 Music Hall – Jacksonville, FL
2/29/2020 The Masquerade – Atlanta, GA
3/01/2020 The Blind Tiger – Greensboro, NC
3/03/2020 Canal Club – Richmond, VA
3/04/2020 Cafe 611 – Frederick, MD
3/05/2020 Voltage Lounge – Philadelphia, PA
3/06/2020 House Of Independents – Asbury Park, NJ
3/07/2020 Revolution Bar & Music Hall – Amityville, NY
3/08/2020 The Webster – Hartford, CT
3/09/2020 The Smiling Moose – Pittsburgh, PA *w/o Spite, Dealer
3/10/2020 The Foundry Concert Club – Lakewood, OH
3/11/2020 The Crofoot – Pontiac, MI
3/12/2020 Beat Kitchen – Chicago, IL
3/13/2020 Amsterdam Bar And Hall – Saint Paul, MN
3/14/2020 Vaudeville Mews – Des Moines, IA
3/15/2020 Lookout Lounge – Omaha, NE
3/17/2020 Marquis Theater – Denver, CO
3/18/2020 The Complex – Salt Lake City, UT
3/20/2020 The Pin – Spokane, WA
3/21/2020 Vera Project – Seattle, WA
3/22/2020 Hawthorne Theatre – Portland, OR
I AM have come to embody the subgenre known as "Texas death." While the band takes influence from "The Big Four," their homage to artists like Pantera, Power Trip, and Cro-Mags is undeniable. Their signature style of dive-bomb guitars and guitar-driven riffs has come to define the genre.
Formed by vocalist Andrew Hileman in 2011, I AM quickly gained recognition in the great state of Texas of being a band that was meant for bigger things. After paying their proverbial dues and touring relentlessly, solidifying Texas death across North America on tour with bands like The Acacia Strain, For The Fallen Dreams, and Kublai Khan, I AM released their debut album, Life Through Torment in February of 2017.
In 2018, the band began recording a new album with Randy Lebeouf at Graphic Nature Audio (Kublai Khan, Left Behind, Great American Ghost) with a vision of capturing their chaotic live performance and power they'd become known for. Hard 2 Kill was released in November of 2018 to serious critical acclaim.
Decibel Magazine declared, "I AM know how to write songs that make you want to move." Kerrang! plainly stated, "Devoid of pretension and brimming with tangible anger, the band's music is an angry headbanger's dream."
Stand by for further I AM news to be announced in the coming weeks.
I AM is :
Andrew Hileman – vocals
Tom Reyes – guitar
Chris Burgess – guitar
Ian Scott – drums
Erik Rodriguez – bass
About eOne:
Entertainment One Ltd. (eOne) is a talent-driven independent studio that specializes in the development, acquisition, production, financing, distribution and sales of entertainment content. As part of global play and entertainment company Hasbro (NASDAQ: HAS), eOne's expertise spans across film, television and music production and sales; family programming, merchandising and licensing; digital content; and live entertainment. Through its extensive reach and scale, and a deep commitment to high-quality entertainment, eOne unlocks the power and value of creativity.
eOne brings to market both original and existing content, sourcing IP from Hasbro's portfolio of 1500+ brands, and through a diversified network of creative partners and eOne companies including: international feature film distribution company Sierra/Affinity; Amblin Partners with DreamWorks Studios, Participant Media, and Reliance Entertainment; Makeready with Brad Weston; unscripted television production companies Renegade 83, Daisybeck, Blackfin and Whizz Kid Entertainment; live entertainment leaders Round Room Live; world-class music companies Audio Network, Dualtone Music Group and Last Gang; and award-winning emerging content and technology studio Secret Location.
http://www.facebook.com/pg/iamtxmusic
http://twitter.com/iamtxmusic
http://www.instagram.com/iamtxmusic
http://iamtxmusic.bandcamp.com
http://www.entertainmentone.com
http://www.facebook.com/eOneMusicUS
http://twitter.com/eonemusicus
http://www.instagram.com/eone_music