Long-running Brooklyn sludge rock collective, HULL, in cooperation with the taste-makers at Vice/Noisey, hurl forth a stream of their brand "new" hymn entitled, "Swamp Goat."
Originally tracked in 2007, "Swamp Goat" laid dormant while the band penned material for their critically-lauded Sole Lord full-length. After a grueling tour schedule and follow-up release, 2011's sprawling Beyond The Lightless Sky full-length, "Swamp Goat" was lost in the caves and forgotten… until now.
The tune features on the band's forthcoming Legend Of The Swamp Goat seven-inch released TODAY via HULL's own Iron Orchestra Works imprint and Midnight Collective. Bearing the stunning artwork of Nathan Overstrom, the single appears on Side A while an etching occupies Side B. Legend Of The Swamp Goat comes in limited pink, blue, green, and white vinyl.
Elaborates Noisey, "True to form, this 'new' tune bombards the listener from every angle with clever arrangements and bluesy bluster. 'Swamp Goat' is a hazy, hellbent ride through thickets of distortion and syrupy sludge."
In related news, HULL will bring their walls of sonic enormity overseas for a stint of live rituals alongside Boston doom bringers, Elder. The tour will commence on April 14th, following HULL's previously announced appearance on this year's edition of Roadburn in Tilburg, Holland, and swarm fourteen cities with included performances at Desertfest in Berlin and London. A European-only exclusive sea-foam colored version of the Legend Of The Swamp Goat single will be available throughout the tour.
HULL European Takeover 2014:
4/10/2014 Roadburn – Tilburg, NL
w/ Elder
4/14/2014 Hafenklang – Hamburg, DE
4/15/2014 1000fryd – Aalborg, DK
4/16/2014 Templet – Kopenhagen, DK
4/17/2014 DNA – Brussels, BE
4/18/2014 Glazart – Paris, FR
4/19/2014 Jh't Slot – Hoogstraten, BE
4/20/2014 Coq d'Or – Otten, CH
4/21/2014 Muz – Nürnberg, DE
4/22/2014 Viper Room – Vienna, A
4/23/2014 Chemiefabrik – Dresden, DE
4/24/2014 FonoBar – Warsaw, PL
4/25/2014 Astra, Desertfest 2014 – Berlin, DE
4/26/2014 MTC – Cologne, DE
4/27/2014 Desertfest 2014 – London, UK
HULL materializes as a massive entity storming stages and immersing their audiences in a blanket of grandiose down-tuned compositions. A shifting fault line of decibel heavy harmony, this collective force converges in a collision of thrash, doom, classic rock, and formal orchestral works. HULL commands their listeners through each riff with incredible precision, as a seafarer guides vessels through ominous waters. Submerged in cosmic soundscapes, HULL challenges the mind with flowing, off-time fugues and powerful, dynamic movements. Brace yourself for an onslaught of eruptive force as a new world of music is formed in the deafening clap of thunder that is HULL.
Purchase the Legend Of The Swamp Goat seven-inch for someone you love today at THIS LOCATION.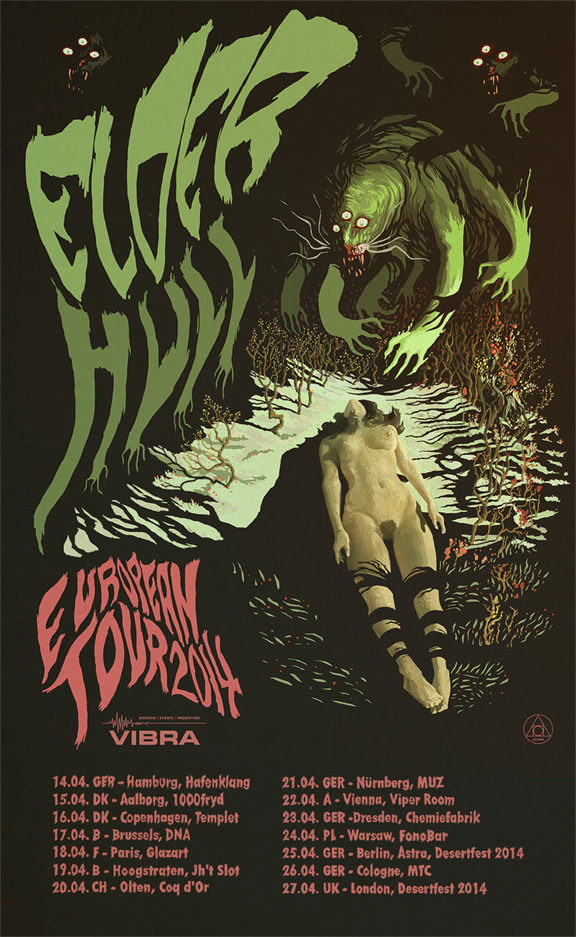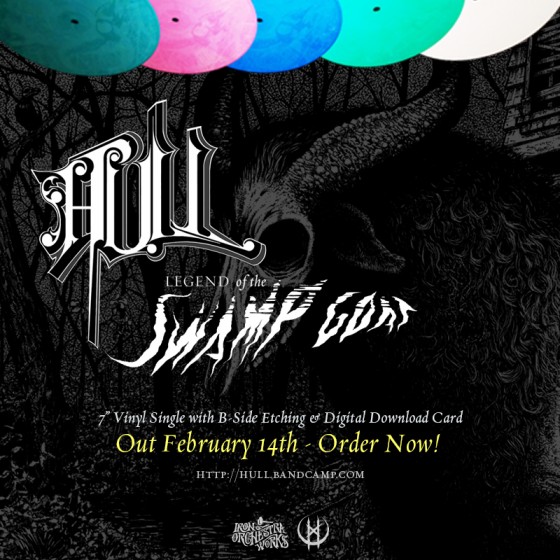 http://www.hullorhighwater.com
http://www.facebook.com/hullsounds
http://www.hull.bandcamp.com