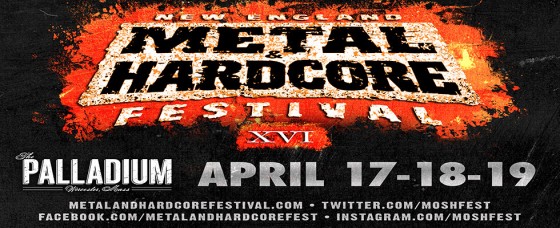 As the mammoth lineup of audio obliteration continues to expand, the doers of the NEW ENGLAND METAL & HARDCORE FESTIVAL are pleased to bring Massachusetts metalcore merchants/NEMHF alumni, Unearth, as well as German psychedelic space rock perpetrators, Kadavar, to their coveted stages!
After fifteen years of blazing trails and live domination, Unearth emerged as part of a burgeoning revolution in heavy music and is now institutionalized as a relentless force in metal, standing the test of time with consistently creative output, tireless road warrior resilience, blue collar style workmanship and a resolute determination to pummel the masses. With five full-lengths under their proverbial belts and a new one on the way via eOne, Unearth returns to raze the stage of the Palladium as part of the NEW ENGLAND METAL & HARDCORE FESTIVAL for the sixth time.
Toting "down-to-earth handmade classic rock from a time when music still used to be true art," the riff-heavy spell-casters in Kadavar hail from Berlin and bow to the teachings of Black Sabbath, Pentagram and early Hawkwind. Their forthcoming new full-length, Abra Kadavar, will be released via Nuclear Blast just days before their NEMHF performance. Worcester, are you ready rock?
Additionally, the sorcerers behind the NEMHF are eager to officially welcome the first annual Best In Brutality Tour to its maniacal three-day ambush. The punishing five-band tour package will level Worcester on Thursday, April 17th and features the co-headlining assault of esteemed deathcore brutalizers, Oceano, and legendary death metal titans, Broken Hope, alongside the combined sonic destruction of Fallujah, Rivers Of Nihil and Kublai Khan.
Celebrating its sixteenth anniversary, the now iconic NEW ENGLAND METAL & HARDCORE FESTIVAL will commence on April 17th and run through April 19th. Featuring two stages, the yearly gala continues to drive dozens of bands and thousands of fans from around the country to the renowned Worcester Palladium for solid weekend of mayhem! Initial day-to-day lineups are officially posted with more bands to be confirmed in the coming weeks. (Note this is NOT the official running order).
Thursday – April 17, 2014
All That Remains
Bleeding Through
Broken Hope
Cop Problem
Emmure
Enabler
FallujaH
Gideon
InDirections
Julius Seizure
Kublai Khan
Oceano
Rivers of Nihil
Scars of Tomorrow
The Last Ten Seconds of Life
Years Since The Storm
Friday – April 18, 2014
1349
Behemoth
Bent Life
Black Crown Initiate
Born Low
Carnifex
Colin Of Arabia
Cruel Hand
Erra
Fire and Ice
Fit For An Autopsy
Goatwhore
I Declare War
Inquistion
Malfunction
Naysayer
Reflections
Slapshot
Suburban Scum
The Acacia Strain
The Mongoloids
Thy Art Is Murder
Warhound
Whitechapel
Within The Ruins
Saturday – April 19, 2014
All Out War
Alpha & Omega
Barrier
Battlecross
Counterparts
Discourse
Gift Giver
Harm's Way
Iced Earth
Kadavar
King Nine
Lionheart
Loyal To The Grave
Nails
Nile
Obey The Brave
Ramallah
Reign Supreme
Revamp
Sabaton
Sam Black Church
Sylar
Texas In July
Those Who Fear
Twitching Tongues
Unearth
Will To Die
Tickets for the festival are on sale now and available for purchase at THIS LOCATION. Special VIP packages are also available and include:
ONE DAY VIP TICKET: $85 Thursday/Friday and $90 Saturday
– Exclusive T-Shirt
– VIP Laminate w/ Lanyard
– 18″ x 24″ NEMHF Poster
– NEMHF Guitar Picks
– Exclusive Meet and Greets
– Free Monster All Day
– NEMHF Koozie
– Pin Pack
– Refrigerator MagnetTHREE DAY VIP TICKET: $195
– Exclusive T-Shirt
– VIP Laminate w/ Lanyard
– 18″ x 24″ NEMHF Poster
– NEMHF Guitar Picks
– Exclusive Meet and Greets
– Free Monster All Day
– NEMHF Koozie
– Pin Pack
– Refrigerator Magnet
– Early Entrance/In-and-Out Privileges
– Chance to Win Ibanez Guitar
– NEMHF Key Chain
For VIP purchases, point your browser HERE.
Finally, Break Thru Music's Battle For Metal Fest competition is well under way. Battle For Metal Fest offers local bands the opportunity to compete for a chance to perform live at this year's massacre. Performances will take place on select dates throughout the coming months at the Worcester Palladium and Webster Theater in Hartford, Connecticut. Spots are booking up fast so if your band is interested in the chance to earn a spot on the Main Stage, email booking@breakthrumusic.net now!
Break Thru Music Presents: The Battle For Metal Fest 2014
2/21/2014: Round 3 Palladium Upstairs
2/21/2014: Round 3 Webster Underground
3/07/2014: Round 4 Palladium Upstairs
3/08/2014: Round 4 Webster Underground
3/22/2014: Finals Palladium Upstairs
3/22/2014: Finals Webster Underground
Doors: 6:00pm
All Ages
Tickets $12
Continuous updates and coverage opportunities for the NEW ENGLAND METAL & HARDCORE FESTIVAL are available via Earsplit PR, an official sponsor of this year's event.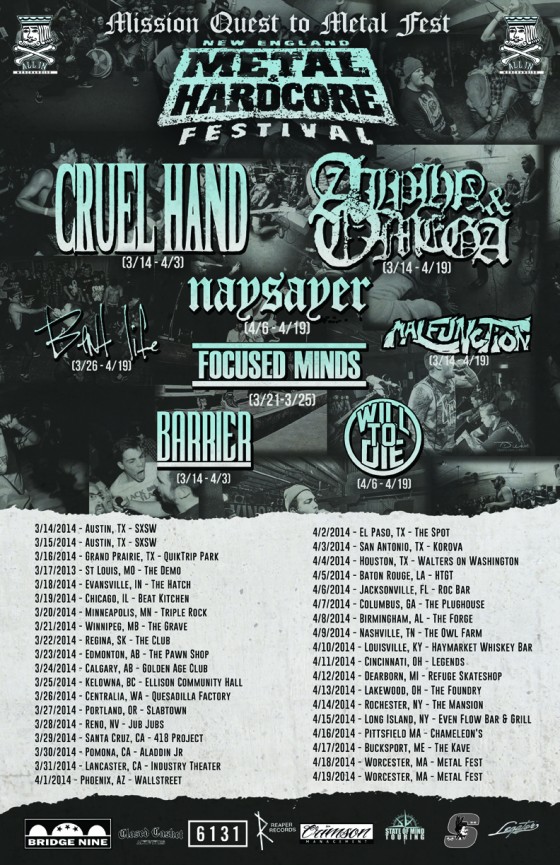 http://www.facebook.com/metalandhardcorefest
http://metalandhardcorefestival.com
http://twitter.com/moshfest
http://www.massconcerts.com
https://www.earsplitcompound.com