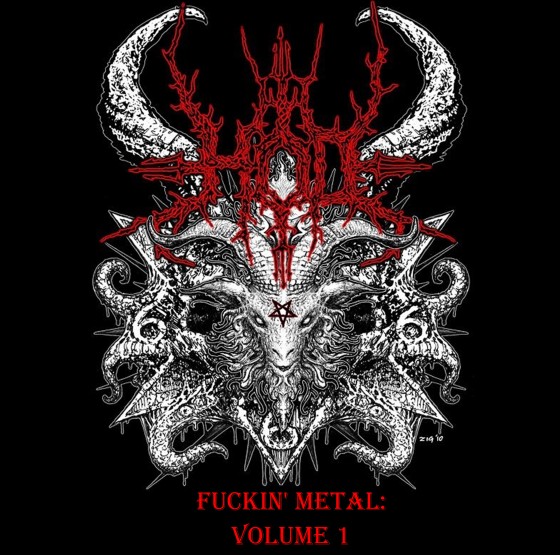 Blackened death horde, HOD, will embark upon a short run of live invasions to close out the year. Set to commence tomorrow in their hometown of San Antonio, the bestial legion will spread their sonic blasphemy through Little Rock, Lombard, and Indianapolis leaving behind nothing but chaos, destruction and broken beer bottles. The band will be toting the forbidden psalms of Fuckin' Metal Volume 1, a collection of demo and comp tracks available for the first time on one CD.
Shouted the band from their den of iniquity, "HOD is hitting road for a mini tour. So we expect to see all you maniacs out at these shows. We also will bringing our compilation of all our demos and comp tracks with us called Fuckin' Metal Volume 1. For once you can get all these tracks on one CD! See you in Hell!"
HOD Live Chaos 2013:
11/20/2013 Korova – San Antonio, TX w/ Plutonian Shore, Sardonic Witchery, Goatcraft
11/21/2013 Vino's – Little Rock, AR w/ Vore, Splattered In Traffic
11/22/2013 Brauerhouse – Lombard, IL w/ Morgue Supplier, Mass Mutilation, Reprobation, Vermillion
11/23/2013 Rock House Cafe – Indianapolis, IN w/ Summon The Destroyer, Hordes Of Nebulah, Coffinsville
HOD unleashed three new hymns of heinousness earlier this year by way of The Uncreated Demo. Recorded by Dennis Munoz (Solstice) and Stuart "Batlord" Laurence (Agony Column/Ignitor) The Uncreated Demo features the recording lineup of guitarist Necron, vocalist Vladibeer Reebs, bassist T.A., and drummer Dennis Sanders and serves as a disease-ridden apocalyptic precursor to the band's forthcoming Book of the Worm full-length.
"Consider HOD 2013 to be the snake eating itself and a bigger snake eating the smaller snake, a kind of infinite (and horrifically malign) Ouroboros." – Decibel
"HOD has the most lethal attack, commanding ugly fucking blackened death slabs punctuated with micro-rending buzzsaw leads. I also like that, if you read all the song titles of The Uncreated Demo together, it becomes full-on badassery…" – Last Rites
"…a thrashing charge of hybridized black and death metal that's as dynamic and technically impressive as it is primally appealing." – No Clean Singing
"These three songs are some of the best I've heard from the US death metal scene in years, maybe ages." – Voices From The Darkside
"Right from the beginning…the band pummels the listener with straight ahead death metal insanity… an absolutely stellar demo that really whets the appetite for more from the band." – Sea Of Tranquility
"If you like intense and fresh music, look no further and pick up a copy of The Uncreated. HOD is a band with a monster sound that is both brutal and very well crafted, something that is rare these days…" – Infernal Masquerade
"…three death metal songs that are delivered with venom…" – Lords Of Metal
http://hodmusic2.bandcamp.com/album/the-uncreated-demo
http://www.reverbnation.com/hodtheband
https://www.facebook.com/pages/Hod/118127951554999?ref=ts&fref=ts