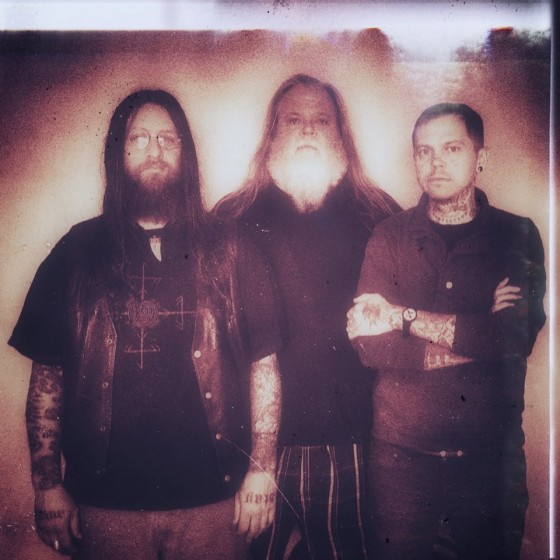 Today, Pitchfork has unleashed an Advance feature streaming The First And Last Days Of Unwelcome, the debut LP from LUMBAR, the experiment implemented by Aaron Edge (Iamthethorn, Roareth, Rote Hexe, Brothers Of The Sonic Cloth) and joined by Mike Scheidt (YOB, VHÖL) and Tad Doyle (Tad, Brothers Of The Sonic Cloth).
The brainchild of Aaron Edge, LUMBAR came together earlier this year when he was unexpectedly diagnosed with multiple sclerosis. What would be his final musical endeavor before waves of rapidly-spreading pain engulfed him and extended hospital stays became more than frequent, is now his most imperative. Having recruited his brethren Sheidt and Doyle to help his vision see reality, the musical result of this first, and possibly only, release from LUMBAR is as diverse and destructive as one may expect from such a lineup. With the varied influence from this trio of musicians coalescing into seven organic and tonally oppressive movements where ghostly passages and spacious expanses of minimalistic disharmony cone to an end in sonic obliteration through mesmerizing and pulverizing, as an array of distinct vocal mantras echo from the heart of it all.
Explore the excruciating doom artistry of LUMBAR's The First And Last Days Of Unwelcome at the Pitchfork stream AT THIS LOCATION.
Southern Lord will release The First And Last Days Of Unwelcome on LP/digital November 26th, followed by a CD version direct from the band and a cassette version via Holy Mountain Music, with all of the band's proceeds going to aid Edge's medical expenses and treatments. Check out the LUMBAR webstore HERE. Preorders for the digital version are up at Southern Lord now, HERE, and the LP can be preordered HERE.
"With Scheidt and Doyle contributing to the vocal arrangements and recording, Edge tells a story through captured moments that's haunting, tragic, beautiful, hopeful at times and incomplete in the way that life itself is incomplete and in the way that his story, his battle with this disease, is ongoing and continues to shape what has become his being." – The Obelisk
"…it's hard to imagine that 2013 will produce anything heavier or more distinctively soul-scouring than The First and Last Days of Unwelcome. It's a remarkable achievement that should not be missed." – No Clean Singing
"…this is an intelligently crafted, and emotional, record, executed in the spirit of camaraderie by three good friends. Nobody asked for this album, and no-one could have predicted that it would appear in 2013 – but here it is, one of best albums of the year." – The Sleeping Shaman
"This is one of the best doom, and for that matter metal, releases of the year. It deserves to be heard, no, experienced. Darkness and headphones and a clear head will let you journey on seven days of pounding emotion and crashing thunderous riffs and beats. This is a must listen for 2013 and beyond. 10/10" – This Is Not A Scene
"These are pros at work, clearly, and the sum of LUMBAR's parts have fashioned an album that's about as genuine, and as genuinely heavy, as you're apt to ever find. 9.5/10" – The Metal Observer
https://www.facebook.com/thelumbarendeavor
http://www.southernlord.com
https://www.facebook.com/SLadmin
http://twitter.com/twatterlord