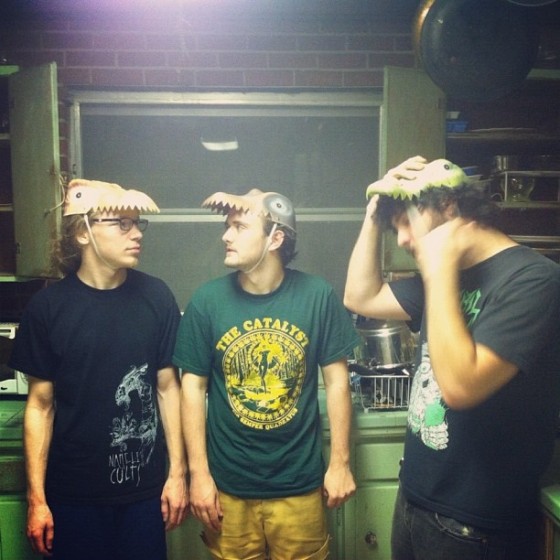 This week, Forcefield Records is beyond stoked to announce the impending release of the debut LP from gnarled grind/death act, YAUTJA.
Featuring members of Coliseum, Gnarwhal, Nameless Cults and more, and hailing from the filthy underbelly of "Music City," YAUTJA forges a potent mix of death metal, grind, and hardcore. Started in Nashville, Tennessee in January 2010 by vocalist/guitarist Shibby Poole and drummer/vocalist Tyler Coburn, the band began playing shows locally, released a live tape that August, and did some touring with then bassist Trey Stallings. In October 2010, bassist/vocalist Kayhan Vaziri joined the band, and in 2011, YAUTJA released a five-song EP, titled 2011, on Nashville-based label Tapes of a Neon God, which was followed by an East Coast tour. 2012 saw the band release a split 7″ with Enabler, as well as complete a tour of the Southeast U.S.
Entitled Songs Of Descent, YAUTJA's debut album presents the band's ultra-intense metallic, grind-infused, tone-heavy hardcore aggression with thunderous, organic recording attributes, captured at Dark Art Studios with Mikey Allred (Inter Arma, Accross Tundras, Hellbender). Burning down everything in earshot with fourteen hook-laden crushers in just over thirty-seven minutes, Forcefield Records will release Songs Of Descent on LP and digitally in early February 2014; the digital version mastered by Mikey Allred and the vinyl mastered by Zack Allen of Obsidian Eye Studios (Loss, Recluse, Sky Burial).
Too anxious to devastate live audiences with the new material, YAUTJA is already out on the road on their first of many legs of intense touring in support of Songs Of Descent. The current tour kicked off over the weekend and currently places the band in Florida, hammering their way up the East Coast through the first week of December. The band is actually still trying to lock down shows in several cities at this time, so anybody who can offer the band a club, bar, garage or living room to invade on any of the open dates, please get in touch. More touring is to be announced in the coming weeks.
YAUTJA Tour Dates [REMAINING DATES]:
11/19/2013 The Shark Tank – Tallahassee, FL
11/20/2013 TBA – St. Pete, FL
11/21/2013 Epic Problem – Tampa, FL
11/22/2013 Grown Up House – Miami, FL
11/23/2013 the Space – Orlando, FL
11/24/2013 Shanghai Nobby's – St. Augustine, FL
11/25/2013 Shantytown Pub – Jacksonville, FL
11/26/2013 TBA
11/27/2013 NEED HELP – North Carolina
11/29/2013 The East Wing – Richmond, VA
11/30/2013 NEED HELP – Washington, DC
12/01/2013 Ottobar – Baltimore, MD w/ Cleric
12/02/2013 JR's – Philadelphia, PA w/ In Defense
12/03/2013 NEED HELP – Boston, MA
12/04/2013 Acheron – Brooklyn, NY
12/05/2013 Millhill Basement – Trenton, NJ
12/06/2013 NEED HELP – NJ or DC
12/07/2013 Crayola House – Harrisonburg, VA
12/08/2013 TBA – Louisville, KY
Nashville is iconic in the history of American music. People from all over the world have found themselves struggling there yearning for the unlikely chance at music immortality. Yet, for all of the starry-eyed dreamers busking on Broadway, we're rarely exposed to the underbelly of Nashville's much admired musical community. Aside from Across Tundras, Hellbender, Loss, Sky Burial and few others, Nashville is mostly quiet on the metal front these days. Enter YAUTJA; a ferocious three-piece destined to redefine what it means to be a band playing heavy music in Music City. At a time where more bands than ever are attempting to sail into uncharted waters, YAUTJA actually has the chops to do it. A merging of past, current, and future heavy metal timelines, they are poised to rip apart the space time continuum. At once a battering ram bludgeoning to bits the musical walls within which you've maintained a comfortable ignorance, and simultaneously a spaceship offering you transport to the newly discovered quadrant of heavy tunes, this cerberean monster is indiscriminately furious, and they're not going to stand for the same regurgitated garbage anymore. Recommended for fans of Voivod, Melvins, Trap Them, The Jesus Lizard, Morbid Angel, and Trey Songz. Get your ears primed.
http://yautja.bandcamp.com
http://www.forcefieldrecords.org
https://www.facebook.com/ForcefieldRecords