[photo by Zion]
Massachusetts-based crossover faction HIGH COMMAND this week unloads their arsenal on the public with the release of their debut LP, Beyond The Wall Of Desolation. Ahead of the album's release through Southern Lord this Friday, the entire record has been deployed through an exclusive stream at Decibel Magazine.
The eight tracks on HIGH COMMAND's Beyond The Wall Of Desolation deliver an onslaught of searing thrash/hardcore aggression. The album explodes with the band's ravenous delivery, magnified by the powerful recording which took place at Machines With Magnets (Daughters, The Body, Lingua Ignota), and mastering job courtesy of Brad Boatright at Audiosiege (Obituary, Integrity, Black Breath).
Declares HIGH COMMAND's Ryan McArdle, "Hacked out of the frozen New England winter, Beyond The Wall Of Desolation brings forth a prophecy of a long forgotten aeon steeped in lore and savagery, where valor flowed with the waters and fires burned with sorcery. Our goal in the creation of this record was to make the perfect fitting soundtrack to a spiked mace coming down on a human skull."
Decibel's write-up accompanying the album stream notes how HIGH COMMAND has, "occupied a sweet spot between Cro-Mags-style snarling crossover and epic heavy metal, continuing, "By combining the rugged and fantastical themes of the latter with the overly aggressive attack of the former, the Massachusetts-based warriors have quickly become notorious in the underground for their violence-fomenting ways."
Hear HIGH COMMAND's Beyond The Wall Of Desolation early via Decibel RIGHT HERE.
Southern Lord will release Beyond The Wall Of Desolation on CD, LP, and digital this Friday, September 27th. Find preorders at the label webshop HERE and at Bandcamp HERE.
Following their extensive tour with Spirit Adrift over the summer, HIGH COMMAND will continue to support Beyond The Wall Of Desolation on tour through the remainder of the year and onward. The band has recently announced an upcoming East Coast North American tour with Virginia's Enforced, beginning October 18th in Enforced's hometown of Richmond. The At The Walls Of Desolation Tour 2019 will bulldoze northward through the Northeast US and into Canada before coming to a smoldering finale in HIGH COMMAND's hometown of Worcester on November 2nd.
HIGH COMMAND At The Walls Of Desolation Tour 2019 w/ Enforced:
10/18/2019 Wonderland – Richmond, VA
10/19/2019 Maywood – Raleigh, NC
10/20/2019 Raindogs – Jacksonville, FL
10/21/2019 Night Moves – Tallahassee, FL
10/22/2019 Poor Boys – New Orleans, LA
10/23/2019 The Firehouse – Birmingham, AL
10/24/2019 Caledonia Lounge – Athens, GA
10/25/2019 Hi Tone – Memphis, TN
10/26/2019 Subterranean – Chicago, IL
10/27/2019 North End Yacht Club – Cincinnati, OH
10/28/2019 Ottawa Tavern – Toledo, MI
10/29/2019 Rock Room – Pittsburgh, PA
10/30/2019 See Scape – Toronto, ON
10/31/2019 Sugar City – Buffalo, NY
11/01/2019 Piranha Bar – Montreal, QC
11/02/2019 The Raven – Worcester, MA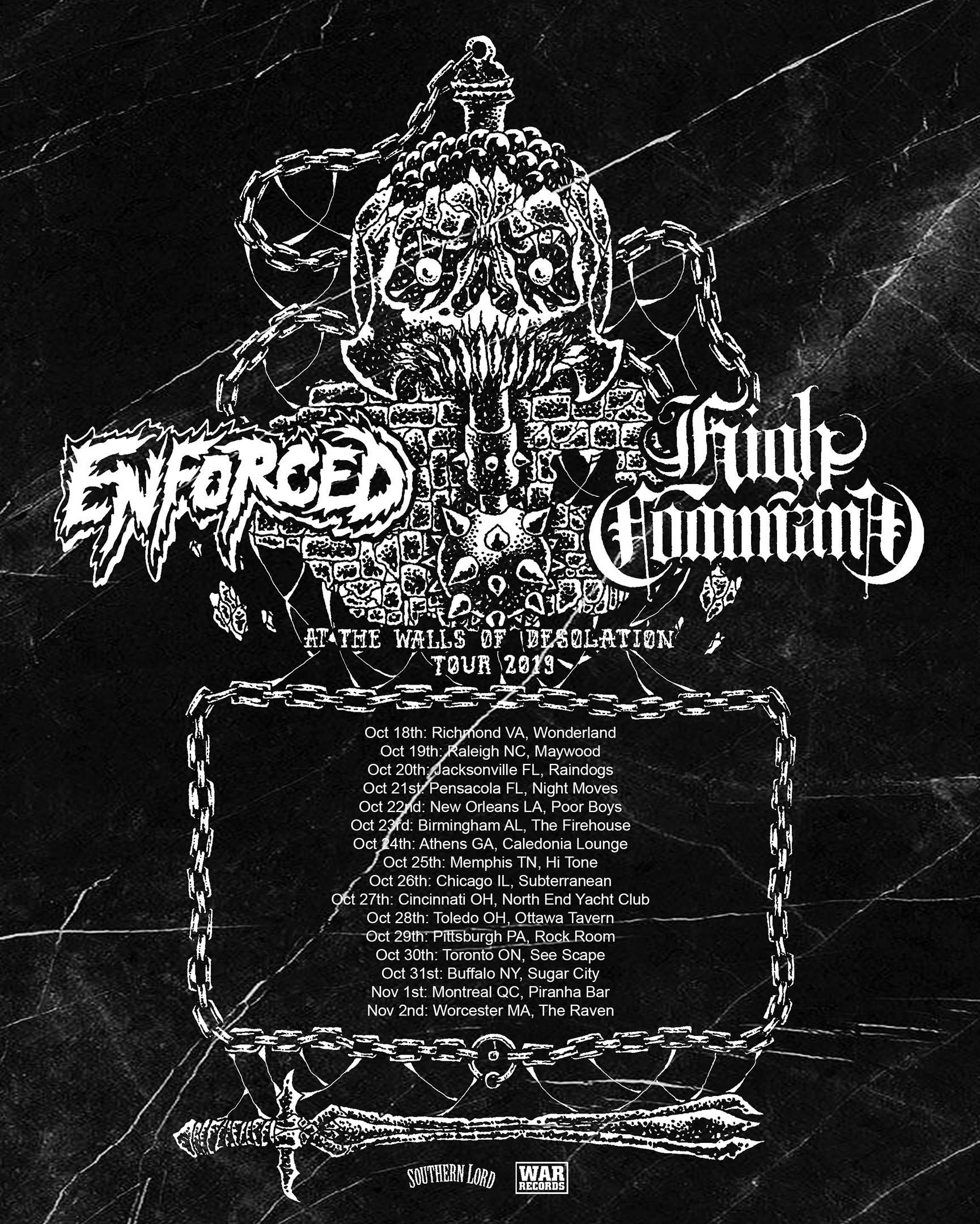 https://highcommand.bandcamp.com
https://www.facebook.com/HighCommand
http://www.southernlord.com
http://southernlord.bandcamp.com
http://twitter.com/twatterlord
https://www.facebook.com/SLadmin
https://www.instagram.com/southernlordrecords