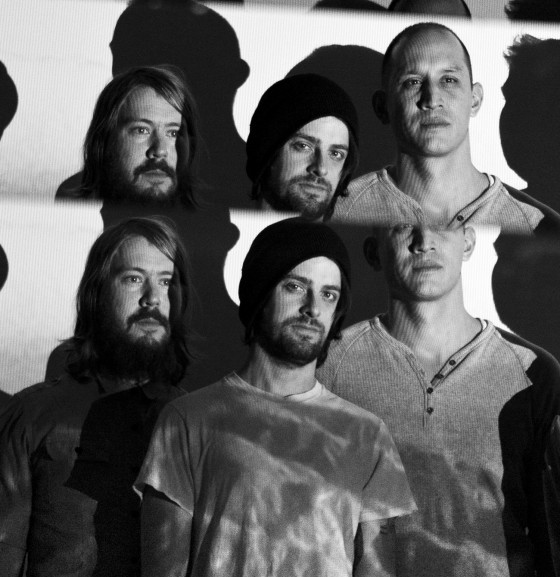 Cinematic/ambient music trio, HARMONIC CROSS, today issues the vinyl edition of their cryptic works captured on their debut LP, It is Finished.
Some dudes just can't get enough of playing music together. Such is the case of Ryan Parrish, Graham Scala, and Brent Eyestone. In addition to comprising 3/4 of the short, fast, and loud kill unit Bleach Everything and 3/5 of heavy indie rockers Highness, the trio of friends comprises 100% of HARMONIC CROSS. It is Finished. marks the band's debut album, with six songs that teeter more toward the ethereal and ambient while maintaining the rather specific and certain darkness that permeates the previous output of its members both collectively and off on their own. The LP was tracked live and mixed by Eyestone and mastered by Dan Randall at Mammoth Sound ("Star Trek: Into the Darkness," "The Walking Dead," "House of Cards," "Sons of Anarchy").
To help reexamine the creepy cold case and bring the album to the public, Noisey has hosted the official video for "Taman Shud" alongside an interview with band member/Magic Bullet Records owner Brent Eyestone at THIS LOCATION.
Additionally, Decibel Magazine has just posted a stream of the entire album RIGHT HERE.
HARMONIC CROSS' debut album It is Finished. functions as a conceptual soundtrack to an actual, unexplained true crime event commonly referred to as "The Somerton Man," also known as "The Taman Shud Case." In the case, an unidentified, well-dressed man is found dead along a seawall on Somerton beach in Adelaide, South Australia. A printed scrap of paper cut out from a book reading "tamam shud" (meaning "finished" in Persian) is found sewn into a hidden pocket of his pants. The book itself is later found and contains several hand-written ciphers. The Ciphers were never solved. The corpse was never identified. Even the book itself appears to be from an edition that has no record of ever being printed. Each track on It is Finished. coincides with one of the five specific ciphers written into that copy of "The Rubaiyat of Omar Khayyam," with the last track being dedicated to final meditation on the concept of "tamam shud." All artwork was drawn from crime scene photography surrounding the case.
Magic Bullet Records released It is Finished. digitally on July 17th, and today the record is available on both green and black 12″ vinyl packaged in a gorgeous chipboard jacket with metallic inks; physical orders can be placed HERE.
Also check out the free new Magic Bullet Records sampler HERE.
http://www.facebook.com/harmoniccrossband
http://www.magicbulletrecords.com
http://www.facebook.com/magicbulletrecords
http://www.twitter.com/magicbulletrecs