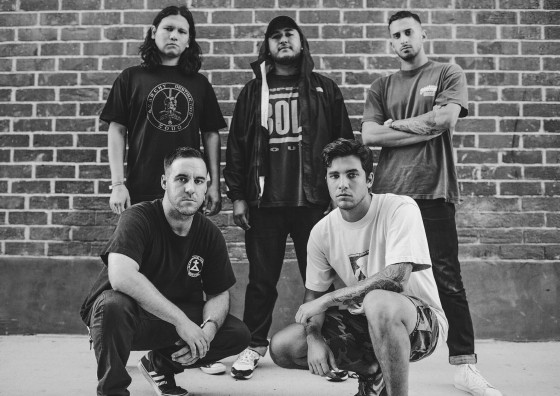 [photo by Kiabad Meza]
Southern California hardcore outfit, FORCED ORDER, has released a new single from their Revelation Records-bout debut LP, Vanished Crusade, issuing the album's seething "Unexist" through the aid of Alternative Press. Additionally, preorders for the LP have been made available.
Formed by a tight-knit set of musicians whom also spend time in Twitching Tongues, Disgrace, Soul Search, and others, FORCED ORDER's output pays homage to the beatdown riffs, backup chants and malevolent, divebomb guitar leads of 1990s Cleveland hardcore/metal kingpins Integrity, Ringworm, In Cold Blood and the like. The band's debut LP, Vanished Crusade, delivers their bleak views of the planet around us with impenetrable conviction; jaw-clenching angst fuels their infectious, punishing grooves with unchained urgency, infiltrated by haunting instrumental pieces, adding to the album's ill-omened delivery. Vanished Crusade was produced by Taylor Young at The Pit (Nails, Xibalba, Twitching Tongues), unloading its fourteen anthems with a punishingly hard delivery.
Alternative Press is responsible for the public infiltration of the second track from Vanished Crusade with an exclusive advance listen to "Unexist." The invigorating dynamics and groove-heavy intensity of this song are guaranteed to set the listener into a blind rage FORCED ORDER style.
Take the beating of FORCED ORDER's "Unexist" through AltPress.com now at THIS LOCATION.
Also hear the previously released "New Forms" via Revolver RIGHT HERE.
Revelation Records will issue FORCED ORDER's Vanished Crusade on CD and digital platforms on August 7th, with the vinyl version to follow. Preorders for all physical formats including the vinyl — with 500 being pressed on Coke Bottle Clear and 1200 on Clear Gold — including merch bundles and more are now available through RevHQ HERE.
FORCED ORDER is currently on the opposite coast this week, preparing to storm the four-day This Is Hardcore festival in Philadelphia. The band takes the stage this Sunday, July 26th alongside The Exploited, H20, Negative Approach, All Out War, Power Trip, Rival Mob, Slapshot, Twitching Tongues and more before returning to the West Coast. Between August 1st and 5th, the band will trek back across the country with shows in Arizona, Oklahoma and Virginia between August 1st and 5th on their way to the start of The Life & Death Tour. Featuring headliners Bane and Turnstile, FORCED ORDER will join Backtrack, Mizery and Heavy Chains for the entire twenty-six city tour of North America, with regional sets from Power Trip, Death Threat, Bitter End and Crown Of Thornz on select dates. The tour starts in Rochester, New York on August 6th and ends in Amityville, New York on August 31st.
FORCED ORDER Tour Dates:
7/26/2015 The Electric Factory – Philadelphia, PA @ This Is Hardcore [info]
8/01/2015 The Nile Theatre – Mesa, AZ
8/03/2015 Boulevard Trash – Tulsa, OK
8/05/2015 Strange Matter – Richmond, VA
FORCED ORDER on The Life & Death Tour 2015 w/ Bane, Turnstile, Backtrack, Mizery, Heavy Chains:
8/06/2015 The Harmony House – Rochester, NY
8/07/2015 The Palladium – Worcester, MA w/ Death Threat
8/08/2015 Gamechanger World – Howell, NJ
8/09/2015 Baltimore Soundstage – Baltimore, MD
8/10/2015 Greene St – Greensboro, NC
8/11/2015 The Orpheum – Tampa, FL
8/12/2015 Underbelly – Jacksonville, FL
8/13/2015 The Drunken Unicorn – Atlanta, GA
8/14/2015 Walter's – Houston, TX w/ Crown Of Thornz
8/15/2015 Sons of Herman Hall – Dallas, TX w/ Crown Of Thornz
8/16/2015 The Korova – San Antonio, TX w/ Crown Of Thornz
8/17/2015 Club Red – Phoenix, AZ
8/18/2015 Epicenter – San Diego, CA
8/19/2015 Chain Raction – Anaheim, CA
8/20/2015 Jewel's Catch One – Los Angeles, CA
8/21/2015 Oakland Metro – Oakland, CA
8/22/2015 Jub Jub's – Reno, NV
8/23/2015 Club Sound – Salt Lake City, UT
8/24/2015 Marquis Theater – Denver, CO w/ Power Trip
8/25/2015 Aftershock Bar and Grill – Merriam, KS w/ Power Trip
8/26/2015 Bottom Lounge – Chicago, IL w/ Power Trip, Bitter End
8/27/2015 Legends – Cincinnati, OH w/ Power Trip, Bitter End
8/28/2015 Majestic Cafe – Detroit, MI w/ Power Trip, Bitter End
8/29/2015 The Rockpile – Toronto, ON w/ Power Trip, Bitter End
8/30/2015 Les Foufounes Electriques – Montreal, QC w/ Power Trip
8/31/2015 Revolution – Amityville, NY
*Mizery on dates 8/06-8/25 only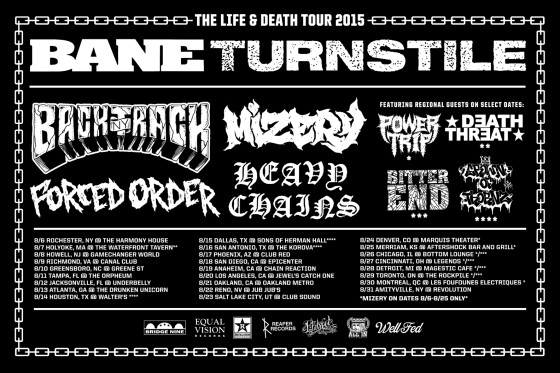 http://www.forcedorder.bandcamp.com
http://www.revelationrecords.com
http://www.revhq.com
http://www.facebook.com/revelationrecords
http://www.twitter.com/revelationrecs
http://www.youtube.com/user/REVELATIONRECORDS