New York City's riotous grunge metal sickos, FASHION WEEK, have just released a new official video for "Fendi Bender" through an exclusive premiere at Metal Injection.
"Fendi Bender" comes from FASHION WEEK's Prêt-à -Porter debut LP — which saw release in February through French noisemongers, Solar Flare Records — and the new video for the track takes place at a Brooklyn club where the band gets swindled at their own show. "Fendi Bender" was filmed, directed and edited by Michael Dimmitt of Dimmitt Video with additional camera work by Eric Kramer and Jessica Vale.
Watch FASHION WEEK get hosed in "Fendi Bender" now playing exclusively at Metal Injection RIGHT HERE.
The bands' entire Prêt-à -Porter LP is playing at Invisible Oranges at THIS LOCATION, and the previously released "Chorusace" video at American Aftermath HERE.
FASHION WEEK unites a cast of musicians who have done time with Jarboe, Man's Gin, Nakatomi Plaza, Go Deep, Family, Vampillia and more, here unloading a brew of belligerence that remains somewhat unclassifiable, yet soaked in a brackish flood of underground grunge metal and noise rock runoff. Engineered by Andrew Schneider (Cave In, Unsane, East Of The Wall), eight scathing works jam a half-hour of dynamic, grunge and noise-soaked, metallic freakout on Prêt-à -Porter, the entire album throwing enough twists, turns and surprises at the listener than a blindfolded pogo-stick excursion through a field of landmine-lined trampoline pits. Solar Flare Records will release Prêt-à -Porter on 12″ vinyl and all digital formats on February 23rd. Or both physical versions which include digital downloads are available HERE and both versions in a t-shirt bundle HERE.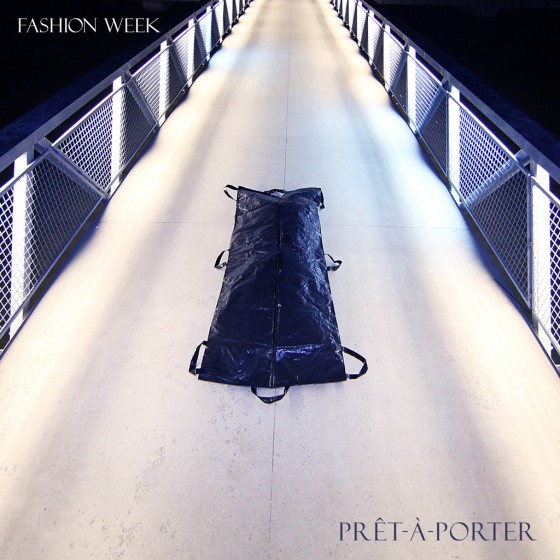 http://www.facebook.com/FashionWeekBand
http://www.fashionweek.bandcamp.com
http://www.solarflarerds.com
http://www.facebook.com/solarflarerecords
http://shop.solarflarerds.com