[photo by Gene Schilling]
Pitch Black Records is thrilled to announce the return of one of Canada's premier stoner metal acts, GYPSY CHIEF GOLIATH, with their new, third album, Citizens Of Nowhere, set for release this April.
Citizens Of Nowhere is the follow-up to GYPSY CHIEF GOLIATH's superb New Machines Of The Night (Pitch Black Records, 2013) which received numerous praises worldwide, including the #4 spot in Revolver Magazine's online readers poll for album of the week as well as charting #15 on the CMJ Loud Charts.
The main driving force behind GYPSY CHIEF GOLIATH, vocalist/guitarist Al "The Yeti" Bones (also of Serpents Of Secrecy, The Mighty Nimbus, Georgian Skull, Mister Bones) comments: "It's been awesome working with such a flagship independent metal label like Pitch Black Records. It's so important to form an alliance with a label that believes in what you do as much as you do. Our new album is a smoke riff masterpiece that tells tales of the apocalypse, death, space, time travel, and the almighty highway!"
Proudly (and rightly so) declaring their affection for that good old warm sound, GYPSY CHIEF GOLIATH has gone completely analogue on this one, recording on reel to reel tape at Sharktank Studios in Windsor, Ontario. The album includes eleven tracks, with a cover of the Sabbath classic "Killing Yourself To Live" as a CD bonus. Clocking in at just under an hour, this is an album that truly "reels" the listener in right from the start and the band's unique style of bluesy stoner rock/metal, which includes three guitars and a harmonica, is set to captivate audiences once again.
The album's "Holding Grace" is streaming and available for download at THIS LOCATION.
Citizens Of Nowhere is scheduled for release on April 15th on CD and digital download. Preorders are live HERE and HERE.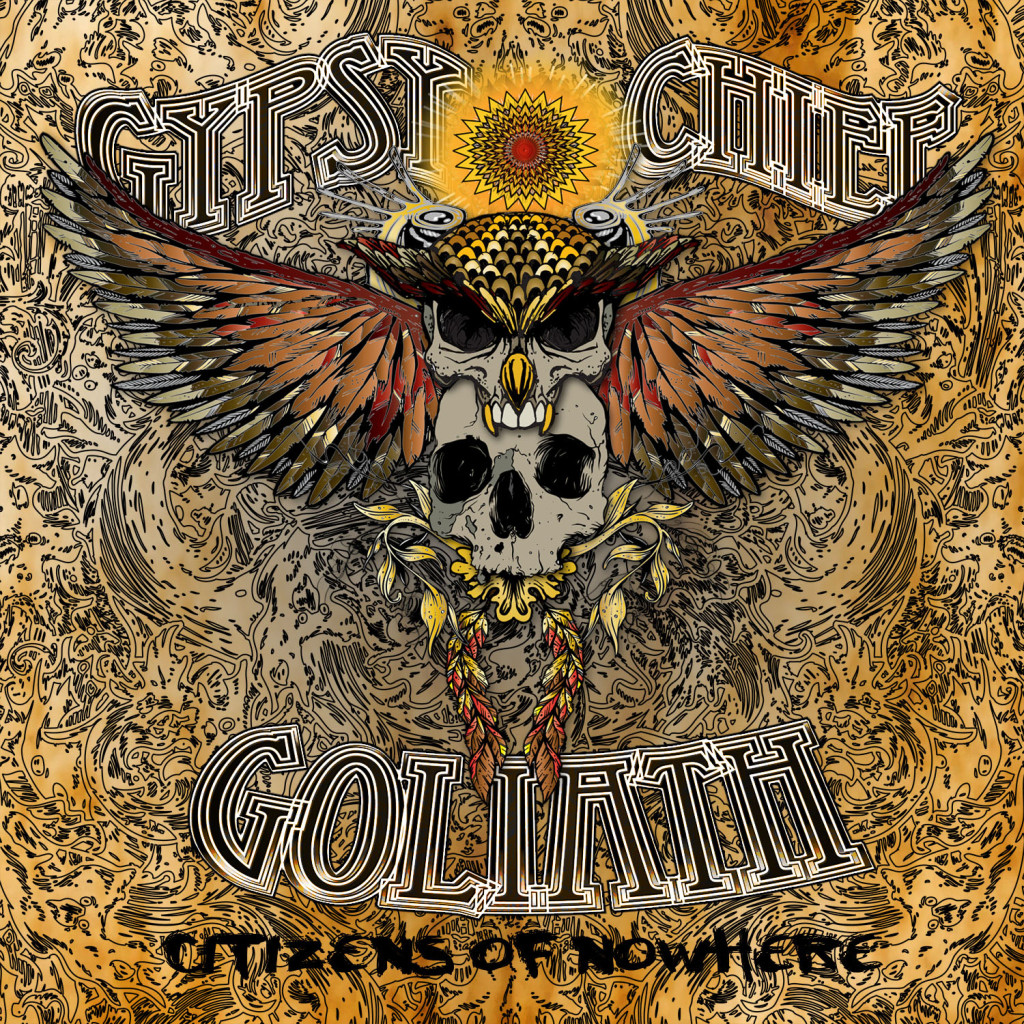 Citizens Of Nowhere Track Listing:
1. The Sting
2. Holding Grace
3. Citizens Of Nowhere
4. Black Samurai
5. Elephant In The Room
6. Gloomy Tombs
7. Odyssey
8. We Died For This
9. The Return
10. Witchcraft For The Ages
11. Killing Yourself To Live (CD Bonus)
GYPSY CHIEF GOLIATH:
Al Yeti Bones – Vocals/Guitar
Adam Saitti – Drums
Justin Black – Guitar
John Serio – Guitar
Darren Brush – Bass
Rev. Brodie Stevenson – Harmonica
http://www.gypsychief.com
http://www.facebook.com/GypsyChiefGoliath
http://www.pitchblackrecords.com
http://pitchblackrecords.bandcamp.com