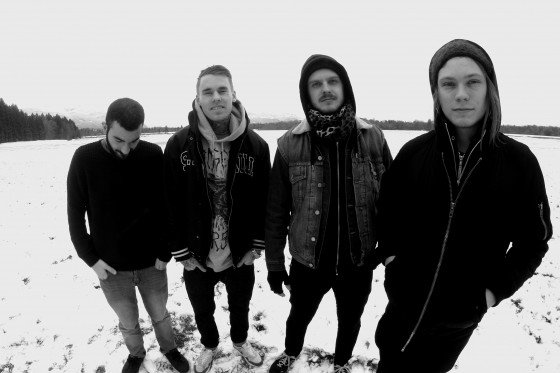 As Southern Lord prepares to release the self-titled second LP from Swedish cutting-edge hardcore act, GUST, the first listen to the album is now available for public ingestion.
The incoming ten-track Gust LP explodes with lyrical angst and musical fury from the get-go, bombarding the listener with catchy riffs and spot-on political statements, making it instantly obvious that GUST is a force with which to be reckoned. The album's seventh track, "Humility In Disguise," features guest vocal contributions from Brad Boatright of From Ashes Rise and others who mastered the album at his Audiosiege bunker.
Listen to "Humility In Disguise" now via the Southern Lord Bandcamp RIGHT HERE.
Southern Lord will release Gust in North America on September 16th. Preorders for the album are currently available HERE.
GUST's ongoing tour continues to rip across the European continent, having taken to the road across Europe two weeks ago. They'll enter the UK for a run of shows this week before closing down in Germany on July 17th. Additional widespread tour dates are to be announced over the coming months.
GUST European Tour [remaining dates]:
7/09/2014 Attack – Zagreb, HR
7/10/2014 Point – Egna, IT
7/11/2014 ABS – Zurich, CH
7/12/2014 Schöner Wohnen – Cologne, DE
7/13/2014 Fitzherberts – Brighton, UK
7/14/2014 No Studio – Manchester, UK
7/15/2014 The Black Bull – Newcastle, UK
7/16/2014 The Unicorn – London, UK
7/17/2014 AJZ – Neubrandenburg, DE
Hailing from Trollhättan, Sweden, GUST skillfully combines pounding d-beat rhythms with a classic hardcore punk directness, and bring forth a maelstrom of metallic riffs, amalgamating into a brutal and arresting sonic assault fans of Cursed and Rise And Fall will swarm to. With one demo, one LP and four European tours already under their belt, and with a fifth tour running from June 24th through July 17th, GUST will release their brand new, self-titled album through Southern Lord Recordings this August. This second LP was self-recorded at Fvck Life Studios, and mastered by Brad Boatright (Warcry, From Ashes Rise, Deathreat, Audiosiege Engineering), who supplies guest vocals to the album.
https://www.facebook.com/gustswe
http://gustswe.bandcamp.com
http://gust.bigcartel.com
http://www.southernlord.com
http://southernlord.bandcamp.com
https://www.facebook.com/SLadmin
http://twitter.com/twatterlord