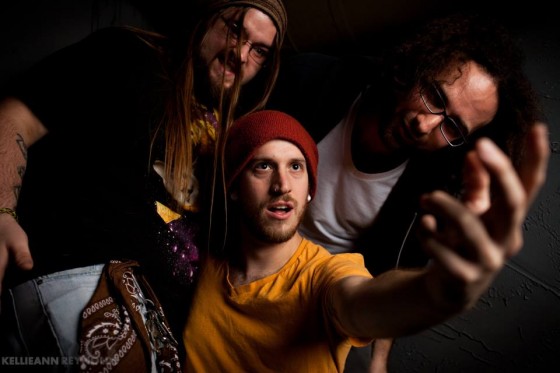 Akron, Ohio-formed MAID MYRIAD has completed their debut full-length studio recording, which is now being finalized for an early Fall 2014 release via Nefarious Industries.
Boasting a beautiful but potent style of post-progressive/alternative/pop they like to refer to as kaleidoscope rock, MAID MYRIAD blends dynamically versatile songs, angst-fueled progressive riffs, delicate pin drop moments, and intense start/stop dynamics. The band formed in 2007, quickly solidifying their name within the local scene, receiving heavy regional airplay from their debut EP Embrace, being named Akron's second best local band in 2010 (behind The Black Keys), logging miles in the van, and opening for such national acts as Primus, Gogol Bordello, Dax Riggs, Michale Graves, Maps & Atlases, As Tall As Lions and more.
Guitarist, singer, and songwriter, Jeff Klemm (ex-Via Lotus), and drummer Greg Meisenberg (A Fucking Elephant), have recently wrapped-up recording MAID MYRIAD's first full-length album, With Haste On Its Breath. With a dozen new songs radiating with the band's most exceptionally-crafted songwriting through their most expansive and explosive material to date, With Haste On Its Breath is an hour-long opus that is as beautiful as it is infectious. Bursting with influences from a gamut of rock subgenres, one can hear elements of Sense Field, Serpico, Sunny Day Real Estate and others born of the 1990s post-hardcore/emo circuit, massive alternative rock elements of Dredg, later Cave In and the mellowest aspects of the Dillinger Escape Plan's more recent recordings, relentless creativity on the level of Tool and Mike Patton's catalog and so on, all seamlessly honed and brought to vibrant life with a passionate, dynamic, clean vocal delivery. Recorded in both Akron, Ohio, and Keyport, New Jersey, produced and engineered by Klemm at Free Truman Productions, and then mixed and mastered by Kevin Antreassian at Backroom Studios in Rockaway, New Jersey (The Dillinger Escape Plan, Adrenaline Mob, Foxy Shazam, etc.), the album's artwork and layout was crafted by Eric Nyffeler at Doe-Eyed (East Of The Wall, A Fucking Elephant).
While MAID MYRIAD has been comprised of Jeff Klemm and Greg Meisenberg, the duo is now joined by bassist Mario Tonathy, whom the band toured with heavily throughout 2013. With Tonathy now a full-time member of the band, MAID MYRIAD will take back to the streets, promoting the new album across the US throughout the latter half of 2014 and beyond.
With Haste On Its Breath will see a six-panel digipak CD and digital release October 7th via Nefarious Industries, the independent label founded by members of MAID MYRIAD, A Fucking Elephant, El Drugstore and more, and the home of a bunch of big, dumb noise.
Stand by for more info, audio samples and more in the coming weeks as MAID MYRIAD prepares to release their finest work yet.
With Haste On Its Breath Track Listing:
1. Encircled
2. Azure Planes
3. Be Careful What You Wish For
4. Dance By The Moonlight
5. Waiting For December
6. Skyes Eye View
7. Camera Eye
8. Chardonnay
9. Forget You (And I Will)
10. Hey There Kid
11. For The Loss
12. Shake Them Off
https://www.facebook.com/maidmyriad
http://maidmyriad.bandcamp.com
https://twitter.com/MaidMyriad
http://www.facebook.com/NefariousIndustries
http://www.nefariousindustries.com
https://twitter.com/NefariousInd