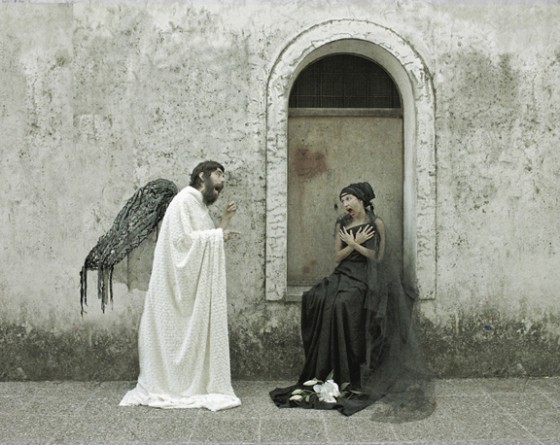 Italian avant occult duo, FATHER MURPHY, has been infecting North America with their eccentric hymns of decadence. Comments the terrifying twosome earnestly of their journey thus far, "Over the last few weeks our hearts pumped and our blood run together with all of you who promoted, booked, played at and came our shows. To all of you who fed us, gave us a place to sleep and even simply shared a thought and a word with us, its been an honor and a privilege to feel part of a community. We never cared for [music] scenes, but it meant a lot to feel our heartbeats having the same tempo with some of the people around us."
The band will continue to spread their cryptically evocative psychedelic soundscrapes to unsuspecting souls through July and August with additional rituals throughout the States to be announced in the coming weeks. Keep up with the band's passage via twitter HERE.
FATHER MURPHY Live Rituals:
7/09/2014 Live at Radio Valencia (8-10 am) – San Francisco, CA
7/11/2014 Late Friday Nights @ Berkeley Art Museum & Pacific Film Archive – Berkeley, CA w/Gabriel Saloman
7/19/2014 House Of Milk And Honey – Sacramento, CA w/ Dead Western, Featherbeard
8/01/2014 Bottom Of The Hill – San Francisco, CA, w/ Xiu Xiu, Circuit Des Yeux
FATHER MURPHY recently collaborated with experimental Italian illustrator and animator Luca Dipierro at his Paper Circus show held at Portland's Clinton Street Theater. Dipierro's short films, called "a perfect mix between creepy and charming" by The Huffington Post, are carnivalesque tales of acrobacy and death that draw from the traditions of Italian commedia dell'arte and Sicilian teatro dei pupi (marionette theatre). Sorrowful and comical at once, Dipierro's animations tell stories of trees growing out of furniture, stranded Columbus-like explorers, puppet funerals, monkeys, prestidigitators, ghosts, and a woman birthing a fish.
Check out the trilogy of FATHER MURPHY clips as well as the haunting soundtrack to Dipierro's visual madness BELOW.
A venture The Wire likened to "homemade Morricone and toytown Goblin," FATHER MURPHY continues to tour in support of their Pain Is On Our Side Now EP, released via Aagoo Records earlier this year. A concept album that centers itself on imminent failure, Pain Is On Our Side Now boasts four chilling tracks of eroticism, decadence and emotional/physical decay, each playable on their own merit but with the additional option of synchronized playback for tracks one and three, or two and four, conjoining into two new sonic excursions Aquarius Records christened, "…woozy and ominous, dreamy and dense, a glorious deathlike dirge…"
Spawned near Venice and boasting three albums and a plethora of EPs and limited releases, the grim duo – Rev. Freddie Murphy (vocals, guitar) and Chiara Lee (vocals, keyboards, percussions) – has, over the years, shapeshifted into one of Italy's most mysterious and enigmatic musical exports, part of the community that esteemed music critic, Simon Reynolds, dubbed the new "Italian occult psychedelia." Evolving from twisted psychedelic pop into a far darker sonic exploration, FATHER MURPHY manifests foreboding songs that crawl and twist and hiss like that old biblical serpent; their off-kilter, traumatic creations not only earning the critical accolades of media both statside and abroad but winning over the adoration of Julian Cope, Carla Bozulich, Deerhoof, Michael Gira and so many others.
It's only when you reach the bottom that you feel you can still dig…
"The oddball psychedelic chamber pop the Italian duo exhale will creep you out with drones, lullabies and anguished vocals all competing for front-runner spot in your next nightmare. Perfect." – Terrorizer
"It's dark, menacing and terrifying yet there is a sense of beauty and peace at the heart of the music… There is tranquility, fear, calm, movement… FATHER MURPHY have set the bar pretty high for experimental music, creating something that is both challenging and satisfying… a rare master stroke for a genre that is often glutted with over indulgent thirty-minute noise pieces with no real discernable voice or motif. Well done FATHER MURPHY, well done." – Grave Concerns
"…a must listen. It's very experimental, very random and very off putting. A weird & terrifyingly unique experience." – Headbangorgtfo
"You've heard the phrase 'uneasy listening?' This is THAT. There is nothing cheery or comforting about FATHER MURPHY, but lordy, if you have a taste for dark, immersive, non-personality-based cine-music, this may be something to lose yourself in. Best recommended if you're a LAPSED Catholic or 'other' in the religious column, though. If you're still going to mass and taking communion, well, you're liable to head straight for confession after hearing this stuff." – Zacharymule
"Post-punk and gothic sounds are perfectly blended and when you add to this mix medieval elements and echoing terrifying vocals, the outcome is a mysterious music with a strong ritualistic character." – Echoes And Dust
http://www.facebook.com/fathermurphyband?fref=ts
http://www.aagoo.com