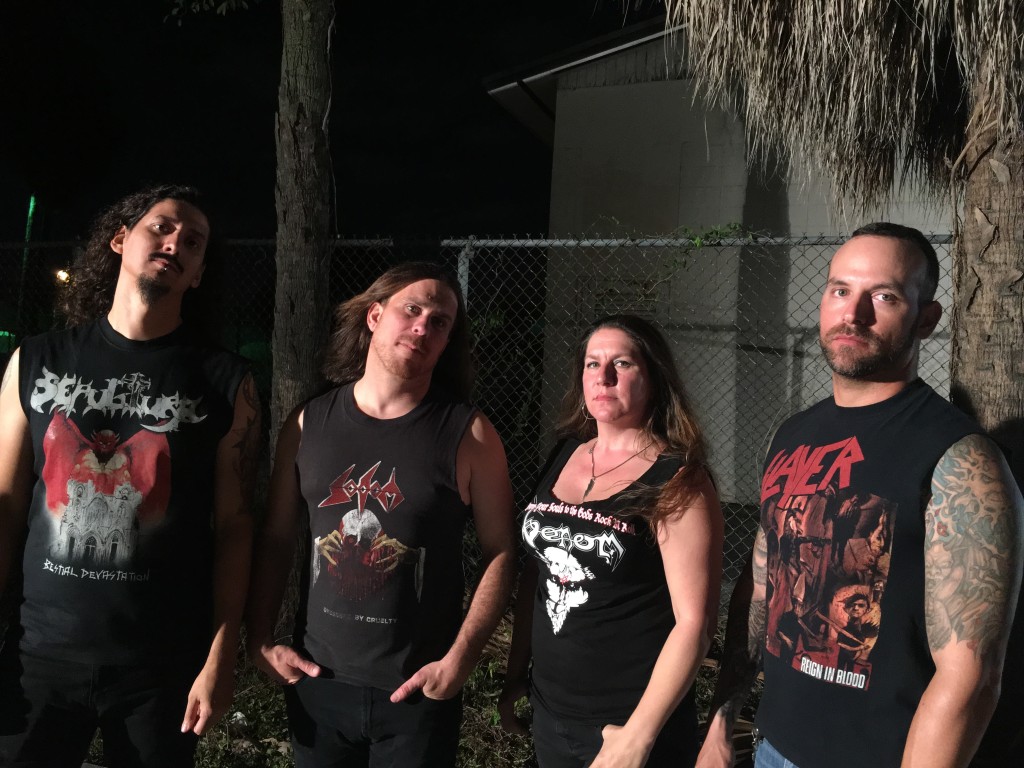 [photo by Cristina Mariutto]
SickDrummer Magazine has just premiered a new drum play-through video by Gus Rios of old-school death metal merchants, GRUESOME. The video sees Rios tearing through the track "Raped By Darkness," from the band's savage new EP, Dimensions Of Horror, out now on Relapse Records.

Watch the video, now playing courtesy of SickDrummer, at THIS LOCATION.
Additionally, GRUESOME's official music video for EP title track "Dimensions Of Horror" can be streamed at THIS LOCATION.
Produced by the band and co-produced and recorded by Jarrett Pritchard at New Constellation RMP Studios in Orlando, Florida, Dimensions Of Horror is a grisly salute to Death's iconic Scream Bloody Gore and once again features cover art by the legendary Ed Repka (Death, Atheist, Massacre et al). A six-song slab of classic, bone-breaking, death metal jams, Dimensions Of Horror continues the development of GRUESOME's homage to the founding fathers of the genre and proves that no matter the decade, old-school death metal is always relevant, savage, and irresistible.
Dimensions Of Horror is our now on CD/LP/CS/digitally worldwide and has already seen widespread critical acclaim from the likes of Decibel, MetalSucks, Revolver, and more. Physical orders via Relapse.com can be found HERE, and digital orders via GRUESOME's BandCamp page are available at THIS LOCATION.
In a recent 9/10 review, Decibel hails an EP consisting entirely of, "slash-and-burn bangers.," further elaborating, "Harvey's insane vocal delivery on 'Raped By Darkness,' is a real treat for Leprosy-era enthusiasts. It'd be the EP's high point if it weren't for the title track, one of the catchiest death metal songs since Death Breath, if not ever." Two Guys Metal Reviews concurs, "Dimensions Of Horror is an EP that you are going to want to come back to time and time again because it is fun, powerful, and concise. Every riff fucking slays and every guitar solo has that wonderful singable quality that made Chuck [Schuldiner]'s playing so great. Matt Harvey and the gang have outdone themselves with music that reminds us just how far of the game Death was at every phase of their careers." Music And Riots applauds the EP, likening it to a, "stab wound to your gut, short, fast and painful." The Metalist observes, "…regardless of their love for Schuldiner, GRUESOME are just as much their own brilliant death metal band, they just wear their hearts on their sleeve." Notes Glacially Musical, "Between amazing riffs, perfect grooves, and just the right amount of growl and inarticulation in the vocals, Dimensions Of Horror raises the bar for GRUESOME." Adds Dead Rhetoric, "GRUESOME still revels in Death worship – but it's good Death worship. Just like their previous release, Dimensions Of Horror makes the usual retro-death metal vicious and energetic… there's no doubt that you are going to enjoy each listen."
GRUESOME was born out of guitarist/vocalist Matt Harvey and drummer Gus Rios' mutual involvement with the Death To All tours. Harvey served as frontman for the original mini-tour and Rios both performed "Baptized In Blood" and worked with DTA drummer Sean Reinert on the following US tour where Exhumed filled in as support. After discussing and discarding the idea of putting together another incarnation of DTA to focus exclusively on Death's first two albums, Harvey half-jokingly suggested that the pair write their own songs in intentional homage to the band. It wasn't long before the idea gained traction, and the band soon had five tracks written. With Harvey writing in California, Rios recruited Possessed guitarist Daniel Gonzalez and Derketa bassist Robin Mazen to record the material in Florida, while Harvey tracked his vocals on the West Coast.
GRUESOME released a pair of single-song demos in 2014, and was subsequently signed by Relapse Records in June of that year, with a full-length release (recorded in Florida, of course) planned for early the following year. The result of those recordings would become the band's debut full-length Savage Land, a truly harrowing slab of Leprosy-styled death metal released in April 2015. It's clear from the song quality on Savage Land that GRUESOME is humbly determined to keep Death's classic sound alive as faithfully as possible, and the critical acclaim for the record has reflected the band's dedication. Now, GRUESOME has returned stronger than ever with their new EP Dimensions Of Horror.
http://www.facebook.com/gruesomedeathmetal
http://www.gruesomedeathmetal.bandcamp.com
http://www.instagram.com/gruesome_death_metal
http://www.relapse.com