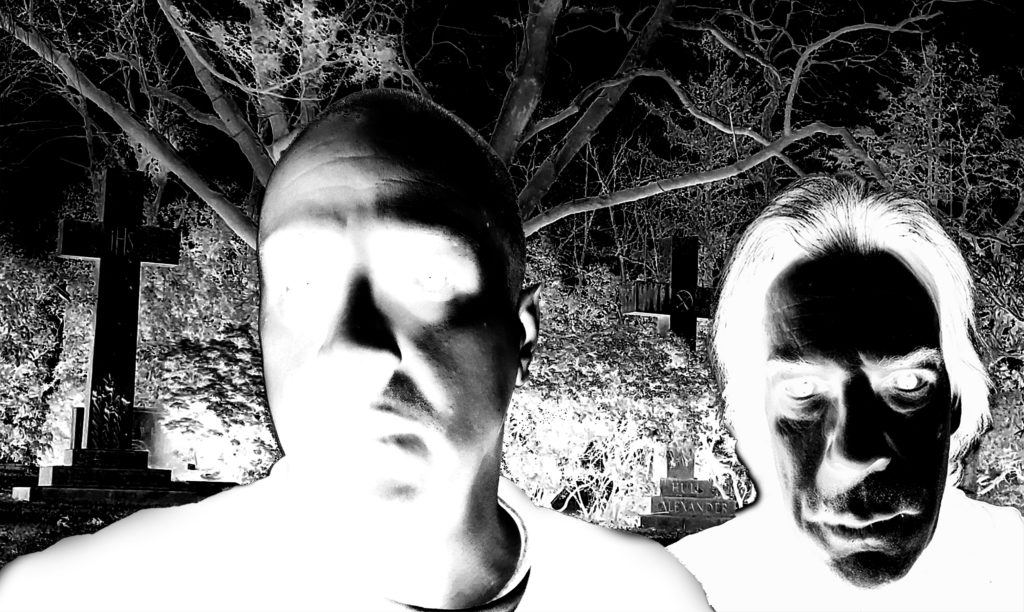 Dismemberment Cabaret – the harsh/jazz collaborative album between New York harsh/experimental soloist GRIDFAILURE and world-renowned trumpet player MAC GOLLEHON – will see release through Nefarious Industries in just over two weeks. As the intense experiment is prepared for public dispatch, a video for new single "Transient Fault" sees its premiere through Cvlt Nation.
The uneasy combination presented on Dismemberment Cabaret acts as a suite, merging jazz and cinema influence of 1970s/1980s slasher/crime films with harsh sub-hardcore hostility and post-industrial tension. As if The Great Gatsby was re-scored by the outlanders in The Hills Have Eyes, GRIDFAILURE creator David Brenner weaves an environment of beats, bass, guitars, keys, field recordings, and unhinged vocal savagery, while MAC GOLLEHON's explosive trumpet, trombone, cornet, and didgeridoo contributions slash through the carnage with filmic intensity. The album was created throughout the 2020 quarantine, recorded and mixed by Brenner at The Compound in Rockland County with GOLLEHON's material captured in multiple stairwells of his building in Staten Island. The album was mastered by Dan Emery at Black Matter Mastering (Kool Keith, Lost Dog Street Band, Thetan), with art, design, visuals, and videos created by Brenner.
With the "Transient Fault" single, GOLLEHON describes the song as, "Drone tones, network breakdown, discordant components. Butterflies swarm the medical debris in search of warmth in the humid dawn quicksand as you can feel the comfort blanket of overhead powerlines remaining transient within the attrition."
Brenner writes, "The consuming bleakness that permeates our pandemic lockdown despair is here delivered in a multi-disorienting concept, as the circuits trip and the faultline ruptures internally, the darkest recesses are exposed. This is the precursor for the album track 'El Temblor' which relays the tale in Spanish, which here harbingers, 'From Below. Destruction. Implosion. Worlds collide. Civilization plummets. Eradication. The Grid fails. Drain the life from this depraved society. Grant us access to your subterranean tomb. El Temblor. The earthquake."
With the premiere of the track's disorienting video, Cvlt Nation writes, "This song will seep into the dark places of your mind and spread all over. Imagine the planet called noise was overtaken by the planet called free jazz on acid… watching this will expand your mind and might give you nightmares in the daytime. On the real GRIDFAILURE and MAC GOLLEHON coming together makes sense because they both represent an altered state of freedom."
Let GRIDFAILURE and MAC GOLLEHON's "Transient Fault" tear a hole in your firmament via Cvlt Nation now at THIS LOCATION.
Nefarious Industries will release Dismemberment Cabaret on May 21st across all digital providers and in a limited Flamingo Meth Pink cassette run. Find merch bundles and more where videos for "Roaming Blackouts" and "Crime Scene Designers" are playing HERE.
Watch for additional videos and more to see release over the weeks ahead, and live collaborations to transpire post-plague. Nefarious Industries will also release the new LP from MAC GOLLEHON & THE HISPANIC MECHANICS and additional GRIDFAILURE titles following the release of Dismemberment Cabaret.
Anybody who has heard Billy Ocean's "Get Outta My Dreams, Get Into My Car," Blondie's The Hunter, or Onyx's Slam is familiar with the work of world-renowned NYC trumpet player MAC GOLLEHON, who has toured and recorded with an endless roster of rock, pop, and jazz artists since the 1970s. Having performed on over two-hundred gold and platinum albums, having spent a decade in Duran Duran, and more, he's recorded with David Bowie, Madonna, Chaka Khan, Buddy Rich, Al Jarreau, Sheena Easton, Mick Jagger, Grace Jones, Hector Lavoe, and hundreds of others. GOLLEHON has released eight solo albums since the late 1990s. In recent years, his primary outlet has been with his ever-morphing MAC GOLLEHON & THE HISPANIC MECHANICS, in addition to contributing other to experimental collaborations and performances.
GRIDFAILURE is the unpredictable and confrontational audiovisual experiment of creator David Brenner which yields dense, apocalyptic output with foundational elements bastardized from the realms of dark ambient and dark hardcore, and manifested with elements of jazz, world music, folk, harsh noise, electronica, punk, and more. Operating solo or with a cast of collaborators, both on record and on stage, since its 2016 inception the project has amassed dozens of independent releases, including collaborations with Rack, Megalophobe, Walking Bombs, Christian Molenaar, and others, split releases with Chrome Waves, Never Presence Forever, and others, and much more. GRIDFAILURE is progressively releasing its five-album Sixth Mass-Extinction Skulduggery concept series through Nefarious over several years.
http://www.facebook.com/gridfailure
http://www.gridfailure.bandcamp.com
https://twitter.com/GRIDFAILURE
https://www.instagram.com/gridfailure
https://www.instagram.com/macgollehon
https://www.facebook.com/mac.gollehon
https://twitter.com/gollehonmac1
http://nefariousindustries.com
http://www.facebook.com/nefariousIndustries
http://www.twitter.com/nefariousInd
https://nefariousindustries.bandcamp.com