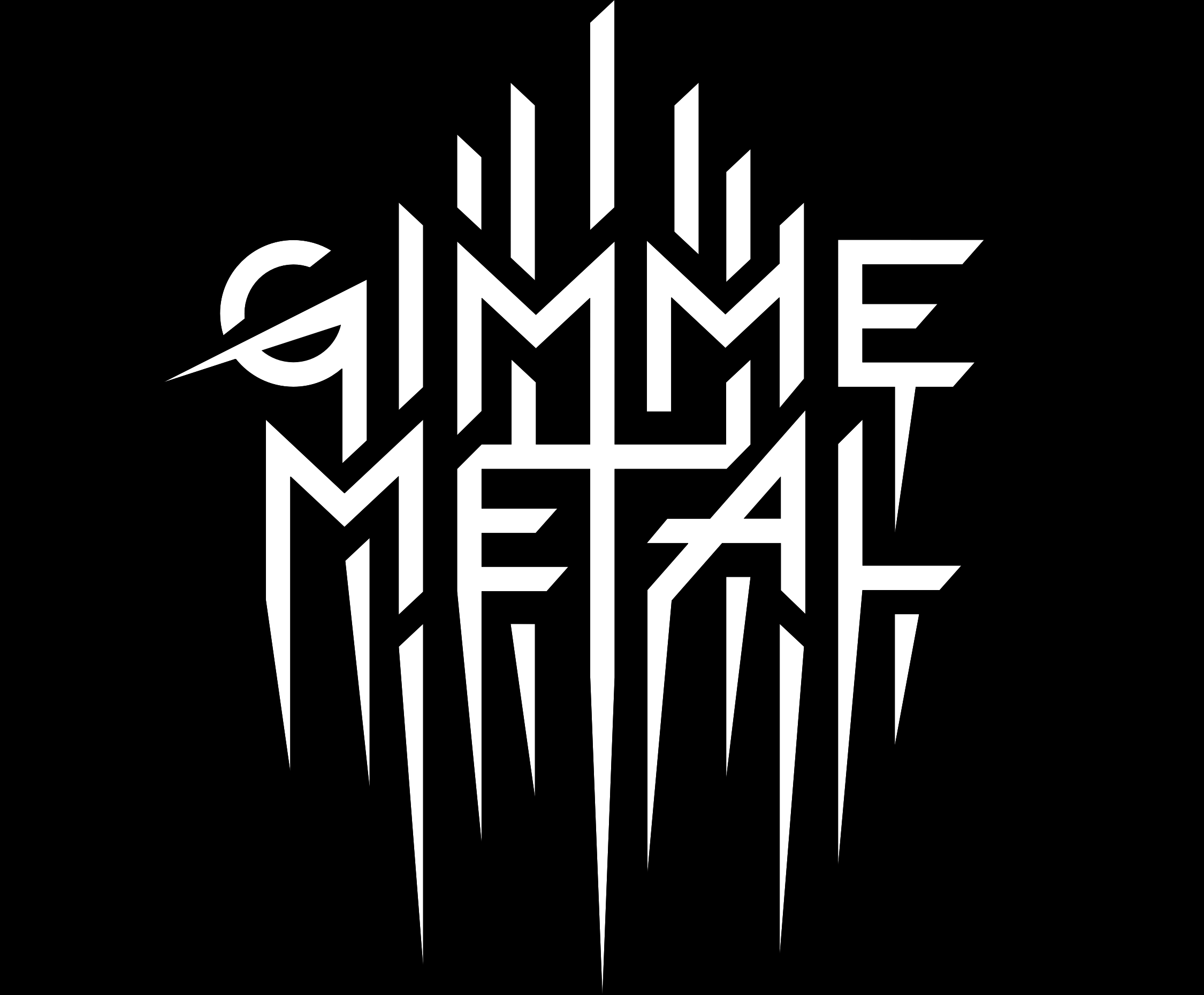 Each week, GIMME METAL publishes its radio chart listing the top 40 tracks played on the station. Already the best metal discovery service online, the GIMME METAL chart is a powerful tool for listeners, labels, and artists for staying up to date on the best new metal released by established greats and up-and-coming underdogs, all handpicked by GIMME's knowledgeable DJ roster and editorial team.
GIMME METAL Chart – May 3rd, 2021:
Vreid – "Into The Mountains"
Evile – "Gore" (featuring Brian Posehn)
Artillery – "Turn Up The Rage"
Cannibal Corpse – "Necrogenic Resurrection"
Red Fang – "Arrows"
Celestial Sanctuary – "Soul Diminished"
Bongzilla – "Earth Bong, Smoked, Mags Bags"
Haunt – "Sea Of Dreams"
Domkraft – "Seeds"
Gojira – "Into The Storm"
Click HERE for the full Top 40 List.
GIMME METAL Vinyl Club June Release – The June edition of the GIMME METAL Vinyl Club is Amon Amarth's 1998 iconic debut full-length, Once Sent From The Golden Hall! This GIMME exclusive comes in clear red/blue marbled vinyl! Sign up now for this piece of metal history: https://found.ee/GimmeMetalVinylClub.
GIMME METAL Celebrates Motörhead Day!
GIMME METAL is celebrating The 8th Of May Day and here's how to get in on the festivities: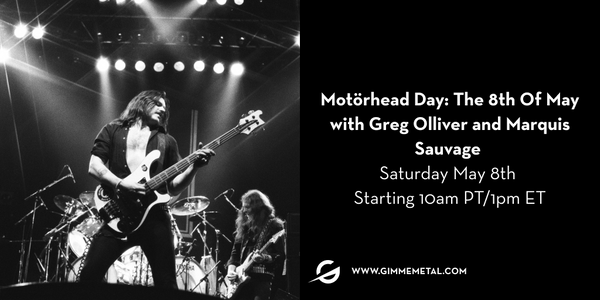 Motörhead GIMME METAL Radio Specials – Lemmy Doc director Greg Olliver and his good friend / metal winemaker Marquis Sauvage return to the Live Chat for a new all-Motörhead Guest DJ special! Join in to talk all things Lemmy and Motörhead. Tune in early to catch their previously-aired Motörhead special on the GIMME METAL 1 station.
Lemmy Documentary on GIMME TV – It wouldn't be Motörhead Day without the Lemmy doc! Get lost in Lemmy: 49% motherf**ker. 51% son of a bitch., a compelling and fun documentary where it feels like you're hanging out with the late rock 'n' roll legend himself. Don't miss the bonus footage at the end of Lemmy playing with Metallica. The doc features interviews with friends, peers, and admirers such as Slash, Duff McKagan, Ozzy Osbourne, James Hetfield, Lars Ulrich, Robert Trujillo, Kirk Hammett, Nikki Sixx, David Ellefson, Scott Ian, and so many more. Download the GIMME METAL app to watch one of the best music documentaries ever made. Cast it to your Smart TV or computer with Apple Airplay or Google Chromecast.
This week on GIMME METAL: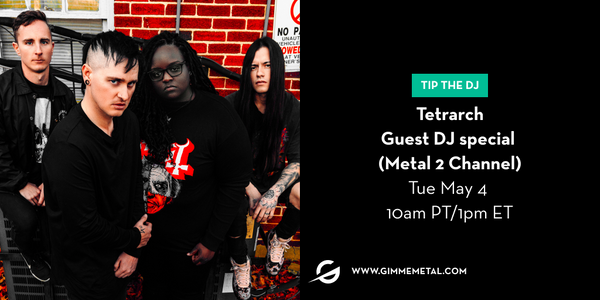 Tetrarch Guest DJ Special – Fierce individuality and a fearless embrace of the outsider are at the heart of Tetrarch's second LP, Unstable, out now on Napalm Records. A band equally defined by metallic power and melodic hooks, Tetrarch seamlessly blend technical chops and aggressive ferocity with menacing groove and massive choruses, obliterating musical barriers in the process. Check them out on their guest DJ special on GIMME METAL 2.
Evile Guest DJ Special – UK thrash metal heavyweights Evile released their Hell Unleashed full-length via Napalm Records April 30th marking the band's first album in eight long years! Since their formation in 2004, EVILE have been turning heads and taking names, delivering four pure thrash offerings blended with an uncompromising death metal assault. Hell Unleashed, the long-awaited successor to their 2013 release Skull, is no exception. The record boasts a new lineup featuring Ol Drake on vocals/guitars and new recruit Adam Smith of RipTide on rhythm guitars as well as a guest appearance by comedian/GIMME METAL host Brian Posehn! Don't miss Ol Drake taking over the DJ booth for what's sure to be two hours of crushing sounds.
Cinco de Metal Nukebox Mexican Special – Feliz Cinco de Mayo! Let's celebrate by spotlighting some of Mexico's most crushing exports! The show will include thrash, death, traditional heavy metal, and everything in between. Catch the festivities on both GIMME METAL 1 and GIMME METAL 2 channels!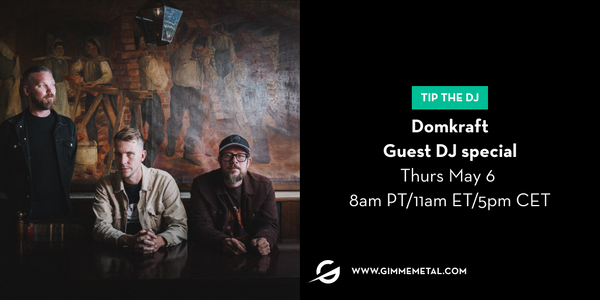 Domkraft Guest DJ Special – While so many doom/sludge bands revel in apocalyptic themes and darkness these days, Swedish psychedelic doom trio Domkraft focus on the idea of emerging from the ruins to start anew, building something different and better beyond the cataclysm. Mind you, they still preserve the spirit of crumbling amp stacks and oppressive atmospheres, culling moves from Swans, Sleep, and their ilk. On their latest offering, Seeds, out now on Magnetic Eye Records, the band delivers a detailed map to a groove-driven heavy rock utopia, where humankind can evolve and unite. Better living through monolithic volume!
Molten Guest DJ Special – Bay Area metal quintet Molten fuses thrash, death, doom, and black metal to deliver a straightforward assault to listeners' ears. Following the release of their eponymous EP in 2019, the band went straight to work on their first full-length record, Dystopian Syndrome (out now) and recently issued an awesome mini-horror movie which doubles as an extended official video for the track "Zombie's Curse," produced and directed by Chris Corona. The setting: Late Summer 2020. The world is in turmoil. Against a backdrop of endless fires and an ongoing viral pandemic, a vaccine promoted by the US president meant to keep the dying sick alive has backfired and the country is being overrun by the undead. ZOMBIES! The only retaliatory attack: aggressive metal! Which they will share with non-zombie listeners on their GIMME METAL guest DJ spot later this week.
This week on GIMME METAL TV:
Amon Amarth Documentary + Concert: 'The Pursuit Of Vikings: 25 Years In The Eye Of The Storm – To celebrate the GIMME METAL Vinyl Club release of Amon Amarth now-classic Once Sent From The Golden Hall debut, GIMME METAL TV is offering viewers two opportunities to catch their documentary and concert, The Pursuit Of Vikings: 25 Years In The Eye Of The Storm. The first showing airs Friday with a follow up showing later in the month. The retrospective documentary features a wealth of live and behind-the-scenes content and extensive band interviews. The concert portion was released as a supporting live album as well. Don't miss it!
The Ball with Riki Rachtman: Episode 5 – Saturday May 8th marks the final new episode in the saga of The Ball! It's also Motörhead Day! Riki celebrates one of his all-time favorite bands with Motörhead drummer Mikkey Dee and plays us a bunch of Motörhead videos among other magnificent metal clips from wicked bands both old and new! Think it stops there? Riki brings in another GIMME METAL DJ, the one and only legend himself Dave Mustaine! This is sure to be a blast of a finale so don't miss out! And if you missed episode 4, no worries. It replays Friday at 1:00pm ET / 10am PT!
Upcoming on GIMME METAL:
5/10 Akiavel
5/11 Metal Sydney Metal Special
5/12 Funeral Leech
5/18 Haunt
5/19 Memoriam
5/19 Vexed
5/21 Gary Holt (Exodus, Slayer)
5/22 Bolt Thrower Spotlight on GIMME METAL 2
5/24 Possessed
5/24 Southern Lord Label Special
5/25 Colin Marston's Lockdown Year Special
5/26 Monster Magnet
5/28 Autumn For Crippled Children
6/02 Cirith Ungol
6/03 Senyawa Indonesian Metal Special
6/04 Vulture
6/07 Red Fang
6/09 Yautja
6/14 Michael Alago
6/18 Frozen Soul
6/23 Hooded Menace
6/24 The Lion's Daughter
6/25 Autopsy
7/19 Fulci
Don't miss it! Visit GIMME METAL: http://gimmemetal.com.
About GIMME METAL:
Founded by digital music veterans from Apple Music, Google Play, Beats Music, and Napster, parent company GIMME Radio builds highly engaged communities for the passionate fan on a genre-by-genre basis. The company launched its first community in June of 2017: the world's first 24/7 metal-focused service. Fans tune in to hear world class DJs playing metal they can't hear anywhere else – for free. The GIMME METAL app and streaming radio service allows the fans and the DJs/artists to communicate directly with one another in a live feed, in real-time, while they listen. Its roster of 70-plus DJs includes Dave Mustaine of Megadeth, Jessica Pimentel, star of Orange Is The New Black, Brian Posehn, and Randy Blythe of Lamb Of God, among many others.
http://gimmemetal.com
http://www.facebook.com/gimmemetal
http://twitter.com/gimmeradio
http://www.instagram.com/gimmeradio