"GRAVE BATHERS do an excellent job of controlling all of this chaos in ways that remind us of King Crimson but with, of course, a fair amount of sludge and dirty doom added into the mix. The end result is wild but expertly driven, aimed at a coruscating, furious type of rock that's delightful to hear." — Heavy Blog Is Heavy
Heavy Blog Is Heavy is currently streaming "Brain Thief" from Philadelphia psychedelic doom conjurors GRAVE BATHERS. The track comes by way of the band's Rock 'N' Roll Fetish debut, set for release via Seeing Red Records on August 5th.
Observes Heavy Blog, "The first part of the track hits hard enough but when we get to the two and a half minute mark and its pregnant silence is where things really kick off. The groovy riff which takes over, the verging-on-a-scream vocals, and the incredibly effective drums and bass combos just skyrocket this track into the stratosphere. It makes one think of the groovier Clutch tracks (or, if you're particularly well educated in this field, The Bakerton Group). But this is far from where the track ends: there's an unexpected, and very articulate, drum solo, the return of the riff for an explosive outro, and a blistering guitar solo to wrap everything up…"
Read more and stream GRAVE BATHERS' "Brain Thief" at THIS LOCATION.
View the band's previously released video for "Tarman Cometh" HERE.
Decimating audiences with high decibel, high energy live performances since forming in 2018, GRAVE BATHERS quickly gained notoriety with their ambitious Feathered Serpent/Death Hand 7" EP released via Seeing Red Records in 2020. Upon first listen, The Sleeping Shaman hailed the band's, "epic riffs, piercing Robert Plant vocals, tales of outlaws and bloodshed, all above some truly gorgeous bass work," while Doomed And Stoned lauded "a sound that shuffles well with the rockier side of Pentagram, Black Sabbath, and Portland street doomers R.I.P." Metal Temple called the EP, "the epitome of doom metal," adding, "[it] deserves a listen through the graveyard." The band's authentic blend of bombastic boogie, booty shaking hard rock, heavy psych, and episodic doom earned them both critical acclaim and the momentum to pick up endorsements by Orange Amplifiers and Ampturco Guitar Werks.
Their momentum should be no surprise however: the band boasts the decibel-smashing guitarist Jaret Salvat-Rivera of Heavy Temple as their lead riff ripper and drummer Sean Lafferty of Yatra forging their most dominant lineup yet. The talent-stacked Voltron has since earned thousands of fans online through their iconic style, viral gear porn, vintage analog recording methods, and Spotify presence; all with only three singles out.
And now, the fuzzed-out, full-stack aficionados reemerge with the most unholy album recorded in rock n' roll's most holy of ground: Memphis, Tennessee, where hard rock fetishists did things the authentic way. Rock 'N' Roll Fetish was captured live-to-tape at the analog-centric Memphis Magnetic recording facility by​ Davis M. Shubs and Drew Robinson, engineered by Matt Qualls and Davis M. Shubs, mixed by Matt Qualls, Davis M. Shubs, and Drew Robinson and mastered by Grammy Award winner Pete Lyman (Tom Waits, The Mars Volta) at Infrasonic East in Nashville, Tennessee.
Rock 'N' Roll Fetish, which features the brilliantly sleazy cover art of Benjamin Marra, will be released as a limited edition 2xLP in two truly lysergic color variants and digitally.
Find preorders at the Seeing Red Records webshop at THIS LOCATION and the GRAVE BATHERS Bandcamp page at THIS LOCATION where opening track "Ghost 'Em All" can be streamed.
GRAVE BATHERS will celebrate the release of Rock 'N' Roll Fetish with a near-three-week tour with War Cloud, Tower, False Gods, and more on select shows! See all confirmed dates below.
GRAVE BATHERS:
8/06/2022 Surprise Venue! – Brooklyn, NY * Record Release show w/ Castle Rat, BatsBatsBats GhostGhostGhost
8/19/2022 Buzzbin – Canton, OH w/ Slow Wake
8/20/2022 Mag Bar – Louisville, KY
8/21/2022 Liar's Club – Chicago, IL w/ Poison Boys, Satanic Panic, Los Blackdogs
8/22/2022 Growlers – Memphis, TN
8/23/2022 Whittier Bar – Tulsa, OK w/ Dust Lord, Edhochuli
8/24/2022 Division Brewing – Fort Worth, TX w/ Sly And The Family Fungi
8/25/2022 The 101 – Bryan, TX w/ Temptress
8/26/2022 The Lost Well – Austin, TX w/ War Cloud, Temptress
8/27/2022 Freetown Boom Boom Room – Lafayette, LA – w/ War Cloud, Vermillion Whiskey
8/28/2022 World Famous – Athens, GA w/ War Cloud, Dead Vibes Ensemble
8/29/2022 Odditorium – Asheville, NC w/ War Cloud
8/31/2022 AleCraft Brewery – Bel Air, MD w/ War Cloud, Head
9/01/2022 Johnny Brenda's – Philadelphia, PA w/ War Cloud, Tower
9/02/2022 The Broadway – Brooklyn, NY w/ War Cloud, Tower
9/03/2022 RPM Fest – Montague, MA
9/04/2022 Shakers – Oakdale, NY w/ War Cloud, Volcandra, False Gods
9/05/2022 Bond Street Bar – Asbury Park, NJ w/ War Cloud, False Gods
"GRAVE BATHERS have made a statement with their debut full-length. Ambitious and electrifying, its retro charm alongside masterful musicianship fills the heart with utmost joy. Simply put, a breathtaking debut." – Distorted Sound
"Like King Crimson rising from the grave to jam with Matt Pike, GRAVE BATHERS is here to sludge your day up real good." — Metal Injection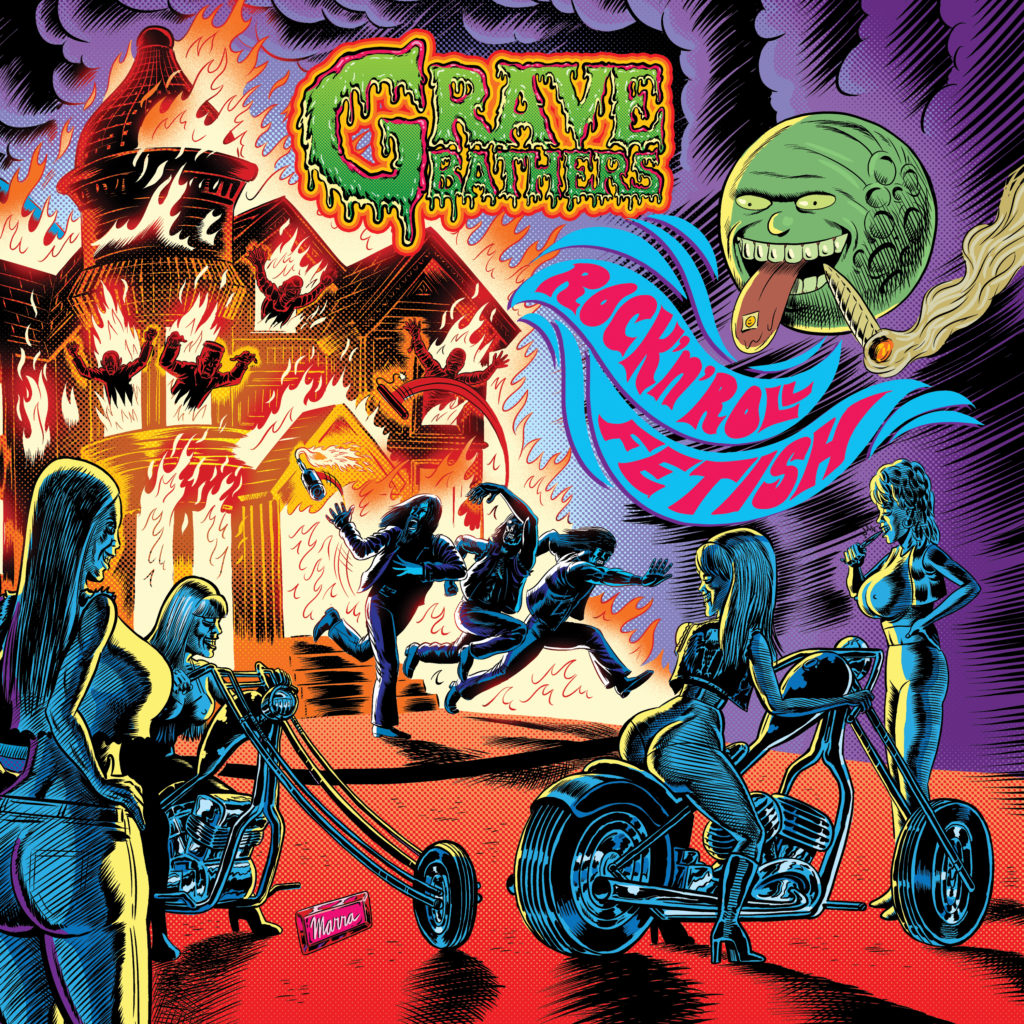 http://www.facebook.com/gravebathers
http://www.instagram.com/gravebathers
http://www.youtube.com/channel/UCTMrBLwibrQ7oCY_Ch9MN8g
http://gravebathers.bandcamp.com
http://www.seeingredrecords.com
http://www.instagram.com/seeing_red_records
http://www.facebook.com/seeingredrecords
http://seeingredrecords.bandcamp.com