With the impending release of GODHUNTER vs. DESTROYER OF LIGHT: Endsville closing in, now less than two weeks away, the underground scene champs at No Clean Singing have premiered a brand new track from each act in a brutalizing double-header.
One of the most psychedelic bottom-dredgers of GODHUNTER's platter of Endsville, "Dull Knives, Weak Handshakes" is a fuzz-laden, tectonic crusher which sees the band's more stoner/doom metal influences taking over the crusty edge much of the band's material is generally soaked with. And while DESTROYER OF LIGHT bears more of the same stoner/doom influences in their overall body of works, their LP-closing "Valley Of The Dead" surges with more of a morose and eventually scathing vibe than a good portion of their platter. Combined, the two tracks offer vast insight into what the mighty Endsville release encapsulates. Offers No Clean Singing in part, in the proficiently delivered write-up adjoining the two new tracks, "a lot of life for a lot of people is no damned good, and to find music that both powerfully captures its ugliness and despair and yet somehow takes you away from all that at the same time, that's a gift, and both these bands have it. You can move to these songs (you probably won't have any choice), and you can lose yourself in them, too."
Do yourself a favor and delve into the GODHUNTER vs. DESTROYER OF LIGHT premiere duo with No Clean Singing at THIS LOCATION.
Also… GODHUNTER's "Cassandra Complex" video is playing via Cvlt Nation HERE, DESTROYER OF LIGHT's "Electric Shadows" lyric video at The Obelisk RIGHT HERE, and the Endsville art installation trailer at Gear Gods HERE.
Endsville sees a joint release through GODHUNTER co-owned Battleground Records and DESTROYER OF LIGHT's Heavy Friends Records next Friday, July 24th, a 180-gram gatefold 2xLP with GODHUNTER's slab on translucent green and DESTROYER OF LIGHT's on translucent red. Preorders for the vinyl are live HERE and the digital HERE.
Before the dust even settles on Endsville's release, GODHUNTER and DESTROYER OF LIGHT will embark on their Sludgelord-sponsored Endsville tour together, the trek including performances from both bands at the Death To False Metal Festival in Hamden, Connecticut on August 14th and 15th with Whiplash, Krieg, Valkyrie, Imperial Triumphant, Nightbitch, Immortal Bird, Secret Cutter and more. Come out and watch the world burn with these two pulverizing acts. Coverage of both acts is "highly" encouraged on this tour.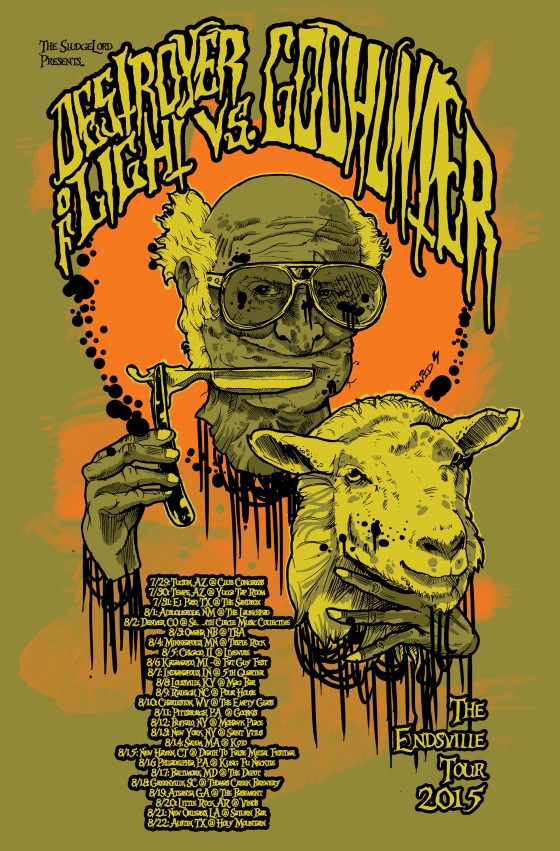 GODHUNTER vs. DESTROYER OF LIGHT Endsville 2015 Tour:
7/29/2015 Club Congress – Tucson, AZ [info]
7/30/2015 Yucca Tap Room – Tempe, AZ [info]
7/31/2015 The Sandlot – El Paso, TX [info]
8/01/2015 The Launchpad – Albuquerque, NM [info]
8/02/2015 Seventh Circle – Denver, CO [info]
8/03/2015 The Reverb Lounge – Omaha, NE [info]
8/04/2015 Triple Rock – Minneapolis, MN w/ Ambassador Gun [info]
8/05/2015 LiveWire Lounge – Chicago, IL [info]
8/06/2015 Shakespere's Pub – Kalamazoo, MI @ Fat Guy Fest [info]
8/07/2015 Fifth Quarter Lounge – Indianapolis, IN [info]
8/08/2015 Magnolia Bar – Louisville, KY
8/09/2015 Pour House – Raleigh, NC
8/10/2015 The Empty Glass – Charleston, WV
8/11/2015 Gooski's – Pittsburgh, PA [info]
8/12/2015 Mohawk Place – Buffalo, NY [info]
8/13/2015 Saint Vitus Bar – Brooklyn, NY w/ Immortal Bird [info]
8/14/2015 KoTo – Salem, MA
8/15/2015 The Outer Space & Ballroom – Hamden, CT @ Death To False Metal Fest [info]
8/16/2015 Kung Fu Necktie – Philadelphia, PA
8/17/2015 The Depot – Baltimore, MD [info]
8/18/2015 Thomas Creek Brewery – Greenville, SC
8/19/2015 The Basement – Atlanta, GA [info]
8/20/2015 Vino's Pizza Pub Brewery – Little Rock, AR [info]
8/21/2015 Saturn Bar – New Orleans, LA
8/22/2015 Holy Mountain – Austin, TX [info]
http://www.facebook.com/godhuntersludge
http://www.dirtweedmetal.com
http://www.battlegroundrnr.com
http://destroyeroflight.bandcamp.com
http://www.facebook.com/destroyeroflight
http://www.facebook.com/pages/Heavy-Friends-Records/1396186950655438