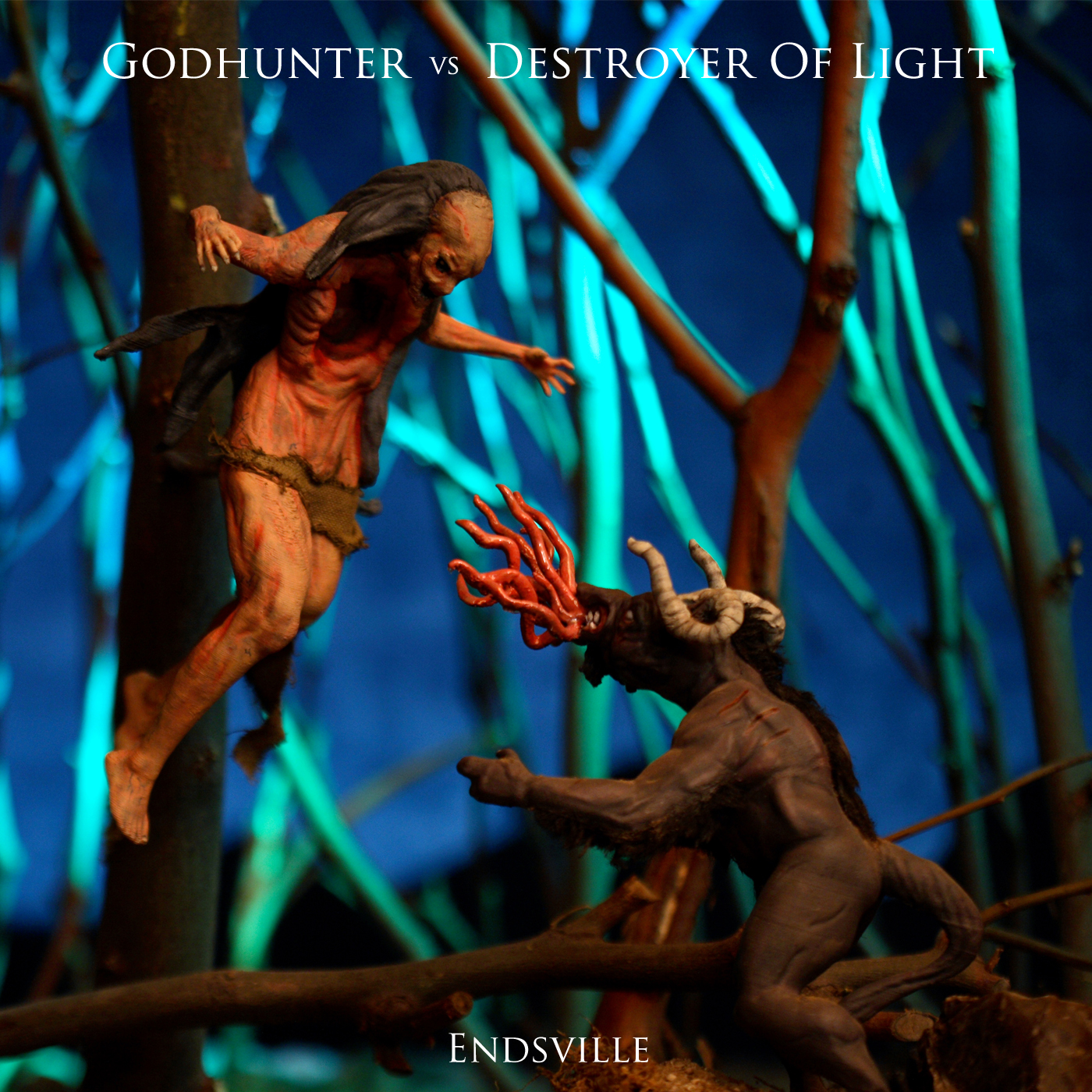 Nearing release this Summer is Endsville, the double-12″ vinyl EP release with Austin, Texas-based DESTROYER OF LIGHT and Tucson, Arizona/Vancouver, Washington-based GODHUNTER, a collection of brand new end-time material from both acts. The intense Endsville will see a cooperative release between the two bands, and the time invested into the creation of the record's artwork is as impressive as the culminated audio material, which is now made apparent through a visual trailer which includes the first audio from the release, and is now playing alongside a photo breakdown of the creation of the installation via Gear Gods.
Collectively issues GODHUNTER on the new art installation feature, "The artwork for Endsville was done by Rudy Flores and Teresa Estrella of Bestia Dentro. Rudy had previously done work for GODHUNTER, drawing the covers for Wolves and City Of Dust. When we were in the process of writing for Endsville, we approached Rudy about taking the art for the cover of the next album to the 'next level.' We just weren't sure what that level was yet. We did know that we wanted to sculpt something and use LED lighting for effects. Once we settled on Endsville being a split album with DESTROYER OF LIGHT, the monster battle theme immediately sprang to life and the Bestia Dentro team got started creating the two monsters and the set. All told the process took about six months from start to finish, and they ended up renting an art space entirely for that project, as the set took up about an 8'x10′ area. Once the set layout and monsters were complete, we called in Andrew Weiss to photograph it. He's done work for bands like Pelican, Rosetta and Caspian before, and his eye is incredible. We worked with the lights a bit on the day of the shoot to get the right look, and Andrew got a couple really good captures that became the cover and inside art for the vinyl layout."
Watch painstakingly layered Endsville installation come together via Gear Gods RIGHT HERE.
Brand new videos from both acts will see release in the coming days as GODHUNTER vs. DESTROYER OF LIGHT: Endsville sees a joint release through GODHUNTER co-owned Battleground Records and DESTROYER OF LIGHT's Heavy Friends Records on July 28th. Preorders will go live on June 16th.
Directly in conjunction with the release of Endsville, GODHUNTER and DESTROYER OF LIGHT will collaborate on a major widespread tour together, which will see them both raiding the East Coast US for the first time. While previously only the rough skeletal city itinerary of the trek has been announced, this week nearly every one of the twenty-five venues on the tour has been declared. The tour includes both bands' participation in the first Death To False Metal Festival in Hamden, Connecticut on August 14th and 15th with Whiplash, Krieg, Secrets Of The Sky, Valkyrie, Imperial Triumphant, Nightbitch, Immortal Bird, Secret Cutter and more.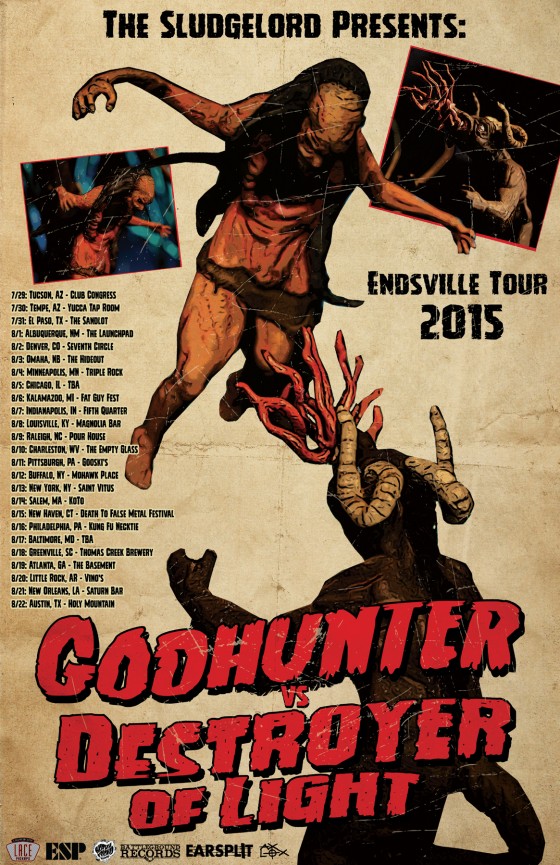 GODHUNTER vs. DESTROYER OF LIGHT Endsville 2015 Tour:
7/29/2015 Club Congress – Tucson, AZ
7/30/2015 Yucca Tap Room – Tempe, AZ
7/31/2015 The Sandlot – El Paso, TX
8/01/2015 The Launchpad – Albuquerque, NM
8/02/2015 Seventh Circle – Denver, CO
8/03/2015 The Hideout – Omaha, NE
8/04/2015 Triple Rock – Minneapolis, MN
8/05/2015 TBA – Chicago, IL
8/06/2015 Fat Guy Fest – Kalamazoo, MI
8/07/2015 Fifth Quarter – Indianapolis, IN
8/08/2015 Magnolia Bar – Louisville, KY
8/09/2015 Pour House – Raleigh, NC
8/10/2015 The Empty Glass – Charleston, WV
8/11/2015 Gooski's – Pittsburgh, PA
8/12/2015 Mohawk Place – Buffalo, NY
8/13/2015 Saint Vitus Bar – Brooklyn, NY
8/14/2015 KoTo – Salem, MA
8/15/2015 The Outer Space & Ballroom – Hamden, CT @ Death To False Metal Fest
8/16/2015 Kung Fu Necktie – Philadelphia, PA
8/17/2015 TBA – Baltimore, MD
8/18/2015 Thomas Creek Brewery – Greenville, SC
8/19/2015 The Basement – Atlanta, GA
8/20/2015 Vino's – Little Rock, AR
8/21/2015 Saturn Bar – New Orleans, LA
8/22/2015 Holy Mountain – Austin, TX
GODHUNTER vs. DESTROYER OF LIGHT: Endsville bears twenty minutes of new material and a cover track from each band. Tucson/Vancouver-situated sludge faction, GODHUNTER, captured the tunes for their platter at WaveLab Studios in Tucson by Dana Fehr (North, Juarez), the newest in a steady line of titles since their 2014-released debut LP, City Of Dust, including their GH/OST:S split LP with Secrets Of The Sky and The Outer Dark collaborative 7″ with Amigo The Devil. The adjoining slab by Austin-based psychedelic doom outfit, DESTROYER OF LIGHT, follows the band's 2012-released self-titled debut album and 2014's Bizarre Tales Vol. II EP, recorded at Orb Recording Studios in Austin, engineered and mixed by Matt Meli. The entire album was then mastered by James Plotkin. The two 12″ EPs will be united in a gatefold setup on two different colors of vinyl, in addition to a digital release, the cover artwork to feature custom sculpture art by Bestia Dentro and photography by Andrew Weiss.
Stand by for more on GODHUNTER vs. DESTROYER OF LIGHT: Endsville in the near future.
http://www.facebook.com/godhuntersludge
http://www.dirtweedmetal.com
http://battlegroundrecords.bigcartel.com
http://destroyeroflight.bandcamp.com
http://www.facebook.com/destroyeroflight