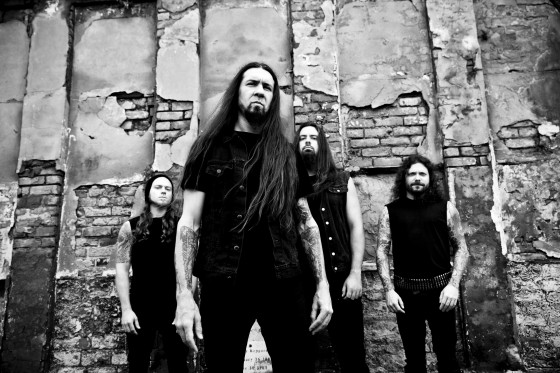 Louisiana road demons, GOATWHORE, will take to the streets again later this week on an epic North American headlining tour. With support from Ringworm, Black Breath and labelmates, Theories, the lengthy trek will devour three-dozen venues beginning June 5th on their home turf of New Orleans and come to a close on July 12th in Atlanta. The latest run follows the band's recent Australian and European onstage demolitions. Tickets are on sale now through all local ticket outlets.
In celebration of GOATWHORE's latest stretch of live debauchery, Revolver is giving away a limited edition signed screen print of the band's stunning Constricting Rage Of The Merciless cover along with the band's four Metal Blade releases – Constricting…, Blood For The Master, Carving Out The Eyes Of God and A Haunting Curse – on CD. Enter to win NOW at: revolvermag.com.
In related news, GOATWHORE will be compiling live footage from the upcoming tour for a new video for the fan-favorite track, "FBS." If you're attending a show on this tour (or have footage from previous tours) and capture any video on your mobile device, post it to YouTube and send the link to goatwhorevideo@gmail.com. Your clips could be featured in the brand new video and your YouTube channel credited in the final video description.
GOATWHORE:
6/05/2015 Siberia – New Orleans, LA w/ Ringworm, Theories, Fat Ugly Stupid People
6/06/2015 FreePress Summer Festival 2015 – Houston, TX
6/07/2015 Paper Tiger – San Antonio, TX w/ Ringworm, Theories
w/ Ringworm, Black Breath, Theories:
6/08/2015 Inside @ Red 7 – Austin, TX
6/09/2015 Tricky Falls – El Paso, TX
6/10/2015 Launchpad – Albuquerque, NM
6/11/2015 Club Red – Mesa, AZ
6/12/2015 Soda Bar – San Diego, CA
6/13/2015 Stummer's – Fresno, CA
6/14/2015 The Roxy Theatre – West Hollywood, CA
6/15/2015 The Catalyst Atrium – Santa Cruz, CA
6/16/2015 Oakland Metro Operahouse – Oakland, CA
6/17/2015 Duffy's Hangar – Salem, OR
6/18/2015 The Crocodile – Seattle, WA
6/19/2015 The Rickshaw Theatre – Vancouver, BC
6/20/2015 Level Upstairs – Kelowna, BC
6/21/2015 Dickens Pub – Calgary, AB
6/22/2015 The Starlite – Edmonton, AB
6/23/2015 O'Brian's Event Centre – Saskatoon, SK
6/24/2015 The Exchange – Regina, SK
6/25/2015 The Zoo Cabaret – Winnipeg, MB
6/26/2015 Triple Rock Social Club – Minneapolis, MN
6/27/2015 Reggie's Rock Club – Chicago, IL
6/28/2015 Majestic Jr. – Detroit, MI
6/29/2015 Now That's Class – Cleveland, OH
6/30/2015 The Altar Bar – Pittsburgh, PA
7/01/2015 The Lost Horizon – Syracuse, NY
7/02/2015 Hard Luck Bar – Toronto, ON
7/03/2015 Les Foufounes Electriques – Montreal, QC
7/04/2015 Mavericks – Ottawa, ON
7/05/2015 Brighton Music Hall – Allston, MA
7/06/2015 Saint Vitus Bar – Brooklyn, NY
7/08/2015 Underground Arts: Black Box – Philadelphia, PA
7/09/2015 Rock & Roll Hotel – Washington, D.C.
7/10/2015 The End – Nashville, TN
7/11/2015 New Brookland Tavern – West Columbia, SC
7/12/2015 The Earl – Atlanta, GA
End Tour:
8/14 – 8/16/2015 Gwar B-Q @ Hadad's Lake – Richmond, VA
Additionally and in conjunction with the tour, iTunes will be launching a special GOATWHORE sale. Each of the band's four Metal Blade-issued full-lengths will be available for a cool $7.99. See details below.
A Haunting Curse
Sale Price: $7.99
Dates: 06/05 – 07/13
https://itunes.apple.com/album/id182152496
Carving Out The Eyes Of God
Sale Price: $7.99
Dates: 06/05 – 07/13
https://itunes.apple.com/album/id314962973
Blood For The Master
Sale Price: $7.99
Dates: 06/05 – 07/13
https://itunes.apple.com/album/id493371535
Constricting Rage Of The Merciless
Sale Price: $7.99
Dates: 06/05 – 07/13
https://itunes.apple.com/album/id881910171
GOATWHORE will be touring in support of their critically-adored Constricting Rage Of The Merciless full-length, unleashed last July via Metal Blade Records. The record debuted at #81 on Billboard's Top 200 chart, toppling their last entry position of #171 with Blood For The Master. Additionally, the record hit the #21 spot on Billboard's Rock Chart, #7 on the Hard Rock Chart, #13 on the Independent Chart and, boasting ten mutinous tracks of thick, predatory, subterranean metal, continues to reap the exaltation of fans and critics globally.
"…a blasphemous blast…" – Decibel Magazine
"GOATWHORE channels every evil impulse of its blackened death thrash into Constricting Rage Of The Merciless…" – Austin Chronicle
"Constricting Rage Of The Merciless definitely stakes a claim as the new high water mark of the group's work thus far… the closest GOATWHORE have come to bottling the blistering energy of their live show…" – Metal Injection
"They've always been lethal live, but with each successive album, GOATWHORE proves to rank amongst the best of the best of their ilk." – Blabbermouth
"With barely any time to breath in between tracks, Constricting Rage Of The Merciless is a brutally bleak aural onslaught that will no doubt get metalheads pumping their fists and headbanging along with these pummeling anthems of chaos and despair. Clear heirs to the thrash metal throne, GOATWHORE ably step up with this masterful slab of blacked metal and stake their claim as one of the best in the business…" – PopMatters
For review links, interviews and guest list requests contact liz@earsplitcompound.com.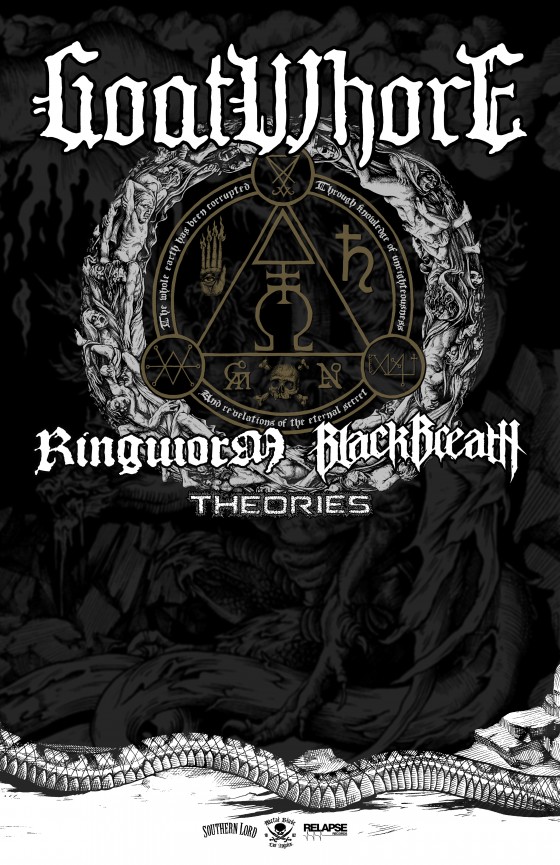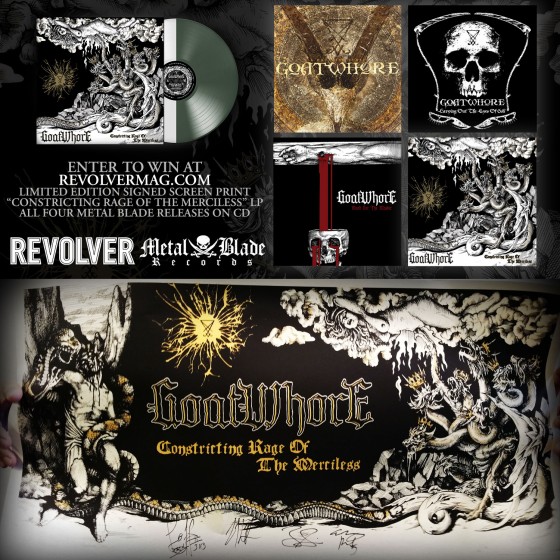 http://www.facebook.com/thegoat666
http://twitter.com/goatwhorenola
http://www.youtube.com/Goatwhorenola666
http://www.metalblade.com/goatwhore