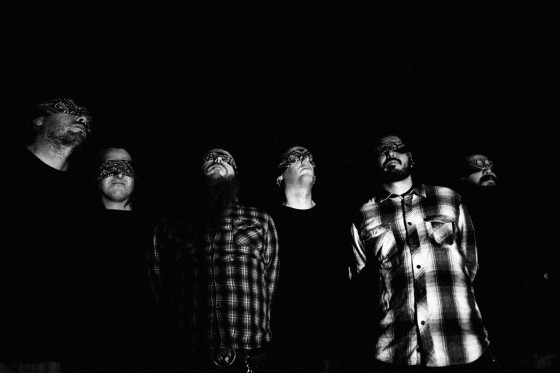 "Pursuit/Predator," GODHUNTER's latest plodding and antagonizing anthem and the lead track to the band's upcoming GH/0ST:S split LP with SECRETS OF THE SKY, is now playing a month ahead of the album's release at Invisible Oranges
The GH/0ST:S LP showcases some of the most expansive new material from both bands, with both acts' latest contributions including some of their more ethereal works, as well as some of their most savage and homicidal lyrical persuasions. Opening the GODHUNTER-dominated A-side of the LP, the Tucson-based sludge metal act forms rifts in the land with the seven-minute "Pursuit/Predator." Reanimating the lineage of the infamous Zodiac Killer, a feedback-soaked intro leads into an acrid, dirge-ridden execution anthem, and after leveling everything for most of the song's duration, a bellowing gang-chant atop an organic bed of acoustic guitars and mournful string elements bring the track to a smoldering finale. Invisible Oranges issues on the track, "'Pursuit/Predator' documents a harsh dose of reality, but the presentation is ever so inviting. Guitarists David Rodgers and Jake Brazelton and bassist Dick Williamson combine to form a massive, world-swallowing tone. Drummer Andy Kratzenberg propels the song with a steady swing and ably brings the group's punk influences to the surface when the jolt is needed. Singer Charlie Touseull has that bellow which will always be imitated in showers and cars. And wildcard Matthew Davis adds a nice touch of cello to the acoustic outro. In the end, it pulls off the neat trick of all solid sludge, making violence and anguish feel so good."
Stream "Pursuit/Predator" RIGHT HERE.
Advance preorders for the GODHUNTER and SECRETS OF THE SKY Ghosts split LP can be placed HERE.
GODHUNTER has also recently picked up a guitar sponsorship from LTD, the company already outfitting the crew with some serious new artillery for their upcoming live actions. This month they'll support Corrosion Of Conformity, Bl'ast, Brank Bjork and Lord Dying in Phoenix, with other regional live shows impending. GODHUNTER is currently locking up a two week tour of the western half of the US with Phoenix-based doom/sludge act, Sorxe, which will be announced in the coming days. This trek will consume the first half of October, coming to a close at Southwest Terror Fest III: The Western Front — the fest actually co-created by members of the band and others — where GODHUNTER will share the stage with Goatsnake, Pelican and Eagle Twin, and Sorxe will support Author & Punisher, The Body and Neurosis. SECRETS OF THE SKY, Sunn O))), -16-, The Atlas Moth, Baptists, Obliterations and tons more will also perform at the four-day, two-venue invasion of Tucson.
GODHUNTER Live:
8/24/2014 Club Red – Phoenix, AZ w/ Corrosion Of Conformity, Bl'ast, Brank Bjork Lord Dying
10/17/2014 Rialto Theatre – Tucson, AZ @ SWTF III w/ Goatsnake, Pelican, Eagle Twin [info]
SECRETS OF THE SKY Live:
10/18/2014 The District Tavern – Tucson, AZ @ SWTF III w/ Primitive Man, North, Windmill Of Corpses [info]
GH/0ST:S bears nearly thirty-five minutes of new material, with GODHUNTER's side recorded and mixed by Ryan Bram at Homewrecker Studios, and SECRETS OF THE SKY's recorded and mixed by Juan Ortega at Trident Studios, and the full release mastered by Brad Boatright at Audiosiege. Following its limited edition cassette release for their Southwestern tour together this Spring, through a joint effort between GODHUNTER's Battleground Records and Earsplit's THE COMPOUND RECS, GH/0ST:S will see a deluxe LP release on September 9th. Currently in manufacturing, the vinyl version will be pressed on 180-gram black/white swirl wax in a run of 300 copies including a digital download.
GH/0ST:S Track Listing:
A1. GODHUNTER "Pursuit/Predator"
A2. GODHUNTER "GH/0ST:S"
B1. SECRETS OF THE SKY "The Star"
B2. SECRETS OF THE SKY "GH/0ST:S II"
Additional auditory samples of GH/0ST:S and new tour dates from both bands will be released in the days ahead.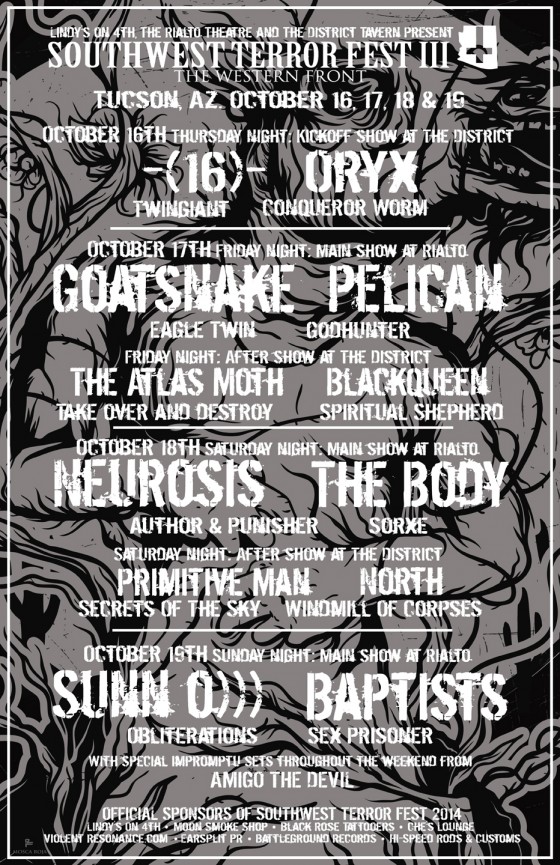 http://godhunter.bandcamp.com
http://dirtweedmetal.com
https://www.facebook.com/godhuntertucson666
https://www.facebook.com/battlegroundrecords
http://www.facebook.com/secretsofthesky
https://twitter.com/secretsofthesky
http://www.thecompoundrecs.com
https://www.facebook.com/TheCompoundRecs
http://www.earsplitdistro.com